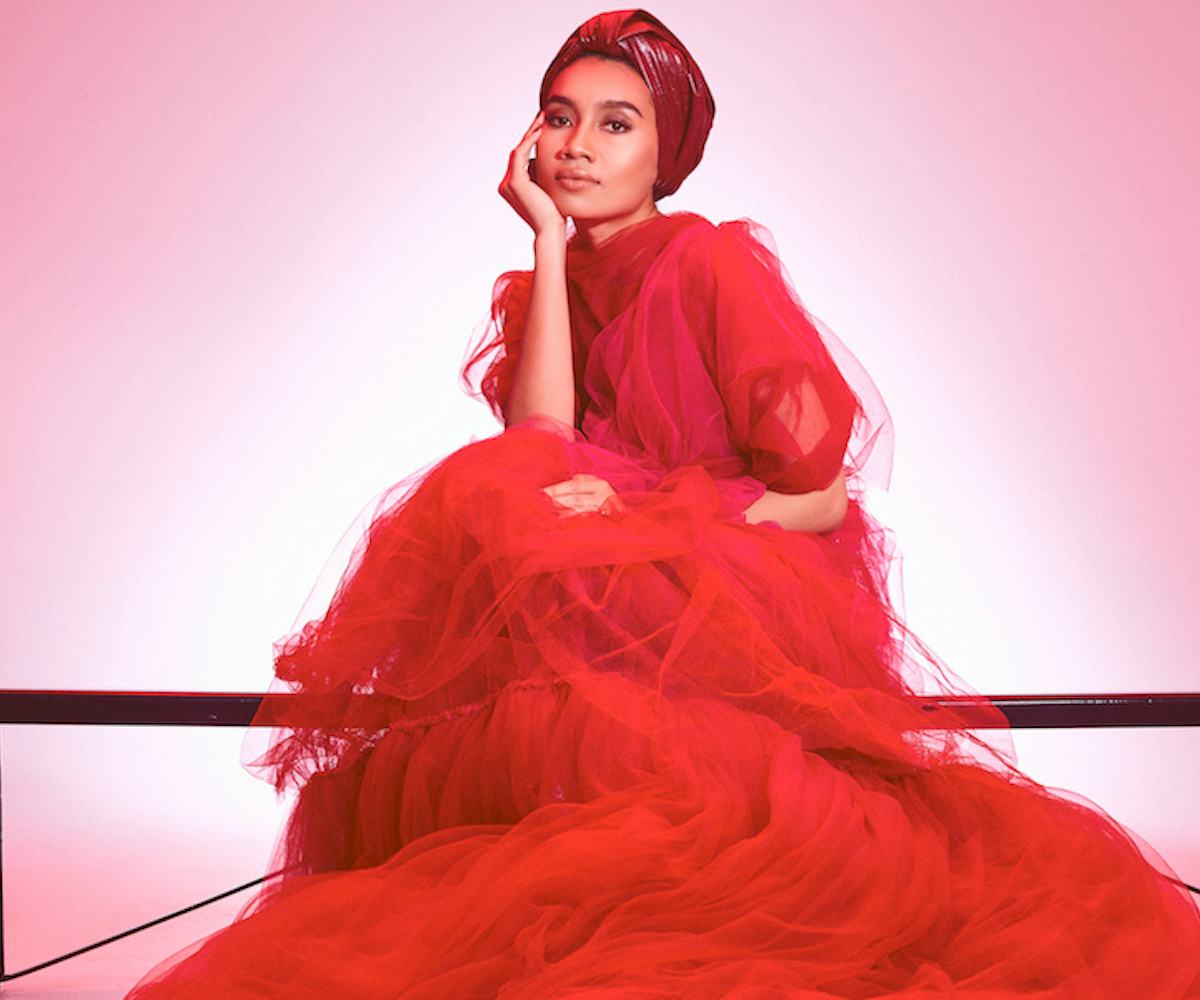 Yuna Talks Collaborating With Tyler, The Creator And Her New Album 'Rouge'
You're going to want to spin this record ASAP
"It's important to keep collaborations real," Yuna told me. With features on seven of the 11 tracks on her new album Rouge, out today, one might expect more than a few weren't hand-picked by Yuna, but that's emphatically not the case. As Yuna sat down in the NYLON office to talk about her album with me recently, she expressed how naturally everything came together, and how much she was able to assert her creative vision on her latest project.
In fact, Yuna shared, she actually turned down a collaboration with a "huge name" suggested by her label, because it didn't sit right with her. She explained, "This person's vibe is super different. She's huge, but I don't know if that's the right thing I want to do, even though I know I would sell records."
But selling records doesn't seem like it will be a problem—not with this album's lineup. Nearly every single person on Rouge dropped in at the perfect time, as if the stars aligned: Masego slid into Yuna's DMs offering to pop into the studio with her, resulting in the silky harmonies on "Amy." With Little Simz, Yuna happened to be in London, and after reaching out to the rapper to hang out, Simz wound up cooking a midnight shrimp curry and rice for Yuna; the two eventually decided to collaborate on an unexpected disco-tinged track "Pink Youth."
But Tyler, the Creator would prove a bit more tricky to track down. "I wanted to work with him for so long, since 2012, but the timing wasn't right... I was just not there yet," she added. "But for this album, I had this one song" that made perfect sense to have Tyler hop on. She'd met him a few times in the past, but she said, "I wasn't that kind of person to [say], 'Oh, give me your number.' I'm thinking, Okay, well shit. I don't know how to reach out to him."
But, as with the other collabs, this one fell into place like it was meant to be. During a visit to Los Angeles, Yuna had a fateful meeting with Tyler while out on a coffee run. "I drove out there, parked my car, got out, and guess who walks by—on the same street," she excitedly recalled. "Someone was just calling out, "Tyler!"and I'm like, Tyler? And then Tyler walks by, eating ice cream, so I say hi." After telling him that she'd been trying to track him down, the pair finally exchanged numbers, and the rest is history.
Yuna didn't waste this long-awaited collaboration on any old song; she tapped into the experience of her first label meeting ever from back when she was 15 to create "Castaway." Yuna recalled the condescending tone of the woman at the front desk when she'd brought up her demo, and told me, "The 15-year-old Yuna didn't have a chance at all" with that industry. Looking back on her early years as a musician, she said, "It wasn't easy. It was always me hustling and getting people to say yes and they don't believe me, and that's still there."
Tyler was clearly on the same level with Yuna when it came to putting that experience into his verse. "I wrote a little bit about the song, and he sent back this amazing verse. There's this line, 'If I was a pair of pants, I'd be looking for a belt/ 'Cause you always bring me down and I'm lookin' for an up,' and only he can do that. The whole sound of it, it's very chill and laid-back, but the message is so strong and kind of sassy as well."
Perfectly un-chill is the best way to describe most of Yuna's music. Her message is subtle but cutting; on "Likes," she tackles both social media and the difficulty in trying to please both her family and friends back in Malaysia, as well as fans everywhere. "They're [all] expecting something else from me, so how do I satisfy both," she asked, before answering herself: "I guess I just have to be myself and see who will latch on to my thing." She tries to pay no mind to the trolls in the comments sections, but does offer up a smart and measured response in her music; lyrics like "One says 'Just get on with the times'/ One says, 'Your livin' in a lie'/ Why can't they leave me alone?/ I'm doing good on my own" say it all.
"I'm a little bit wiser now," Yuna told me, comparing how she processed and responded to critics—on social media or otherwise—when she was younger. "I'm not 17 anymore, so I'm more vocal about my identity as a Muslim-Asian woman," she said. Returning to the topic of "Castaway," she mentioned, "Maybe before I wasn't brave enough to talk about it. I didn't want to 'offend' anybody. But I'm entitled to be angry about things, and so I'm going to talk about it."
Listen to Rouge, below.