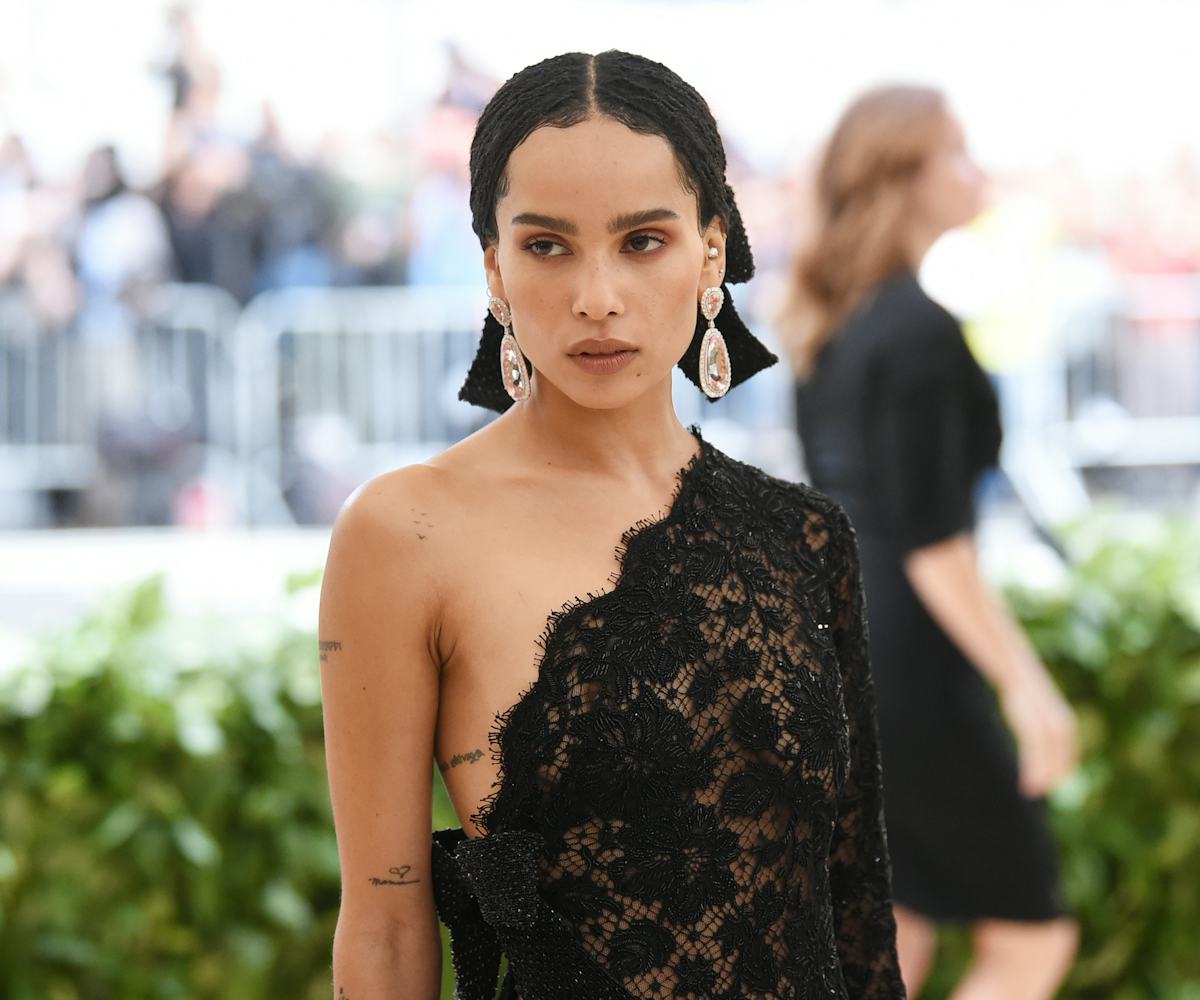 Photo by Jamie McCarthy/Getty Images.
Zoë Kravitz Hops On The ASMR Bandwagon
We chat with the star about 'Big Little Lies' and the lessons she learned in her 20s
Images of running water, postcard-worthy beaches, and insanely lush, green landscapes flood the screen before quickly transitioning to a shot of something just as soothingly beautiful: Zoë Kravitz sitting on a wooden platform with two microphones. "Let's all experience something," she whispers, drawing out each word of the sentence. "Together."
As with most commercials, it's unclear at first what product she's pushing on us. Is she advertising the tropical setting? Nah. It becomes clear a second later, when Kravitz picks up a bottle of beer, taps her nails against it, twists the cap, and pours it into a glass.
Kravitz starring in a Super Bowl commercial for Michelob Ultra beer sounds random at first—she thought so initially, too. That is until you find out said beer is organic, and then you realize it's actually very on-brand for the beer-loving singer-slash-actress (she's talked a lot in the past about her love for 40s), who loves to keep things natural. "I try to stick to organic products in general, in all aspects of my life," Kravitz told us over the phone. "The fact that I can now enjoy a nice beer, get a little buzz, and feel no guilt about what I'm putting in my body makes me feel great."
Ahead, we chat with Kravitz about the commercial's ASMR incorporation, the second season of Big Little Lies, and her upcoming project: a television remake of High Fidelity, a film whose original version starred her mom.
The commercial incorporates ASMR, were you part of the ASMR world before the commercial?
I wouldn't say I was a part of the world, but I was aware of it. It's just been coming up a lot in conversation over the last few months. It's something I think is really interesting… Some people have these really strong reactions to it, which I think is so cool. Before we shot the commercial, I did some research and watched a lot of ASMR videos and some of them affect me more than others. The cool thing is that, regardless of if you get the tingly feelings and all of that, it's definitely captivating in one way or another. I love the idea of giving the audience an actual experience rather than just trying to sell them something. I love the idea of sharing an experience with the viewers. I think that's really cool.
It's an interesting world because there's such a range. I wrote a story about people who are really intrigued by dandruff scratching videos, and I know there are people who love like hearing people eat pickles.
I also love what the internet has done in terms of these little niche groups of people, these subcultures. I love that it can go from being this little, underground, subculture thing to being a Super Bowl commercial. I think that's really interesting.
I want to talk about Big Little Lies a bit, because that's coming up. We're getting more of Bonnie's backstory in Season 2; are you excited to be taking on more of a prominent role in the show?
I am, yeah. I'm excited to go deeper, and I think she's a really interesting character. In the book, you learn a bit more about her. We made the decision to keep her path a secret to make the moment at the end as surprising as it could be. I totally understood why we did that, but I'm just so thankful for the fact that we now have a second season to explore her more and see why she reacted so intensely to Perry's pushing and grabbing Celeste in that moment. I just love what this show is about. To me, it's about a lot of things, but the cycle of violence and how that affects people and how we affect each other. Learning about Bonnie in this way really highlights that.
The first season was loosely based on the book, so people kind of knew what was going to happen. So I think everyone's anxious to see where this one goes.
Yeah, it's really interesting. I can't say anything because we're sworn to secrecy, but it's juicy and fun and sad and so many things. I think people are going to like it, I'm excited to see it myself.
I know that you also have High Fidelity coming out this year. You not only act in that, but you also produce, write, and direct an episode. What is it like to be both in front and behind the camera?
We actually haven't started shooting yet. Right now, we're in pre-production still. We're casting and writing still, but we'll start in March. I believe it's meant to air sometime in the fall. Wish me luck! I'm excited to be part of something from the ground up like this, it's really cool.
Is writing and directing and producing something that you want to explore more?
Yes, definitely. It's such a wonderful experience, and I'm learning so much by doing it. Working with Reese [Witherspoon, executive producer on Big Little Lies] for two seasons, I find her so inspiring and seeing the way that she created this amazing empire for herself, and also creates so many opportunities for so many other female writers, actors, producers, everything. I learned a lot watching her, and I'm excited to go deeper with that.
I know you wrote a script. Is there a genre that you gravitate toward? You've done a little bit of everything.
That one's kind of a thriller, but it has a comedy element to it. I like so many different kinds of films. I love horrors, comedies, dark comedies—I have quite a dark sense of humor. I want to do it all! The great thing about being lucky enough to produce and write is that you can create your own genres and meld things together in interesting ways. I'm excited to explore all of those options.
You just turned 30, which is something of a milestone age. Did you do anything special for your birthday?
It was very relaxed. I had a dinner with my closest friends and family, and that was really wonderful. Being able to sit at a table and look out and see everyone that I've now known for so many years—I care so deeply for them, and they care for me—it was just a physical reminder of being on the right path. I have these amazing friends and the people who are still in my life, who I've known since my early 20s or even my teen years, it was just a nice reflection of the last 10 years of my life. I'm excited to go into my 30s. I've heard so many people say that the 30s are the best, and I feel that. You're just more comfortable, and you're not running like a chicken with your head cut off and don't know what's going on. I'm excited for this new phase.
Looking back, are there any significant lessons that you think you learned in your 20s?
Oh god, so many. I think that's what the 20s are for. I think making time for people who we love, asking for help when we need help, learning how to say no when you need to say no, learning how to say sorry when you make a mistake, all of these things. It sounds so elementary, but you really do spend your 20s trying to figure out how to navigate through these situations. How to be patient, how to be calm, how to take care of yourself.