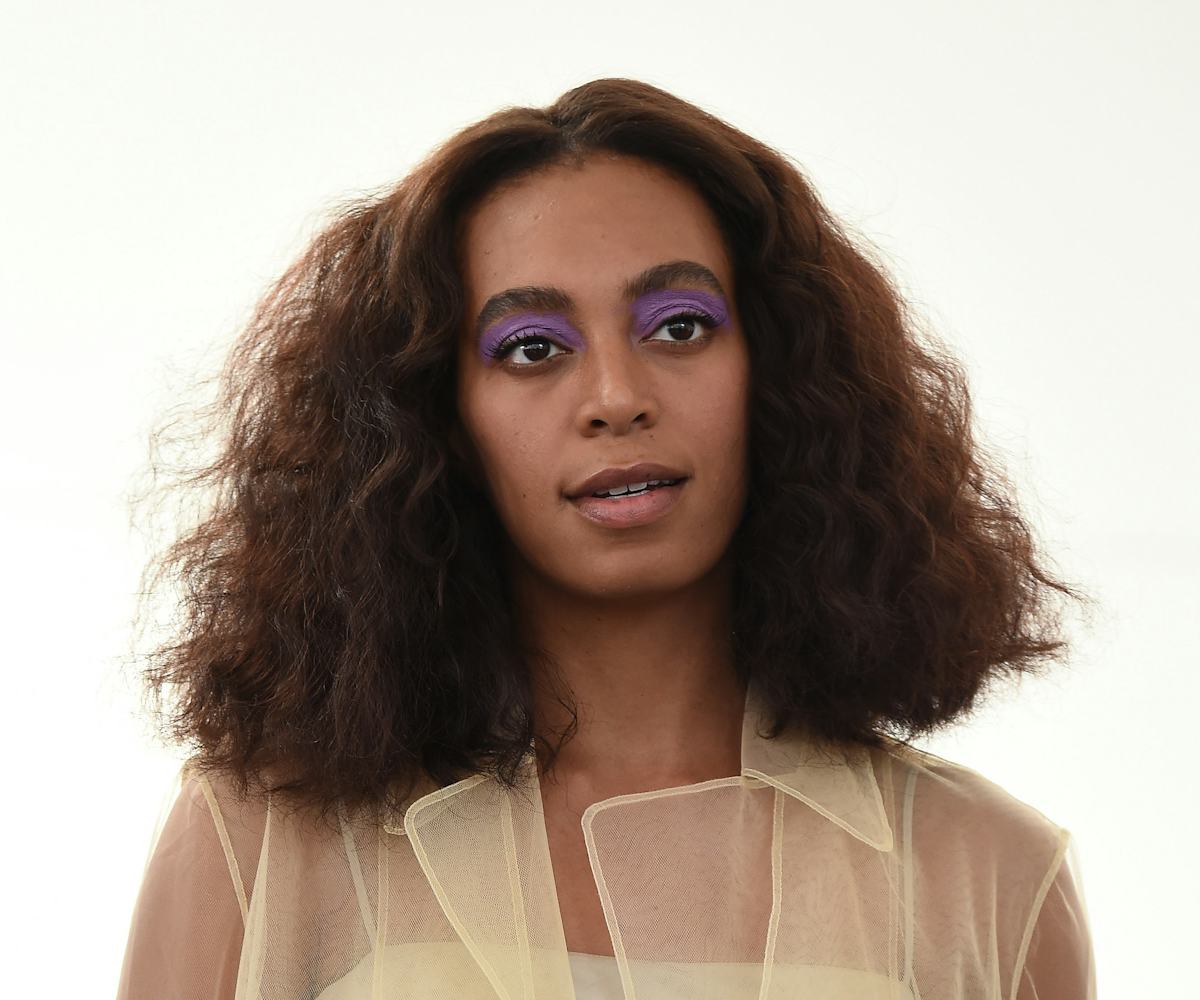 Photo by Ilya S. Savenok / Stringer / Getty.
This Is How You Know That Model In Solange's 'When I Get Home'
You probably read her epic story on Twitter
Solange's latest project, When I Get Home, is meant to be seen. She first teased the project when she created a BlackPlanet account filled with both still and moving images of herself, Black cowboys, Black strippers, and Black dancers. After the album dropped, she released a 33-minute short film that brought it all together. When I Get Home doubles down on the pro-Black themes found on A Seat At The Table and offers a dazzling ode to the Black culture Solange loves. That culture includes our innovations in technology, and there is one model in her short film who speaks directly to that ingenuity.
View this post on Instagram
A post shared by
(@zolarmoon) on Mar 4, 2019 at 12:48am PST
Zola (real name Aziah King) is someone you might not recognize, but have probably heard of. She is the literary genius behind an epic saga that involved meeting a fellow stripper at Hooters and getting caught in a dangerous get-money scheme and lover's quarrel after they embarked on a road trip to Florida. She published the whole thing on Twitter on October 27, 2015, using over 140 tweets. She basically invented the Twitter thread as we understand it, way before the platform formalized it as an actual feature. Her story was so sensational that A24 is turning it into a feature film with Janicza Bravo directing it.
Zola appears about eight minutes into When I Get Home with her signature twig thin eyebrows, flawless skin, dark lip liner, and big boobs in a bikini. She is the master of a machine that we see her both inside and outside of. At one point she pulls it down an abandoned strip of road in high heels. She looks powerful, strong, sexy, and in control of creation, if not burdened by it. It's a visual metaphor for some of the experiences of Black womanhood, one Zola was perfect for given her platform.
View this post on Instagram
She snapped. This entire work of art is one of the greatest things I've ever seen in my life & the fact that I was blessed enough to be a part of bringing her vision to life has me filled with so much inspiration & gratitude. I'll never be able to thank her enough. I'll never be able to explain enough. I'll never be able to put it all into words but just know, the tears are real. @saintrecords has saved my life a million times but this time was so personal & necessary I will never get over it. S/O to everyone that was a part of bringing such magic to life. You're all amazing & will forever have my utmost admiration. My hair & makeup: me, me, me. Styled by: @larrydavidswife - sis had so many mind blowing looks I'm still amazed @ how it all came together. Of course miss Tina made the girls' outfits. directed by the queen herself: @saintrecords - she knows EXACTLY what she wants & EXACTLY how to bring it to life which was so amazing to watch. producer: @petewillyams - who is beyond amazing. Site graphics, & album artwork : @callmesabla & @queridastudio - wigs were snatched. #WhenIGetHome film out now on @applemusic.
A post shared by
(@zolarmoon) on Mar 1, 2019 at 9:15pm PST
Since her Twitter tale went viral, Zola has continued to grow her following as an outspoken advocate for sex positivity, aggressive self-love, Black women doing what makes them happy and makes them money, and minding your own business. I'm not at all surprised that she ended up on the radar of Solange, who twerks freely and revels in the specific joy that's found at the intersection of Black femme.
In addition to her cameo, Zola just released two singles of her own "A Letter to the Sky" and "Get Out My Way." You can now find her on Instagram or on her new, lowkey Twitter @DaRealButtercup, her initial account is listed as suspended.
Corrections: A previous version of this post incorrectly identified Zola's last name as Wells; incorrectly named one of her songs "Single." I appreciate Zola for getting me together.