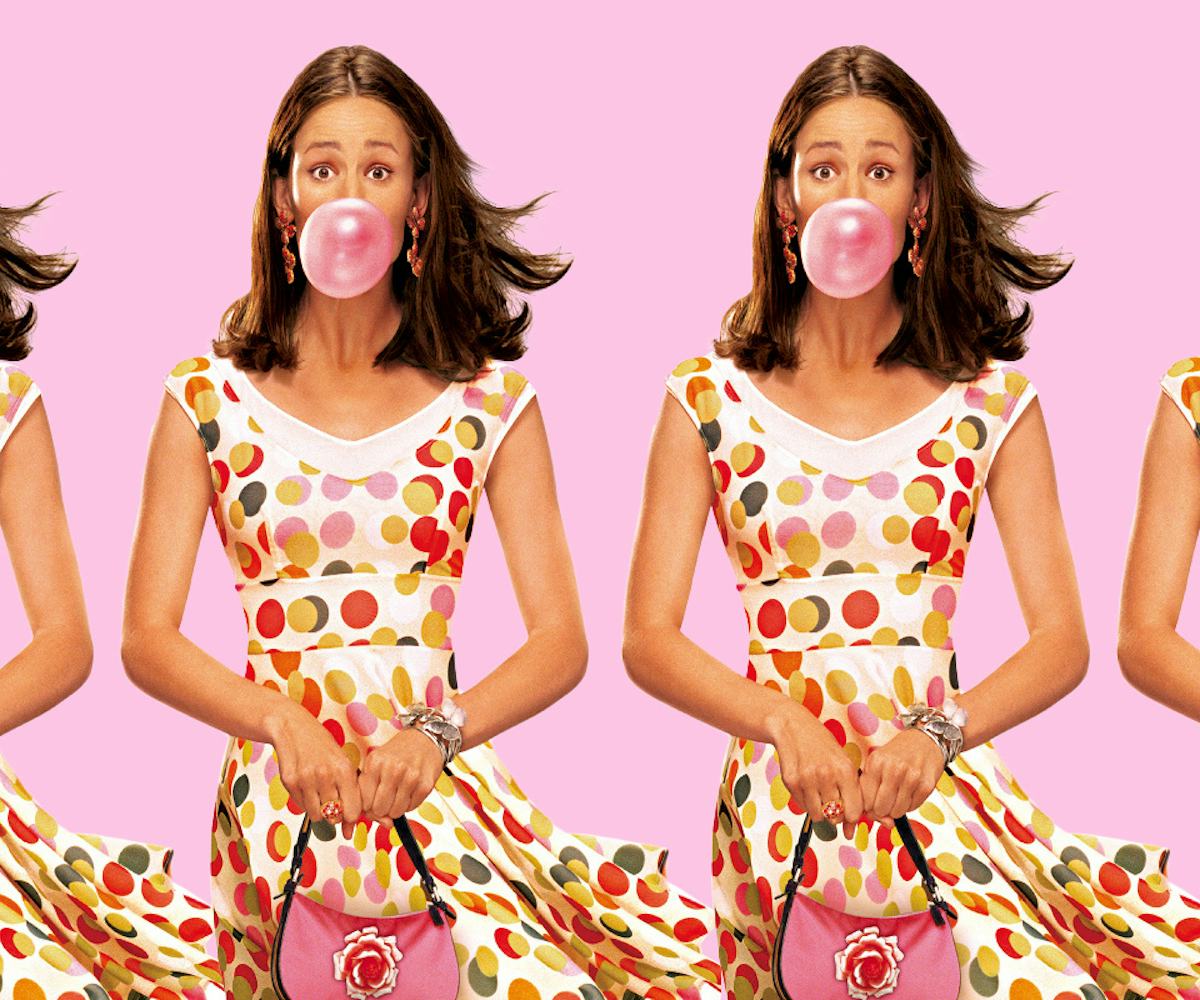 6 Things We Can Still Appreciate From '13 Going On 30'
Ahead of its 15th anniversary, we look back on everything we learned from this classic film
Whether you're 13 or 30 (or honestly any age for that matter), there's no way you're immune to the timeless charm of 2004 movie 13 Going on 30. Directed by Gary Winick, the lighthearted film is all about the comedically cute misadventure of teenager Jenna Rink (played by Revenge's Christa B. Allen), who wishes to grow up already and be "30, flirty, and thriving"—just like the women she admires in the pages of her fashion magazines.
In the movie, Jenna—who is painted as a socially awkward, nerdy young girl with braces who hasn't yet blossomed into a sexually attractive adult woman (which is fine because, um, she's only 13)—desperately wants to be accepted into the Six Chicks, the popular girls' clique (keep your eyes peeled for future stars Brie Larson and Ashley Benson) led by mean girl Lucy "Tom Tom" Wyman. When Jenna asks the girls to attend her 13th birthday party, Lucy manipulates Jenna into doing homework for the girls so they'll attend and bring Jenna's crush, Chris Grandy.
Before the party, Jenna's best friend, Matty "Beaver" Flamhaff—the geeky boy next door who likes to take pictures—shows up early to give her the pink dream house he built for her, sprinkled with some wishing dust. When the Six Chicks arrive, Lucy makes fun of Matty's old-school music taste, and ultimately tricks Jenna into playing a game of Seven Minutes in Heaven, telling her that Chris will meet her in the closet.
Blindfolded, Jenna awaits her Prince Charming, but the cool girls and cute boys decide to head out instead, taking the homework and some of the party snacks along with them. As Lucy leaves, she runs into Matty and tells him that Jenna is waiting in the closet for him. When he opens the door, Jenna, thinking it's Chris, goes in to kiss him.
But, once Jenna realizes it's Matty and not Chris, she freaks out and pushes him out of the room, banging her head against the wall and inadvertently knocking some of the wishing dust into the air as she says, "I want to be 30, flirty, and thriving." The sparkly dust envelopes Jenna completely, who wakes up the next day as her 30-year-old self (played by Jennifer Garner), and realizes that although her wish came true, her life isn't as dreamy as she had once hoped.
In honor of the movie's initial release 15 years ago, we thought we'd look back on some of its much-needed life lessons about being a human of any age.
Lingerie can (and should) be worn any hour of the day
When Jenna wakes up in her 30-year-old body, she's dressed in a pink slip and printed sleep mask. Full of confusion about her new adult life (and still adolescent mind), which includes a massive apartment and a steamy naked boyfriend, she runs out of the house, forgetting to change out of her nightie. However, she pulls off the look just fine, successfully turning the bedtime wear into daywear perfect for a day on the job as the editor of Poise magazine. While one probably wouldn't don lingerie to a corporate job, we think the look has serious potential for those working in more creative industries and a night out on the town, especially when worn with bottoms such as distressed denim and strappy sandals (a true early-'00s look).
The Fendi Baguette is still chic AF
Before adult Jenna hurriedly leaves her apartment, she also grabs her purse by the front door, which just so happens to be a silver Fendi Baguette. At the time, the bag, which came onto the market in 1997, was incredibly popular, worn by celebs and Carrie Bradshaw on Sex and the City alike. With today's current nostalgic fashion trend still going strong, the silhouette is just as big as ever—you can even find some of the earliest versions on resale sites such as Vestiaire Collective and The RealReal.
Got an existential crisis? Try fresh air, a glass of water, and a fluffy pillow
When Jenna pays Matty (now Matt, and played by Mark Ruffalo) a visit on her first day as a 30-something, and he tells her that they're not friends anymore (and haven't been since they were 13), Jenna nearly has a mental breakdown, but luckily, some fresh air, a glass of water, and a fluffy pillow help calm her down. We think this sounds like the ideal formula for dealing with the average millennial existential crisis.
Whitney Houston's songs make for the best getting-ready music
Before the Poise party, Jenna comes out of a steaming hot shower and does her hair and makeup while wearing a cute, printed robe as Whitney Houston's "I Wanna Dance With Somebody" plays in the background. Smiling from ear to ear, she surveys her beautiful, massive closet full of amazing designer handbags, dresses, shoes, and lingerie. Naturally, this scene reminded us that Whitney's tracks are the best for getting ready for any and all occasions (and that nothing compares to an apartment with a walk-in closet).
Unfortunately, there are bullies at every age
Surprisingly, 30-year-old self Jenna is now BFF with mean girl Lucy (Judy Greer), who's all grown up and still just as sassy (read: bitchy) as ever. While she initially appears to be Jenna's ally, Lucy ultimately goes behind Jenna's back and tries to take over Poise; manipulates Matt into signing away the rights to his photos; sells Jenna out for disclosing information to Poise's competitor, Sparkle, claiming Jenna wants the head editor job over there; and then takes that job herself, while Jenna is left behind and Poise folds. All these shitty shenanigans prove that some bullies don't ever grow up to become nice people. While this breed of evil still sucks, it's helpful to remember that it's not us, it's them.
Kid things are not just for kids
In the movie, 13-year-old Jenna and Matty love Razzles, a colorful candy that, when chewed, becomes bubble gum. Later, when they reunite as adults, they find a bag of Razzles and share it while swinging on the swings and seeing who can swing the highest. This adorable scene reminded us that kid things are not just for kids, and that laughter and silliness are as timeless as this film.