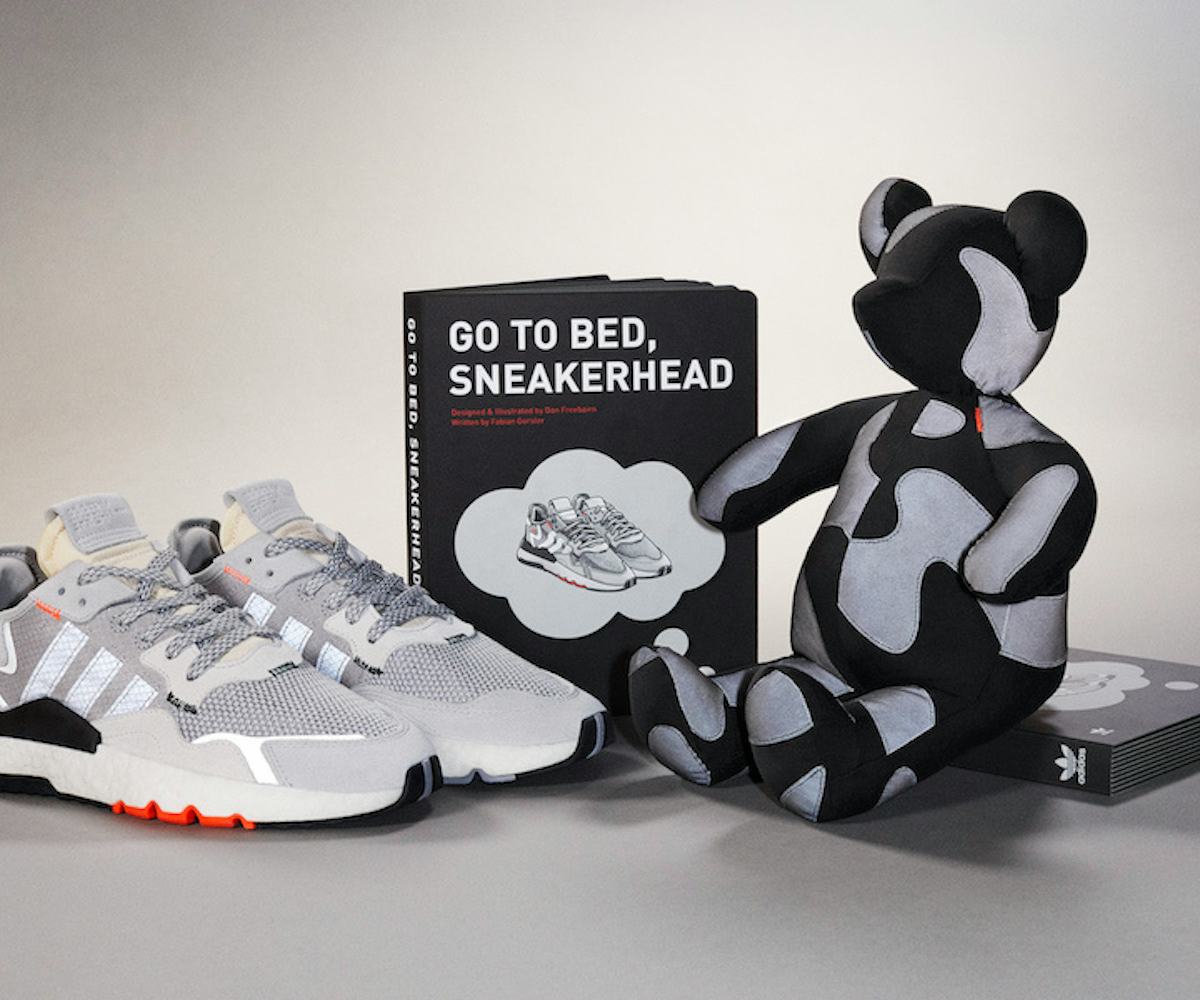 Courtesy of Adidas
Adidas' New Book 'Go To Bed, Sneakerhead' Is Like 'Goodnight Moon' For Hypebeasts
Adidas is dropping a book and teddy bear, called the NiteBear, to celebrate the launch of its new Nite Jogger sneaker, and it's probably the most wholesome launch I've ever seen. Go To Bed, Sneakerhead is basically the Goodnight Moon children's book hypebeast creatives didn't know they wanted, but so desperately need.
According to a press release, "The rare collectibles exist to inspire late-night creators to keep going and to keep dedicating their time to their creative pursuits—even if that means working through 'til daylight." But after all that creating is done, you have to go the fuck to sleep (if you didn't read that in Samuel L. Jackson's voice, you're lying). Now, for a limited time, a limited number of devoted hypebeasts can curl up for their creative napping with this reflective stuffed teddy in their arms, dreaming of sneaker collaborations yet to come.
Ahead of the Nite Jogger drop, at two locations in New York City, a small supply of the NiteBear and bedtime story will be given out to those who get there first. Fewer than 100 copies of Go To Bed, Sneakerhead will be available at Adidas' pseudo-bookstore located on Prince St. and Mulberry St. in Downtown Manhattan on March 28 and 29 starting at 8pm.
As for the bear, you're going to need a little extra luck snagging it. On March 29 at 487 Broadway near the Adidas SoHo store, NiteBear is going to be perched inside a machine amongst the rest of it's cuddly, trendy friends, and you'll have to hope The Claw is in your favor. You only get two tries, and a rep for the brand tells me if you don't succeed you're out of luck, there's no getting back in line for a redo. So, find a mall to loiter at and spruce up those claw-machine skills pronto.