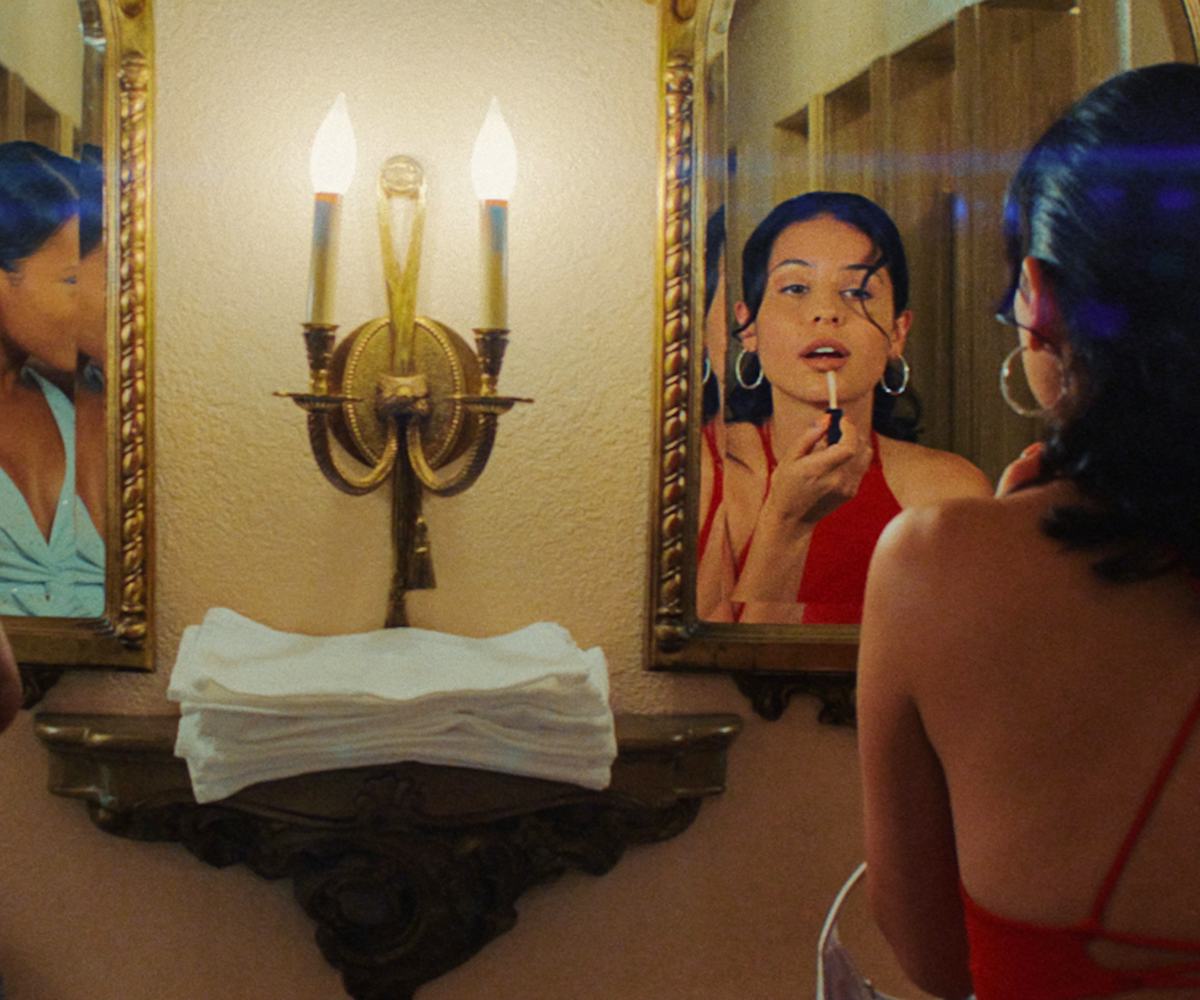 Photo courtesy of A24
How Alexa Demie Helped Create One Of The Most Emotional Scenes In 'Waves'
We spoke to the 'Euphoria' star about her latest role
A24's latest film Waves, an emotional, all-encompassing coming-of-age film, will, for lack of a better term, fuck you up. Truly, there's no way around it. From the music-blaring opening scene of two teens in love speeding down a Florida highway to its gut-wrenching conclusion some 135 minutes later, the film is start-to-finish a heart-pounding, tear-jerking experience that will, yep, fuck you up. Even its stars have to admit that. "Oh, it fucked me up in I don't even know what way," declares Alexa Demie, one of the film's leading ladies, wide-eyed in her emphasis.
In Waves, Demie stars as Alexis, one of the aforementioned teens in love, who anchors the film's first half, alongside Kevin Harrison Jr.'s Tyler Williams. For the first hour, we follow the high school seniors as they go through the ups and downs of young love, all soaked in the sun-drenched warmth of Florida light. On a Tuesday afternoon in November, with Demie curled up on a couch in A24's Manhattan offices, the scene is a little different. For one, it's snowing out; the first of the season, with tiny little flakes permeating the air outside. "Wait, what? No, you're lying!" Demie exclaims, jumping out of her seat to confirm for herself. "I'm from L.A. I remember the first time I came to New York when it was a full snow… I was running around in a crop top and leggings. People were like, 'What the fuck?' But as a little girl, I fantasized about snow so much. I fantasized about a snow day. But I never got one."
Not that she'd have the time to properly enjoy one now; to put it lightly, it's been a busy few years for the 24-year-old. Demie filmed Waves in the period between shooting the pilot for Euphoria, on which she plays breakout fan-favorite Maddy Perez, and working on the series' full first season. (Before that, she had a role in Jonah Hill's directorial debut Mid90s, a love letter to L.A. skate culture.) "The producer of Euphoria was the producer on Waves," she explains. "He saw me on the pilot, saw something, and asked me to audition. Shortly after, I was in Florida."
Demie says she was drawn to director Trey Edward Shults' script immediately thanks to the unconventional way it appeared on page. "It had huge fonts, little fonts, the words were dripping down the page, the music was in there," she explains. "Anytime I'm choosing a role, I like to see what music is in the script. If it's a song that's wack, I'm not here for it and will immediately dismiss it. Luckily, everything I've been doing has impeccable music taste." The film's soundtrack, which will undoubtedly be a cult classic, includes songs from the likes of Frank Ocean, Animal Collective, and Radiohead — all of which were there on the page from the get-go, save for a few changes here and there. ("There was a lot more Kanye in the script," Demie notes. "But everything works out the way that it's supposed to.")
Just as the script was handled in a unique manner, so was Shults' directing style. Take that epic opening shot, for example: a 360 long shot of Demie and Harrison Jr. driving in a car, singing along to music, their heads hanging out the window. "We did it a couple of times, and it just felt like we were driving," Demie says. "Trey was following behind us, and there was a camera attached to our car that he was operating. He has this weird, fucking magic trick where you don't even realize he's filming. It feels very documentary style. He let us do us. So that's what we did."
"I prefer that freedom," she continues. "If a director never gave me a note, I'd be fine."
It was Demie herself, in fact, who had some notes (or rather, suggestions). Inspired by the collaborative nature on set, Demie and co-star Taylor Russell (in a truly breakout role) suggested that they add in a scene between their two female protagonists — a sweet bathroom scene that, in the end, helps transfer the film from Part A to Part B. "Taylor and I got really close, and we became obsessed with this film called Persona," she recalls. "It's two women, and the way that they are shot is so beautiful, and we wanted this fantasy and this moment together. We didn't have a moment. We asked for it, and Trey was like, 'Of course.' They just found a bathroom, and we improved the whole thing. It feels like an energy that Alexis is transferring to Emily, and she's becoming her own woman, and then it shifts into her world. It gives you a little relationship that makes you feel it even more."
The scene, which takes place at a school dance, also recalls the Season 1 finale of Euphoria, but Demie says that's where the similarities between Maddy and Alexis end. "First of all, I think they act very different, they look very different, and Maddy is much more submissive in her relationship," she says. "With Alexis, she is in this relationship, but she sets her boundaries and she's a bit harder, whereas you see Maddy crying a lot making things acceptable for Nate. Alexis is right there, fighting back."
For anyone who spends more than five minutes with Demie, it's apparent that she is more of an Alexis. "I'm not very submissive," she confirms. "In some ways, I feel like I should be a little softer. I've had to grow up with a lot of strength and resilience, and that's just how I've had to be with everything in my life."
Still, she's more than ready and excited to jump back into Maddy Perez's skin-tight pants for the highly anticipated Season 2 of Euphoria. "I'm ready. I love Maddy," she says. "I feel like she helped me a lot, just in terms of having different perspective and compassion and more femininity. I don't really wear little skirts and matching sets. My mom had me young, and she's really hot, so as a little girl I witnessed a lot of men blowing kisses and saying things. It pissed me off. I would stick my tongue out at them. So, growing up, I wanted to wear things like that, but I thought I had to be protective. If I wore a skirt, I'd tie a sweater around my waist. Now I've been more open to standing in that power. I've learned to protect my energy, so I don't let that bother me anymore."
Today, for example, she's wearing a power suit by Alexander Wang, a three-piece number with leather accents. It's a full-on business look, and Demie is here to do business — after all, it's only three days from Waves' release, at which point the whole world will finally get to see this beautiful, fucked-up film she loves so much as many times as they want. Or not.
"Oh my god, how are you seeing it again?" she exclaims at my mention of a possible rewatch. "I think I'm too attached. But so many people are seeing it again. One girl saw it, like, seven times. I think that's cool."
Waves is out in select theatres now.