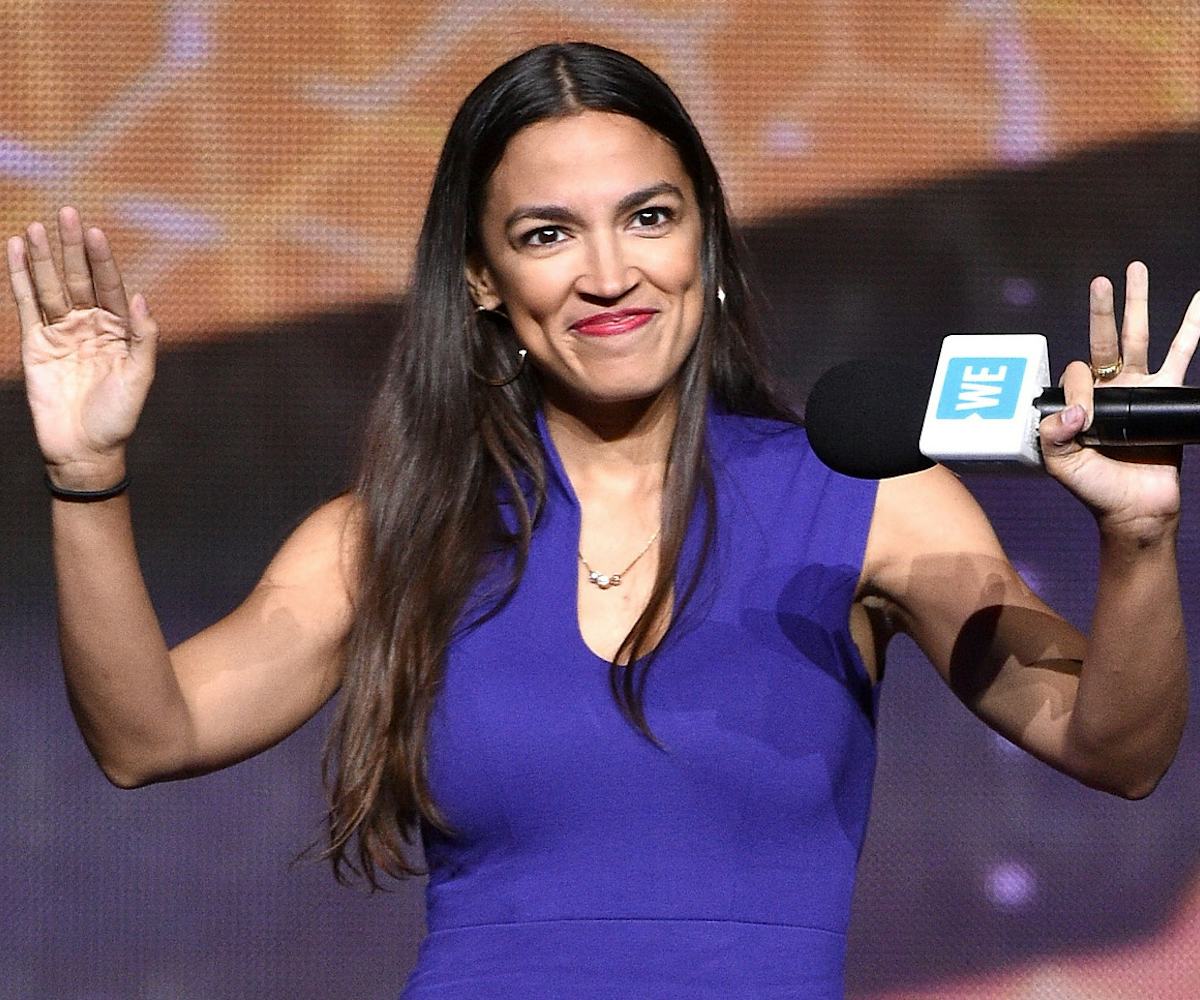 Photo by Bryan Bedder/Getty Images for WE Day
Alexandria Ocasio-Cortez Applauds People Who Can Wear False Eyelashes
She revealed her ENTIRE skin and makeup routine, and it's all very relatable
Alexandria Ocasio-Cortez just somehow became even more relatable. AOC took to her Instagram to reveal a step-by-step guide to her skin-care and makeup regimen, and it doesn't involve only products we can't afford or false eyelashes (well, unless you have mastered the art, in which case, as Ocasio-Cortez states, "bless" ). And, after she just revealed her secret to keeping her press-on nails in perfect shape, we'd trust her on anything beauty-related.
If you were wondering, it takes just a few steps to look like a Congresswoman. Instead of calling out too many products, because she "[doesn't] want it to sound too product-placementy," Ocasio-Cortez gave us her three-step routine which keeps her skin glowing.
For her first step, AOC notes the power of a good double-cleanse—especially if you wear makeup. She says that she uses a face brush or towel "when I'm being good" to exfoliate her face as well, though she says that facial wipes "are a really good place to start" if you tend to fall asleep in your makeup. For her second step, she uses non-alcoholic toner and activates ("serums with active compounds"). Lastly, she says to find a moisturizer that works for your skin—"I find moisturizer to be one of the most personal steps bc everyone's skin is different and it's like finding jeans that fit"—and then using sunscreen on top of that.
When it comes to makeup, she says to keep it simple and "let your skin BREATHE." "If it's a hobby or creative outlet for you, then definitely incorporate double cleansing and use a face brush or makeup towel to totally clear your face as soon as you can in your day," she adds. She also notes that she uses a mix of high- and low- end products.
The most relatable part comes when Ocasio-Cortez applauds those who wear false eyelashes. "I have tried the eyelash thing and idk man I'm gonna poke my eye out one of these days," she says, saying that she ends up looking "ridiculous w/ them falling off." She ends with, "Bless y'all that can do that. I will keep trying."
And, even though she does usually rock a red lip, she doesn't feel obligated to wear makeup every day: "I also straight up don't wear makeup some days and everyone just has to deal with it." Mood.