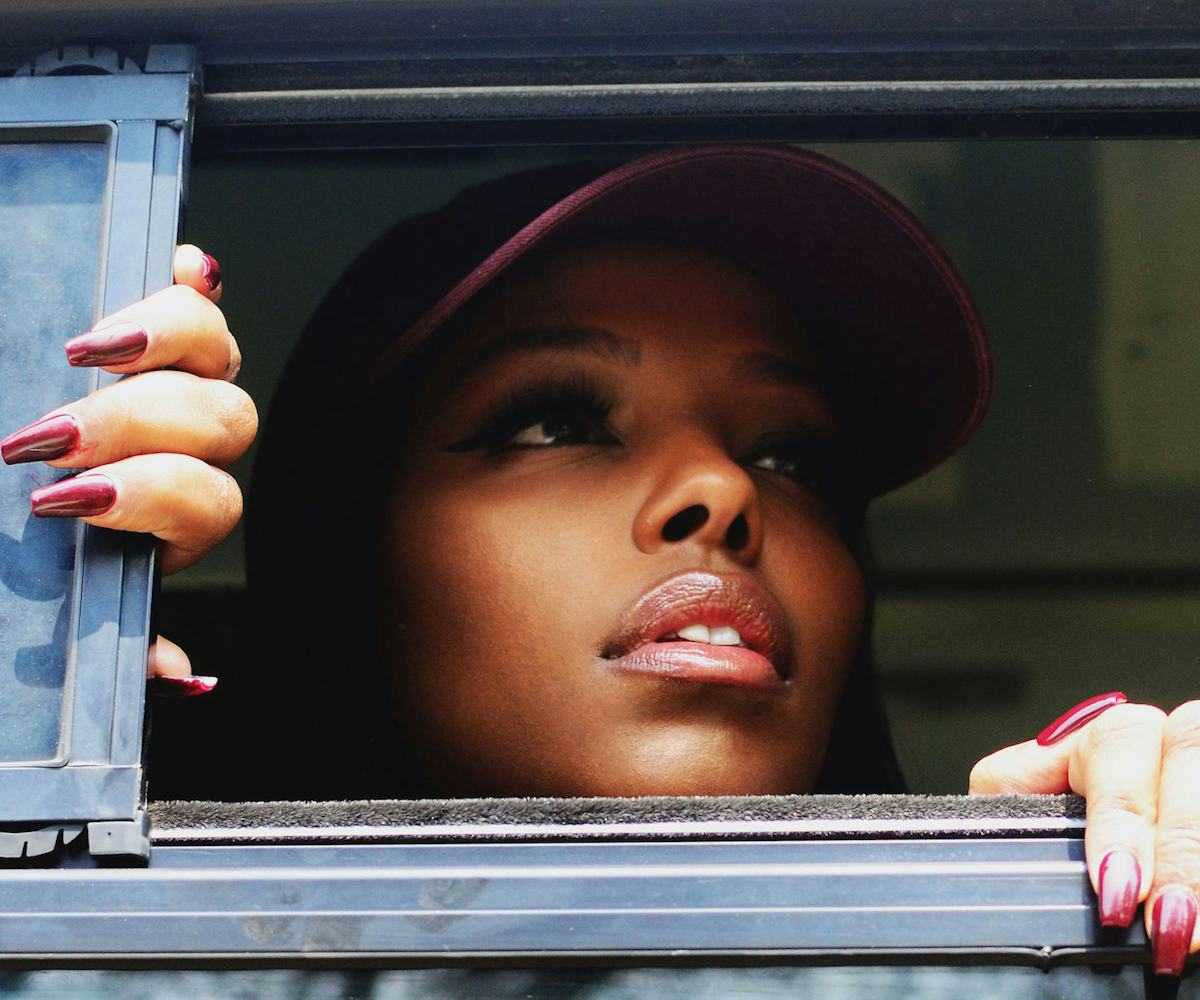 Photo by Kadeem Ellis
Amaal Breaks Free On 'Black Dove'
She shares the story behind the EP with NYLON
After years of single after single, rising R&B singer-songwriter Amaal presents her first EP to the world, Black Dove. Born in Somalia, she'd emigrated to Toronto in the early '90s to escape civil war, and was shaped by her local music scene. "Drake, The Weeknd, Daniel Cesar," she lists the names of the Torontonian stars who inspired her when we spoke earlier this week, crediting the city's "transient" seasons for inspiring her to make brighter music, always looking for the light at the end of a dark, cold winter—both figuratively and literally.
Black Dove is intrinsically linked to Amaal's cultural upbringing, but it does not rely on it for creative merit or clarity. "I was raised in a strict, conservative household. Being from the culture that I'm from, being a Muslim woman, doing music is considered taboo, and not something that is a viable option and a career," she tells me, explaining that, when she pursued music, she received some backlash. "But," she says, "I was making music that was very conscious and there was this message of hope in it. That was okay with people, and I stayed there for a very long time, I guess so as to not rock the boat, keep my family happy, keep the people happy." But then, she realized that wasn't enough for her, because, as she explains, "I was absent in my own music."
And with Black Dove, she centers herself in her own narrative. "Black Dove is taking away that cultural pressure, the bounds that were holding me back from fully expressing myself. I'm coming into myself and my womanhood, feeling empowered in my identity, my sexuality, things that I never would've been able to talk about it. It's freedom."
I'm coming into myself and my womanhood, feeling empowered in my identity, my sexuality, things that I never would've been able to talk about it. It's freedom.
The newfound freedom is most present in her voice; it's as if she's loosened her grip, taken a breath, and just let the music naturally pour out of her. There's an ease and flair to it that speaks of experience and maturity. "[When I was younger] I was very unsure of myself, and even the decision making. There was never any intent, I didn't do anything but record and just release it," she says.
Amaal adds later, "Being in a very male-dominated industry, your voice can be drowned out. I struggled deeply with it"—to the point where she almost quit music. Thankfully she did not, and in recording this EP, she says: "I realized how ferociously strong I really am. I'm able to set boundaries and I'm able to express myself. I'm able to now trust my instincts. You have to honor yourself in whatever space you're in. And once you're able to do that, to me, that's success."
Now, Amaal is more vulnerable with her work, tapping into an experience that made her feel, at the time, "embarrassed and ashamed" as her main source of inspiration. Her resilience and grace is on full display in execution and delivery, both on Black Dove and in real life as she recounts her inspirations and experiences.
For Black Dove track "Later," she shares an accompanying music video today, exclusively via NYLON, which gives context to what she was going through. "I was in a situation where a person I loved was doing time and had to spend eight months in jail," Amaal tells us. "I had to spend my weekends going there to visit him, and the song was created during the bus rides there." Her fellow passengers "shared very similar stories," she adds. "It was interesting because, although I was so embarrassed, once I was on the bus, I was so at peace, because they were my sisters in the end." The video is filmed on that very same bus, as a way for Amaal to pay homage to those women.
The song itself is a conversation with her partner, a promise to love despite the situation. "My love is resilient, and I hope that through it, you can change," she says. "It's a beautiful thing, but it can be damaging too," she adds, before admitting that she was still in a space of questioning the role of the ride-or-die. "How come I have to endure pain to show you how much I love you?"
Her experience in visiting her incarcerated love carries throughout the EP; on "Let Go," she asks her love to forget about their surroundings during their visits and just connect and be present with each other and their feelings: "Can you just ignore these prison walls and these fences and dogs and guard watches? Can we just live in our own world?"
Amaal's breaking point arrives with "So What," which is her favorite song on the EP. "You're sort of abusing my love," she says of her partner, adding, "That's why I'm like, If I don't visit, I know that you'll miss it/ You're doing your time but I'm paying for this. I'm also doing time with you."
She concludes her EP with a step back from this narrative, offering a separate message of innocent defiance with "Scream." This song, she says, "is about being in love with someone society tells you not to [love], whether it be [because they're] of a different ethnicity, a different sex."
Without knowing her specific experience, it remains right in line with the message she shares across Black Dove, and is a reminder that we should all have the freedom to center ourselves, love and share and grow in whichever way we please, with whomever we please, regardless of how it makes others feel.