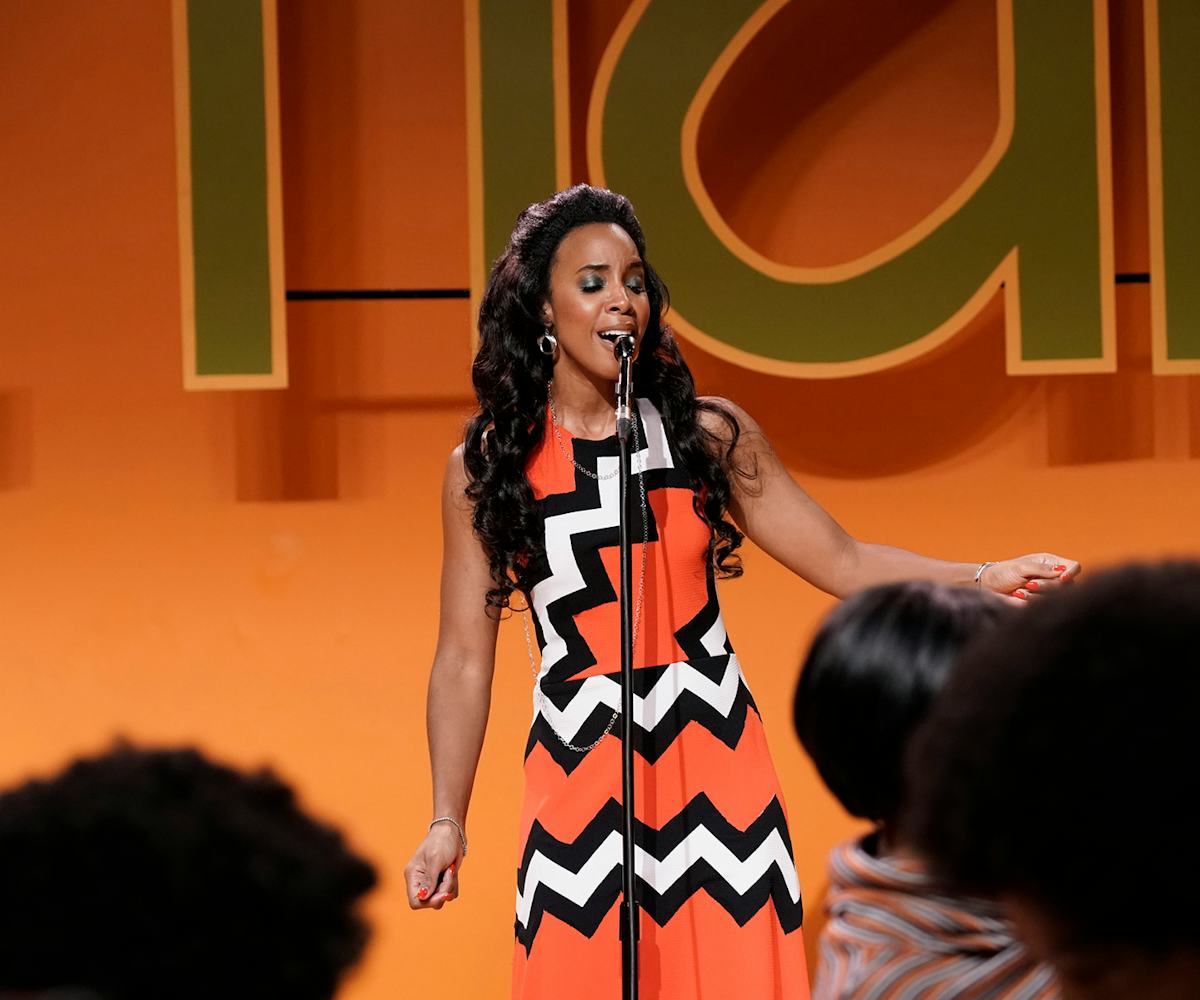 Photo by Jace Downs/BET.
'American Soul' Is The Kind Of Black History I Want More Of
I can't stand another black-and-white photo of W. E. B. Du Bois
As a Black woman, I feel entitled and more than comfortable saying this: Black history, and the way it's celebrated, is stale. You know the drill: Shirley Chisholm, Rosa Parks, and Angela Davis are the names that come up year after year in February. This is occasionally interrupted by the introduction of literary pioneers like James Baldwin and Maya Angelou. It isn't that all of these people and movements aren't important to Black history—and American history; they most certainly are. But, in limiting our attention to this group during the 28 days of the year we've dedicated to Black history, we limit the narrative of Black progress to resistance efforts against oppression. While recounting that narrative is extremely important, Blackness has a history that goes beyond our shared struggles. I want more Black history that honors our innovation; our ability to flourish within an environment hell-bent on stifling us at every turn; our success within a financial structure that was built to exclude us. I want Black history that honors our humanness. I want to hear from Black titans of business, know more about the philosophies of Black artists, and be inspired by the emotional journeys of Black people. I want more shows like BET's American Soul.
With American Soul, BET—the historically Black network that recently found a niche in biopics after the massive success of 2017's The New Edition Story and then the 2018 Bobby Brown Story—is giving viewers an intimate look at the creation and influence of Soul Train through the eyes of its originator and host for over two decades, Don Cornelius. If you grew up in a Black household at any point between the '80s and late '90s, the chances that you've seen the nationally syndicated music and dance program are high. Even if you didn't, you can still catch the annual Soul Train Awards, find endless GIFs of Soul Train dancers, or, at a bare minimum, been forced to dance your way down a "Soul Train line" at a wedding or party. The show, which was on air for 35 years by the time its final episode came around in 2006, was integral to the continuation and distribution of Black musical and dance traditions. Being booked on Soul Train as a musical act meant that you were a big deal. And being a Soul Train dancer meant you were the baddest motherfucker on the block. Period.
Cornelius is the figure behind this influential program, and American Soul tells his story. Soul Train was modeled after American Bandstand, a show where young people danced to top 40 songs. Cornelius (played by Sinqua Walls) conceived of his show as a Black alternative. It ended up being way more lit. Not only did he make huge strides for African-American representation with Soul Train, but he also made a strong case for economic empowerment. As creator, host, and producer, Soul Train was Cornelius' show, not just one he was paid to lead. Today, "buying Black" is a buzzword. Hip-hop moguls like Jay Z and Diddy swear by it with the various claims they've staked in industries like fashion (Sean Jean and Roc-A Wear), technology (Tidal), and spirits (Ciroc, D'usse, and Armand de Brignac). Their enterprising spirits are helping to change the Zeitgeist on Black ownership in the U.S. and abroad, and it's no different than the position that Cornelius held when he sought to make Soul Train a nationwide hit with beautiful Black people at the helm and reaping the benefits.
More than a dramatization of just his business endeavors though, American Soul captures the man that Cornelius was both on and off the air. As is often the case with biopics, the subject's sacrifices and personal struggles get just as much attention. There was no shortage of them in Cornelius' life as an entertainment professional. American Soul actually opens with (spoiler alert) his 2012 suicide and then works its way back to the '70s where he was pulling from his own emergency funds to put Black pop culture on the map. Another pet peeve I have with the popularized Black history narrative is that it often erases emotional and mental health as a part of life that everyone deals with—including our cultural heroes. For this, the raw honesty of American Soul is appreciated.
The icing on this cake is the colorful cast of Black actors and artists who give us another chance to understand Black culture. In addition to Walls, Kelly Rowland appears as Gladys Knight, the iconic soul singer who agrees to appear on Soul Train to support Black businesses. Another Destiny's Child member, Michelle Williams, is Diana Ross. Bobby Brown plays soul singer Rufus Thomas, while Luke Cage's Gabrielle Dennis will bring Tina Turner to life during the 10-episode run. With their experiences as artists, many of them likely having grown up on Soul Train just like I did, they get to tell Black history while living and making it.
In my mind, Black history doesn't exist on a linear timeline that can be neatly explained chronologically. It's a mosaic-crafted web that transcends time and location thanks to a series of relationships and a rich legacy informing how the whole thing functions. American Soul is an examination of one small portion of that web, but also a separate entry all on its own thanks to a cast and host network that have already helped define Blackness for a generation of people. It's been said time and again that Black history shouldn't actually be limited to one month, and, of course, it isn't. Black history is all around us, and still being made, every minute of every day of the year. But, if we do have to bend to the will of a marketable calendar event, I want to see more programming like this and fewer black-and-white photos of W. E. B. Du Bois. I'm just saying.
American Soul premieres tonight on BET.