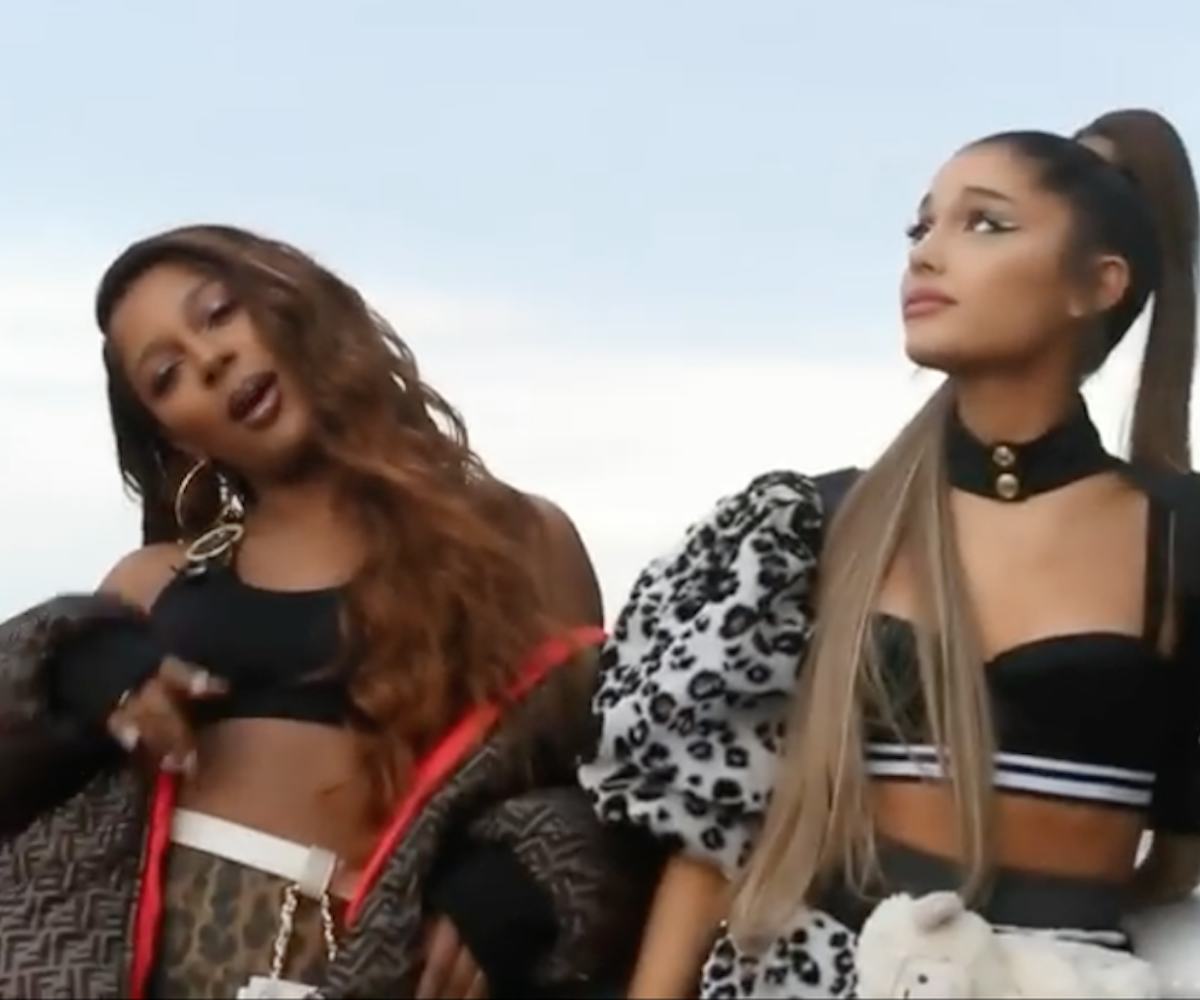 Ariana Grande Sings That She Likes "Women And Men" On New Song "Monopoly"
Leave it to Ariana Grande to send her stans in a tizzy about lyrics before a song even drops. On "Monopoly," her newest single and video with songwriter and BFF Victoria Monét, both Monét and Grande sing, "I like women and men/ Work so fuckin' much, need a twinny, twin, twin," and now, maybe the video for "break up with your girlfriend, i'm bored" was less queer-bait and more self-discovery than I previously would have guessed.
As Genius points out, though, the line could be all Monét's. The songwriter came out as bisexual during Thanksgiving in 2018, which would totally explain the message behind the lyric. However, Grande both joins in on singing this lyric with Monét and repeats it later in the song alone, which led many fans to speculate.
The most important question fans proposed? Whether or not Grande has dated Liz Gillies because, let's face it, they had the best friendship both on Victorious and IRL.
Others—particularly members of the LGBTQIA community—are hoping it's not her version of an April Fool's Day joke. Earlier this year, Grande was subject to criticism for accepting the headlining spot at Manchester Pride, with some commenting that the move "kinda smells like exploitation of the lgbt community to me." Grande responded directly to the criticism, sharing a statement in which she said, "I want to celebrate and support this community, regardless of my identity or how people label me."
The "Monopoly" video itself is an on-the-nose DIY representation of where Grande is at in her life. She dances on the rooftop with Monét, and borrows from Donté Colley's delightfully entertaining Instagram videos (he also makes an appearance in the video) by juxtaposing emoji graphics and text atop the footage to make clear the points made throughout the song. Except, though, the one about whether or not she was serious about that bi line. Hopefully, after the distrustful fog of April Fool's Day blows over, Ari will give us some clarification.