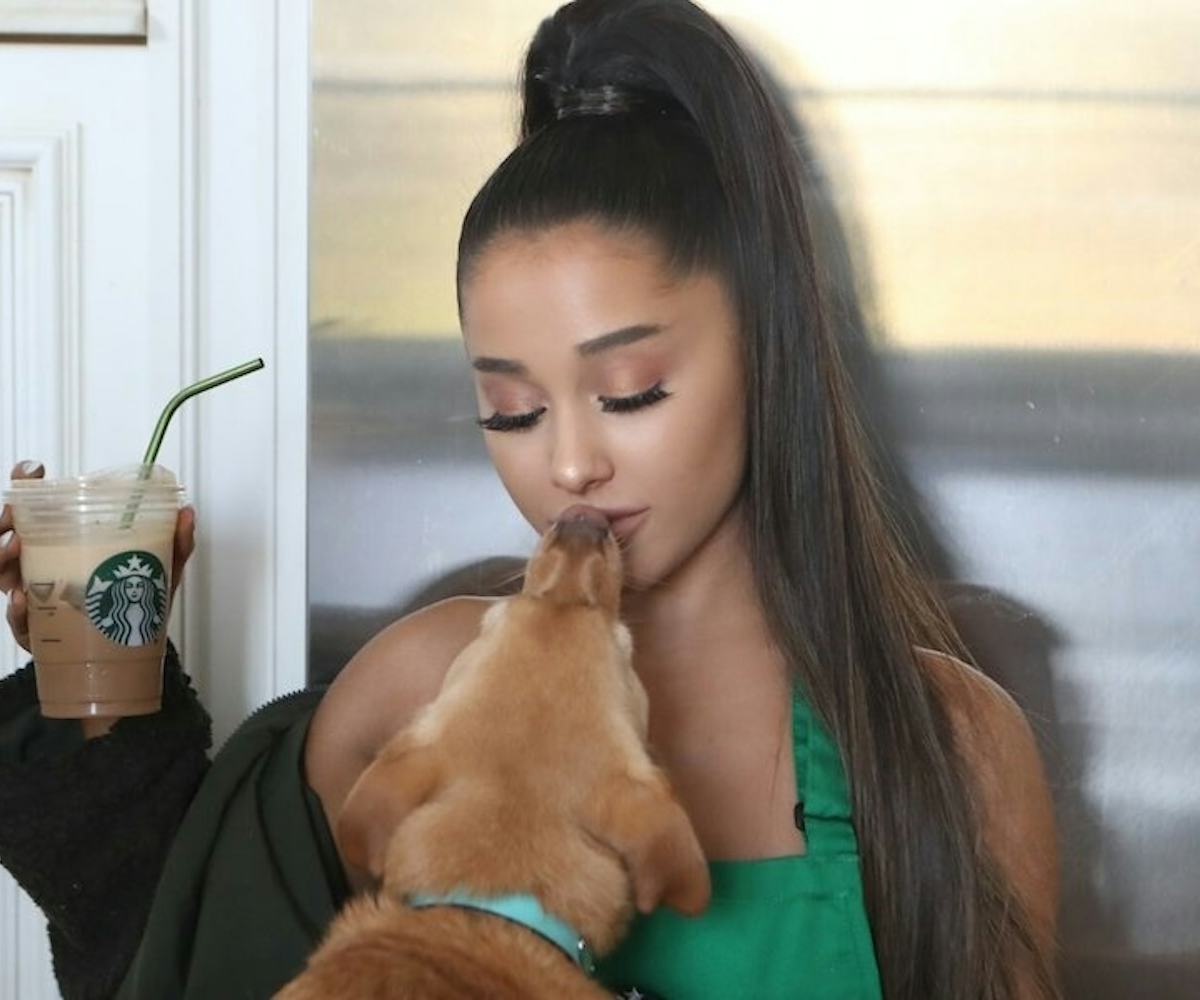 Photo via @arianagrande on Twitter
Ariana Grande's Starbucks Collaboration Is Being Called Peak "Woke Capitalism"
"You're doing feminism with coffee"
Ariana Grande is teaming up with Starbucks for a special drink just in time for International Women's Day, and if you were looking for peak "woke capitalism," look no further.
Grande is now touting the sale of the cloud macchiato, which is an espresso drink with a mountain of cold whip foam and caramel drizzle, and has announced her ambassador status with the brand via a Twitter hashtag. This reveal comes in tandem with Starbucks' specific plans for International Women's Day: a playlist, which they will play on Friday, March 8 for the holiday, followed by a playlist of Grande's own music that will play from March 9 through 15. It's a teensy nod toward feminism that's not technically directly connected to Grande—just conveniently smushed in the middle of her drink launch and widely reported as being linked. Cheers to branded female empowerment!
The reactions on Twitter—save for the ride or die stans—were filled with stale jokes about Ari's last name being a size of a Starbucks drink (though they're pronounced differently, ICYMI) and comments about how the announcement reads like a "parody of woke capitalism." Twitter user @rachelmillman's exasperated reaction to the collaboration garnered plenty of traction, as she wrote, "Ariana grande selling a custom starbucks drink on international women's day is like. [sic] you cannot write better parody of woke capitalism than the actual thing," before adding later, "Gloria Steinem infiltrated the playboy mansion and became Christian Bale's stepmom so you could buy the FUCJING COFFEE (sic). we're breaking the glass coffee pot mother fucker."
Grande has shared mostly puppy kisses and metal straws along with the announcement, but did point out to @rachelmillman that Women's Day is on March 8 not March 5 (today) which is when the drink drops. Her stans seem to be handling all of the feminist discourse in separate threads.