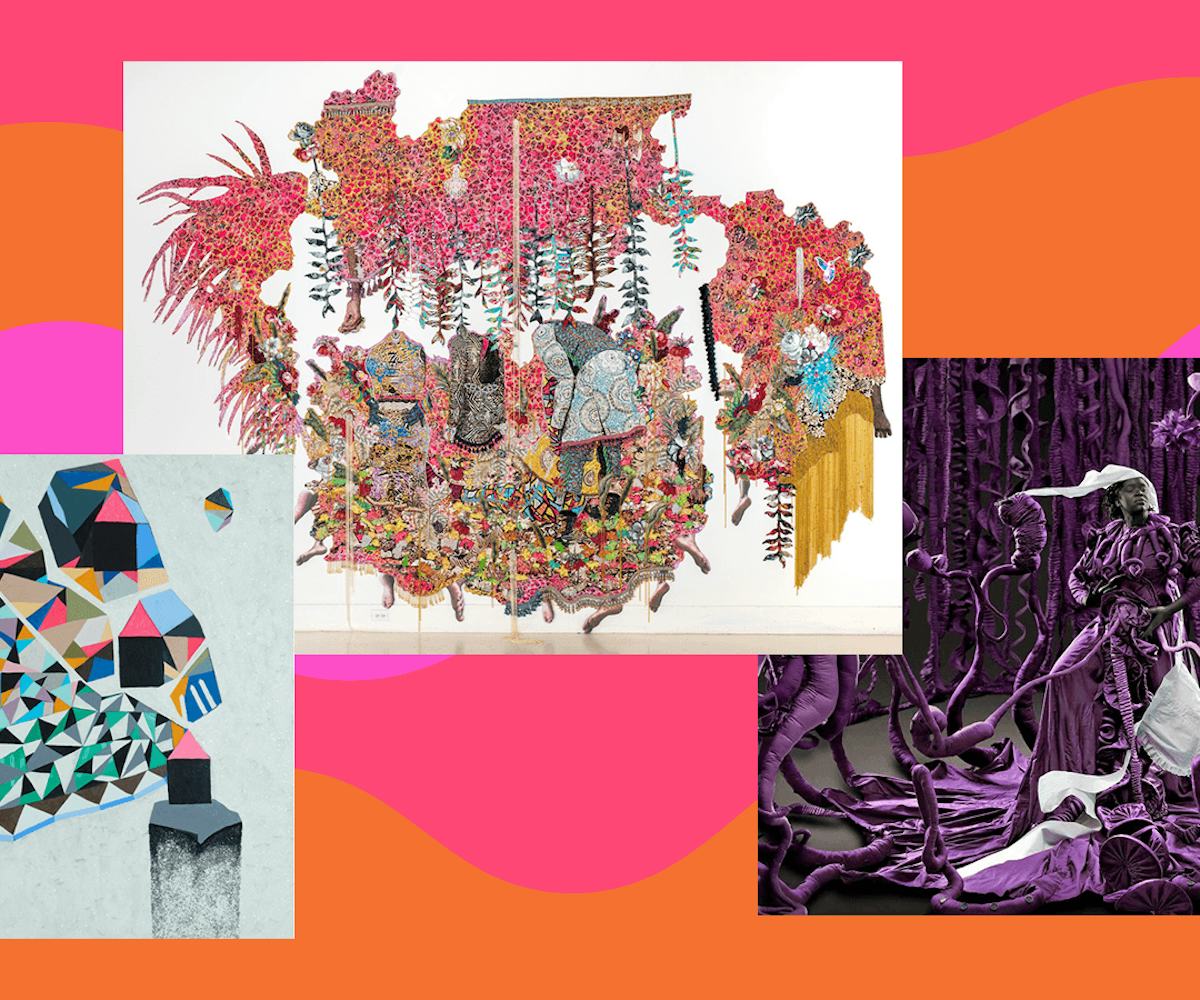 Photos courtesy of California African American Museum, Pérez Art Museum Miami, Museum of Fine Arts Boston
15 Necessary Exhibitions To See This Black History Month
You won't want to miss them
The art world establishment is still incredibly whitewashed, and mostly male. It's not alone in this, unfortunately, but it's particularly notable since creative expression is often at its most exciting when it comes out of marginalized, underrepresented communities. This is why it's absolutely necessary that minority voices be given a mainstream platform—it benefits them, yes, but also audiences.
Inclusive exhibitions cannot and should not be restricted to only being shown during Black History Month, of course, and I alwaysadvocate that museums and galleries focus on diversifying their offerings. But, there are so many opportunities around the country to see art made by Black creators this month—and even if you can't see them in person, you should at least read up on the artists and their work. Below are some great places to get started on doing just that.
Museum of Fine Arts Boston, Made Visible, opens February 2
This exhibition draws attention to the underrepresented communities of South Africa who were systematically oppressed during the apartheid regime, including Xhosa, Ndebele, and Zulu communities; women of color; members of the LGBTQI community; and rural citizens. Members from these communities will describe the ways that clothes have shaped their identities.
Museum of Contemporary Art Pacific Design Center, One Day at a Time: Kahlil Joseph's Fly Paper, closes February 24
This film explores the rich cultural impact and history of Harlem and the larger topic of Black art and culture in New York City.
Institute of Contemporary Art, Philadelphia, Colored People Time: Mundane Futures
The first part of a three-part installation (it runs through March 31, and will be followed later this year by Quotidian Pasts and Banal Presents), Colored People Time: Mundane Futures is a provocative, fascinating look at the way the Black American experience has shaped and really provided the framework for our larger American experience. It provides essential insight into the ways in which Black discourse has worked outside of time, making clear that the future that is only now coming into being is actually referential to moments that have already past. An example of this is the exhibit's copy of The Ten-Point Program laid out by the Black Panther Party in a 1972 issue of its eponymous publication; it's almost identical to the political proposals of politicians like Alexandria Ocasio-Cortez. —Kristin Iversen
New Museum, Nari Ward: We The People, opens February 13
Ward's sculptures use recycled objects found in Harlem (where he lives now) or Jamaica (where he grew up). This exhibition pays particular attention to Harlem as an important site for his creation.
Institute of Contemporary Art Boston, Nina Chanel Abney
The mural that Abney created for the ICA explores "social tensions in the digital age," paying special attention to "the constant stream of true and false information, the dilemma of liberal racism, and abuses of power that lead to structural inequality."
Art Institute Chicago, Dawoud Bey: Night Coming Tenderly, Black
The series of large-scale black-and-white images that Bey has taken take a look at African-American history. The sites photographed are some of the last stops on the Underground Railroad, and some of the last places seen by former slaves before they crossed over to freedom in Canada.
Frye Art Museum,Tschabalala Self
Self's work is positioned at an intersection between race, gender, and sexuality. Specifically, it investigates the "iconographic significance of the black female body in contemporary culture."
Museum of Contemporary Art Chicago, Prisoner of Love
This short film shows what it feels like to live in America as a person of color and, in doing so, "tells a story of trauma and transcendence." Video recordings of Martin Luther King Jr. and Notorious B.I.G. are interspliced with footage from the news, concerts, and homes.
Hammer Museum, Hammer Projects: Jamilah Sabur
Ready to feel otherworldly? This video exhibition explores the act of navigation between the martial world and the transcendental plane and brings together ritual practices and digital technology.
Atlanta Contemporary, Kevin Cole: When My Scars are my Testimony
Cole's exhibition is so personal that I'll leave it to him to explain it. In a statement from the artist, he notes that "the work is rooted in a place of targeted tragedy." He continues: "Its curvilinear twists, knots, and loops are fed by the energy found in the souls of ALL those who toil and triumph everyday against the odds and against the unheralded tragedies of life. My work is a universal story with both hero and villain, good and evil."
Rubell Family Collection, Purvis Young
Young spent his entire life "observing and documenting the lives, deaths, struggles, and dreams of the people around him." This exhibition is a comprehensive collection of what he created from that.
California African American Museum,Adia Millett: Breaking Patterns, opens February 5
Millett is focused on understanding identity, personal memory, and collective history in her work, paying special attention to the history of African Americas, particularly women. For example, a series of quilts made of discarded clothing, sheets, other quilts, and curtains are intricately created, and "allude to domesticity and craftwork."
Pérez Art Museum Miami, Ebony G Patterson ...while the dew is still on the roses...
Patterson creates layered surfaces of flowers, glitter, lace, and beads as a reference to and investigation of "forms of embellishment as they relate to youth culture within disenfranchised communities." Her work explores themes such as violence and masculinity as they shape the culture of her native Jamaica and within Black youth culture around the world.
Pérez Art Museum, Arthur Jafa: Love is the Message, the Message is Death
Jafa's short film Love is the Message, the Message is Death is a celebration of the huge successes that Black Americans have had in a country that so ruthlessly works against them. The video intersects huge victories with the suffering and pain they have been subject to, showing that the two are inseparable.
Museum of Contemporary Art North Miami, AFROCOBRA: Messages to the People
This exhibition acts as a celebration of the Chicago-based artist collective AFRICOBRA, which "helped define the visual aesthetic of the Black Arts Movement of the 1960s and 1970s." Work from the founding artists and other early members will be shown together.