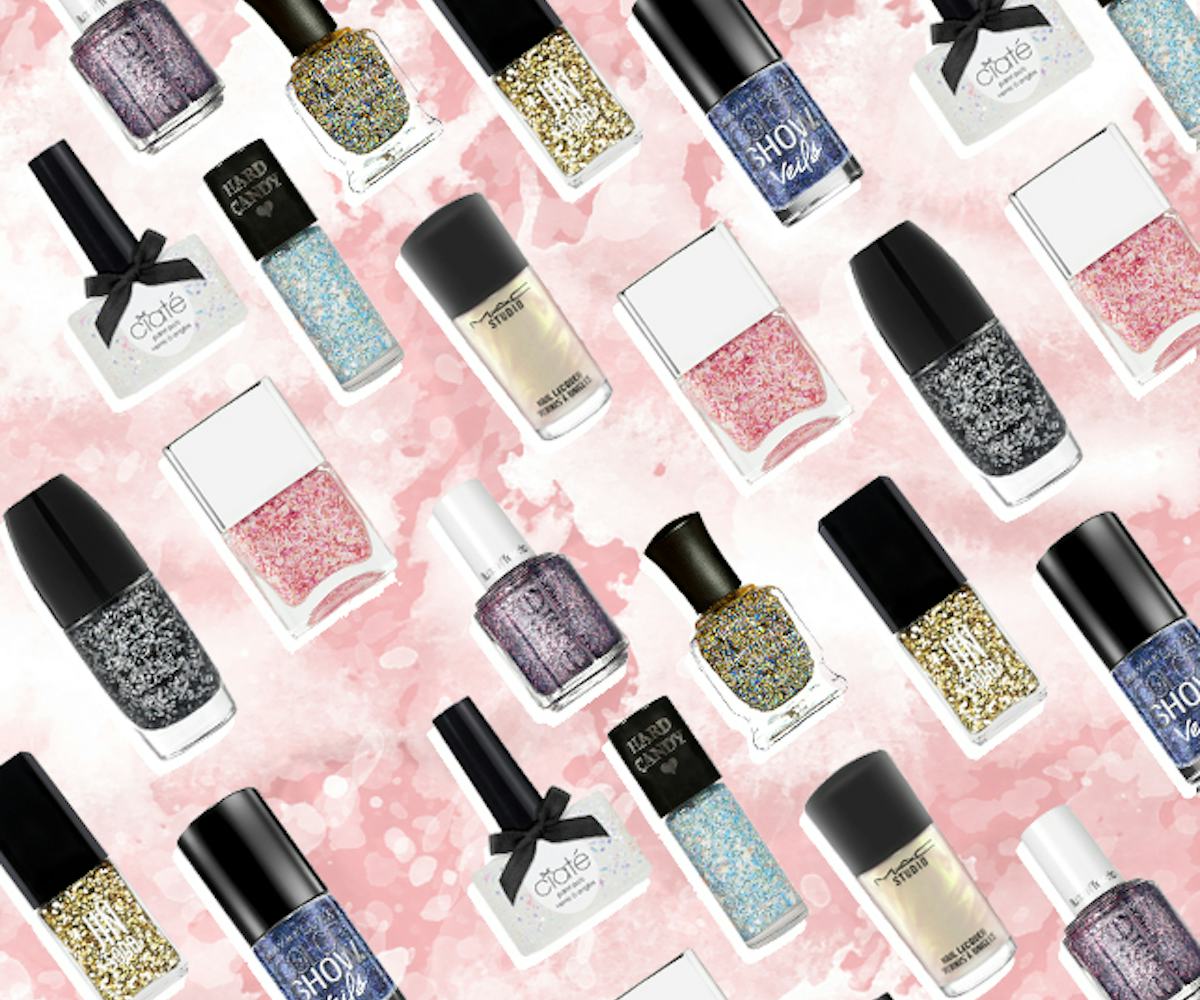 The 12 Coolest Topcoats To Give Your Mani A Boost
because diy manicures shouldn't require much skill
Painting your own nails can seem like more of a daunting task than simple beauty upkeep, especially when you get bored with plain, solid colors. Not all of us are blessed with the artistic skills or a steady enough hand to create time-consuming nail art—and even if you are, who has the patience? Luckily for the busy, lazy, and/or shaky-handed girl on the go, today's advances in nail lacquer allow for some super cool effects in the form of easy-to-apply topcoats. A far cry from boring, these will bring your basic flat colors to life in a salon-status manicure in minutes. 
Whether layered over a solid color or applied directly to bare nails, we rounded up the best topcoats out there to give your nails extra shine, texture, and cool factor. From heavy-duty glitter to opalescent sheens, to sprinkle-like colorful particles, click through the gallery to see our top 12 picks.
Butter London, Petrol Overcoat, $15, available at Butter London.
Ciate, Paint Pots Nail Polish in 'Snow Globe,' $6.48, available at Amazon.
Deborah Lippmann, Glitter & Be Gay Nail Polish, $20, available at Barneys.
Essie, Luxe Effects Nail Color in 'Fringe Factor,' $8.50, available at Macy's.
Formula X, Transformers Top Coats in 'Demolition' $12.50, available at Sephora.
Hard Candy, Pop Art Nail Polish in 'King of Pop,' $3.60, available at Walmart.
Jin Soon, Topping in 'Bijou,' $18, available at Jin Soon.
MAC, Liquid Pigment (Top Coat) in 'Pink Pearl,' $12, available at MAC.
Maybelline, Color Show Veils Nail Lacquer Top Coat in 'Blue Glaze,' $3.59, available at Drugstore.com.
Nails Inc, Luxe Boho Nail Polish - Portobello Crescent, $15, available at Net-a-Porter.
Wet n Wild, Mega Rocks Glitter Nail Color, $2.99, available at Wet n Wild.   
Zoya, Sparkle Gloss Topcoat, $10, available at Zoya.