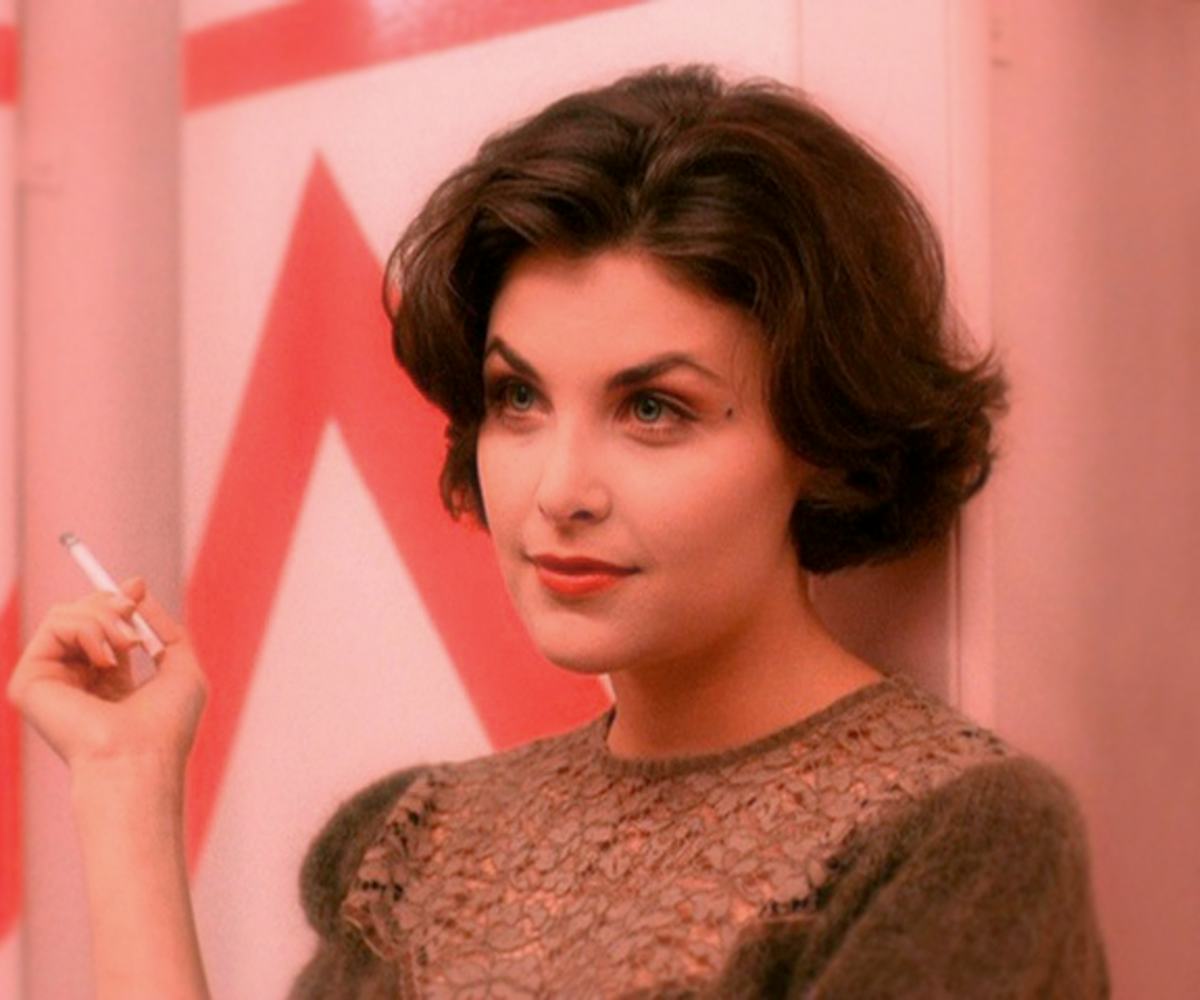 19 tv gals whose makeup bags we'd totally steal
channeling the lightest + brightest.
Sorry screenwriters, but when we're watching our favorite TV shows, we pay attention to so much more than just the plot. And while wardrobe is obviously an important part of character development, we can't just ignore the amazing makeup looks some of our favorite TV heroines have sported. From Morticia Addams' luxe gothic vibes to Olivia Pope's flawless face, here are 19 ladies of TV whose makeup collections we'd love to get our hands on.
Jane, Daria
Product:Shien Cosmetics Silk Matte Lipstick in Cobra Lily
Because nothing improves a frown quite like a deep, berry lipstick.
photo via thegloss.com
Megan Draper, Mad Men
Product:Make Up For Ever Aqua Lip Waterproof Lipliner Pencil
This '60s siren knows that lipliner is the secret to a long-lasting, perfectly colored kisser.
photo via gq.com 
Morticia Addams, The Addams Family
Product:Sunday Riley Chameleon Lipstick
Take a break from the classic red lip and choose a darker shade to channel this striking gothic beauty. 
photo via flickr
Angela Chase, My So Called Life
Product: Ardency Inn Modster Smooth Ride Supercharged Eyeliner in Lilac 
Fresh-faced Angela Chase isn't afraid to try out new things, so we think she'd definitely be a fan of this pretty lilac eyeliner.
photo via fyeahmscl.tumblr.com 
Mindy Lahiri, The Mindy Project
Product:Josie Maran Coconut Watercolor Cheek Gelée
With all the stress of running an OBGYN practice, it's amazing that Dr. Lahiri maintains such a healthy glow. But we suspect she's got a solid, long-lasting blush in her collection to help her out.
photo via FOX
Jeannie, I Dream of Jeannie
Product:M.A.C. False Lashes Mascara
How does a girl who lives in a bottle have room for her makeup stash? We're still not sure, but we sure are envious of those lashes.
photo via imdb 
Jackie Burkhart, That 70s Show
Product:NCLA Top Down, Nail Up! Nail Wraps
Jackie's certainly not one to shy away from standing out, so those nail wraps would make a groovy addition to any of her colorful ensembles.
photo via imdb
Marcia Brady, The Brady Bunch
Product:Diorskin Nude BB Creme 
We all know that Marcia swears by brushing her hair 100 strokes per day, but how does she keep her skin so fresh and dewy? We're guessing some airy BB cream might be the answer.
photo via fanpop
Audrey Horne, Twin Peaks
Product:Anastasia Beverly Hills Brow Wiz 
No matter how much trouble this smalltown girl gets herself into, her brows somehow always remain perfectly arched (with just the right amount of definition, we may add).
photo via xxymagazine.com
Elena Gilbert, The Vampire Diaries
Product:Urban Decay Naked3 Palette
Smoky brown eyeshadow accentuates this vampiress' signature seductive gaze. 
photo via wattpad.com
Jessa Johansson, GIRLS
Product: Ardency Inn Punker Crystal Studs 
This Bohemian babe is apt to try any off-the-grid beauty look, like these captivating skin gems.
photo via ivillage
Kim Kelly, Freaks and Geeks
Product:Loreal Infallible Silkissime Eyeliner
This rebel's makeup collection was definitely way darker than sheltered Lindsay Weir's. Plus, she taught us that a look is never complete without a healthy dose of eyeliner.
photo via the huffington post
Kelly Kapowski, Saved by the Bell
Product:Jane's Tiny Things Saved by the Bell Nail Decals 
Trendsetting Kelly Kapowski would so be onboard with nail art--especially if it featured her locker pals.
photo via savebythebellreviewed.com
Lindsay Bluth Fünke, Arrested Development
Product:Smashbox Fusion Soft Lights 
If you've watched even an episode of Arrested Development, you know that this Bluth isn't afraid of a little shimmer and definition.
photo via splitsider.com 
Cece Parekh, New Girl
Product:Fresh Sugar Lip Treatment SPF 15 
The secret to maintaining super plump lips? A sugar scrub.
Elaine Benes, Seinfeld
Product: Tarte Lipsurgence Lip Tint 
This New York City gal is one smart lady--but that doesn't mean she can't look good too. A subtle lip stain adds just the right amount of oomph with zero fuss.
photo via playbuzz
Buffy Summers, Buffy the Vampire Slayer
Product: bareMinerals Prime Time Eyelid Primer
Buffy's smoky eyeshadow somehow stays in place all the while she's out slaying vampires--and we think that a good primer has something to do with that.
photo via fanpop
Olivia Pope, Scandal
Product:Yves Saint Laurent Touche Eclat in Radiant Touch
While she's out fixing everyone else's problems, Liv still manages to look like she got a full night of sleep--all thanks to a solid concealer.
photo via people magazine
Blair Waldorf, Gossip Girl
Product:Cailyn Cosmetics Merry Cherry Mineral Lipstick 
Always a fan of the classics, this UES queen bee understands the power of a quality red lipstick.
p
photo via thought catalog