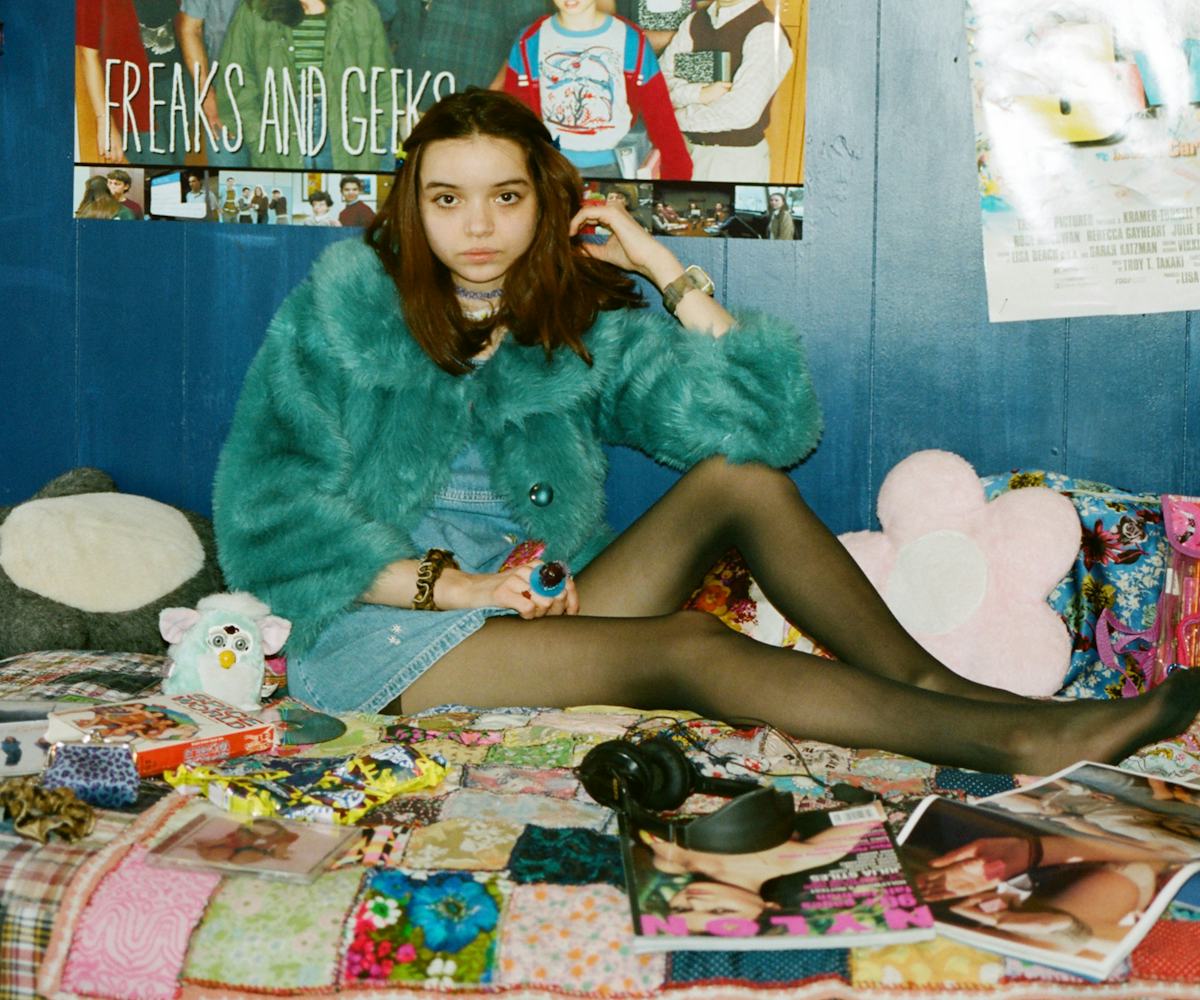 Photo by Beth Garrabrant
everything that was in the nylon girl's bedroom in '99
featuring The Prettiots's Rachel Trachtenburg
Sure, tradition states that we celebrate anniversaries on the fives, but we'd be remiss to let our sweet 16 slip by with nary a mention. Suckers for nostalgia that we are, the staff was stoked to dig through our archives—and our parents' basements—to re-create the ultimate nylon reader's bedroom circa 1999. We obviously had to ask Rachel Trachtenburg of the Prettiots (and formerly Supercute!) to model. Back when the mag was kicking off, she was the six-year-old drummer playing alongside her folks in the Trachtenburg family slideshow players, touring the country—and hitting estate sales for the vintage slides that inspired their songs. Needless to say, she's got an enviable collection of ephemera from the '80s, '90s, and early aughts, and had plenty to donate to our cause, including X-Files action figures still in the box! Click through the gallery to see what the NYLON girl's bedroom would contain in '99.
Rachel Trachtenburg is actually the coolest...
CD TOWERWhen social media buzzed "Who's Beck?" after the veteran singersongwriter took home his first Grammy in 15 years this past February, our 1999 NYLON reader just chuckled, unzipped her Case Logic, and loaded up her Walkman with Midnite Vultures, followed by Fiona Apple's When the Pawn..., The Donnas' Get Skintight, Destiny's Child's The Writing's on the Wall, and, of course, Britney Spears's …Baby One More Time.
BEAUTY MARKOh, butterfly clips, how we've missed you! You never failed to keep our growing-out bangs in check. Just one spritz of CK One brought back scent memories of those swoony Kate Mossstarring black-and-white ads for this clean, (supposedly) unisex fragrance. Surprise! It's still totally buyable. Where did that iBook go? We're also happy to report that the floral goodness of Tommy Girl is still available. Sadly, we soon won't be able to say the same about Bonne Bell Lip Smackers. After nearly a 90-year run, the company famous for fruity (and Dr. Pepper-y) lip balm is shutting down operations. Get thee to your closest drug store to stock up. Stat!
FEED MESnacks were currency in 1999, the deregulated sugary concoctions made into amorphous shapes in unholy colors and traded in cafeterias. Everything oozed and had a flavor slogan. Boom. Splat. The food pyramid of snack time had only three categories: soda, Rice Krispies Treats cereal, and fruit snacks, with Surge and Gushers being passed from backpack to backpack like kiddie crack. In all honesty, the peanut butter M&Ms and Gummy Bears were on set for shoot-day sustenance, but they brought back strong '90s memories as well, so they can stay.
MY SPACEThe NYLON girl's bedroom in 1999 was no doubt a sacred, cozy space stocked with flower pillows from Delia*s. On the walls: posters for the Paul Feig-Judd Apatow TV masterpiece Freaks and Geeks and Jawbreaker, the 1999 dark comedy that cemented Rose McGowan's status as It Girl for Life. We debated (for an embarrassingly long time) about whether our associate features director's lava lamp would create visual confusion, seeing as how its re-emergence in the late '90s was technically born of nostalgia for an earlier era, but in the end, it just looked so cool that we couldn't not include it.
PLAY STATIONWho would emerge victorious in a battle between Buffy the Vampire Slayer, Harry Potter, The Spice Girls, and Furby? Our bet is that Furbs would be on the first Razor scooter out of there, leaving Buffy, Baby, Posh, Sporty, Scary, and Ginger to teach Harry a thing or two about girl power.
TECH LABTrying to get our vintage "clamshell" iBook open, let alone fired up and connected to the Internet, was a laughable scene straight out of Zoolander—namely, the part when the dueling male models try to find files "in the computer"—which itself was a hilarious 2001: A Space Odyssey spoof. (We blame the Melissa virus and Y2K bug.) Too bad we weren't able to capture the moment on our art director's iZone camera. The Baby-G watch just needed a new battery, though, and remembering the combos on Super Smash Bros. was like riding a Razor scooter.