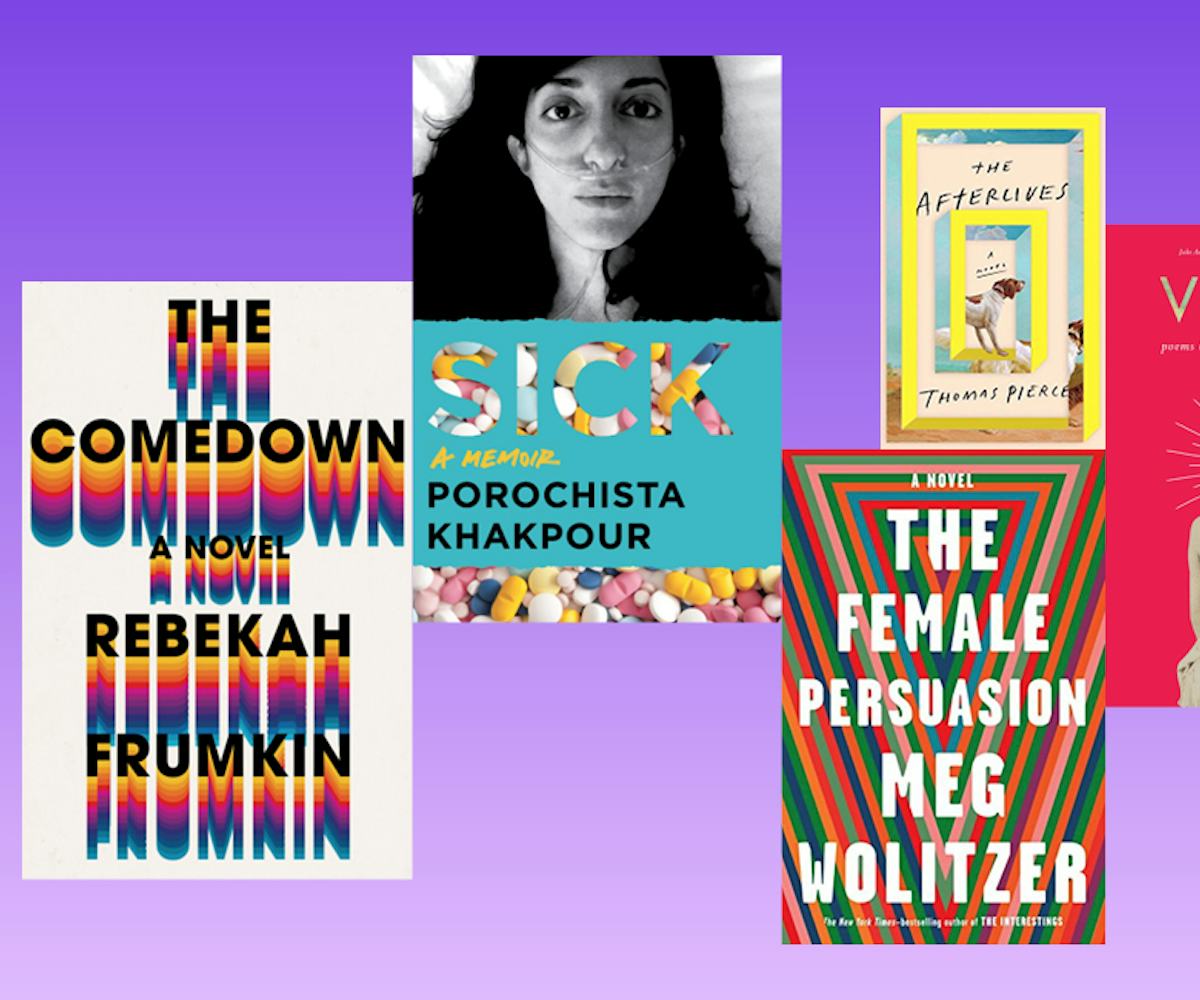 50 Books We Can't Wait To Read In 2018
Reading is fun, we love it so much
As 2017 comes to a close, I think it's safe to say we should just, you know, celebrate the fact that we're still here at all. I mean, it's felt very touch-and-go most of the time this year. And yet, here we are still, hanging on by our fingernails.
And here we'll probably still be in 2018, so wouldn't it be nice to greet the new year with some exciting new books in hand? Or, if not technically in hand, at least in mind as something to look forward to, sparks of light in the dark chasm that is our future. Yes! Yes, it would be nice to do that. 
Here, then, are 50 books that will help light your way through the darkness of the new year. (Not literally, of course. Don't burn books, kids! It is really not a cool thing to do. Instead, burn the rich!)
Neon in Daylight by Hermione Hoby (available January 9)
This book pulses with the sticky heat of summer and sex and power and desire. It's quiet, but insistent, that pulse, and you'll find yourself responding to its movement as you read Hoby's sharply observed debut novel, which centers around the intersecting lives of three people living in New York—a very secular trinity, indeed. There's no need to worry yourself with anything so reductive as what this book is about, exactly, because it's about everything important: infatuation and loneliness, the way in which art and life are impossibly serious and superficial all at once. It's about wants and needs and dead ends and new beginnings, and it's about Hoby masterfully spinning a sometimes deliriously beautiful, sometimes tragic tale of ambition and currency and lust and sloth. It's about New York in the summer. It's about being alive.
The Afterlives by Thomas Pierce (available January 9)
Pierce's debut novel has been eagerly anticipated by all who read his excellent 2015 short story collection, Hall of Small Mammals, and The Afterlives, in all its witty, existentially provocative glory, does not disappoint. It centers around the only question that matters really: What happens after we die? Or, rather, it centers around the actual only question that matters: Since we know we're going to die, what should we do with our lives? This, anyway, is what 30-year-old Jim Byrd grapples with after a near-death (or actual-but-very-brief-death) experience, as he and his wife seek to find some understanding of permanence now that they know for sure that everything—even their love—is transitory thanks to that unfortunate thing known as mortality.
The Immortalists by Chloe Benjamin (available January 9)
Speaking of death: Chloe Benjamin's latest novel starts off with the arrival of a woman who professes an ability to predict the date of anyone's death. What she tells the four Gold children—Simon, Varya, Daniel, and Klara—will set them off on myriad paths as they seek to fulfill or subvert their supposed destinies. A meditation of fate and free will, faith and reason, The Immortalists grapples with all the biggest issues in life, in a profound and unforgettable way.
Red Clocks by Leni Zumas (available January 16)
This dystopian novel follows five women living in an America in which abortion has been banned, as is in vitro fertilization; in fact, embryos are granted full personhood status, leading to questions about what, exactly, a woman's purpose is, beyond bearing children. While, yes, this novel is part of a grand tradition of dystopian fiction which wrestles with topics surrounding women's identity and freedom (or lack of it), Zumas' book stands out from the crowd for its thoroughness in revealing the hypocrisy inherent to valuing the lives a woman brings into this world, but not the life of the woman herself.
Peach by Emma Glass (available January 23)
This marks the debut novel for Emma Glass, and it's a stunning read. I don't use that word lightly, by the way; I found myself under the spell of Glass' words while reading her provocative prose, which thrummed in my head, words plucking at my very nerves. The narrative centers around a young woman, Peach, who has survived an assault, but must deal with the fact that life goes on as normal around her, even though she feels anything but. Glass makes clear the cost of reckoning with sexual assault, and while it's a particularly pertinent topic to be reading about right now, the mythic dimensions of Peach's struggle with her trauma make clear that this is an age-old story, and must never stop being told until everyone starts to actually listen.
This Will Be My Undoing: Living at the Intersection of Black, Female, and Feminist in (White) America by Morgan Jerkins (available January 30)
This is the debut essay collection by Jerkins, and signifies a great new voice entering the cultural stage. Here, Jerkins explores with intelligence and empathy the most important issues of today, ones revolving around identity and inclusiveness, and what it means to be a woman of color in a country long ruled by a white supremacist patriarchy. It's heavy stuff! But Jerkins' writing is also full of wit and a boundless curiosity, guaranteeing that nothing in this collection ever feels overly ponderous or oppressive.
The Wedding Date by Jasmine Guillory (available January 30)
Do you need a fun read this winter? Yes! Of course, you do. And you can do no better than to pick up Jasmine Guillory's effervescent, witty, and sexy novel, which serves as a reminder that romantic fiction doesn't need to be a guilty pleasure—it can just be a straight-up pleasure. Let yourself get swept away in the story of a pair of ultra-busy professionals who don't have time for real romance, so they fake it instead. Will they eventually make it work between them? I mean, no spoilers here, but, you know, sometimes it's liberating to read a book not just for a happy ending, but for the joy it contains on every single page.
The House of Impossible Beauties by Joseph Cassara (available February 6)
This fierce, devastating, wildly gorgeous debut takes place in New York City's 1980s and '90s Harlem ball scene, a place where gay and transgender kids and adults could go to express themselves as themselves. It was a world full of glamour and glitter—and not a little grittiness—where tackiness and beauty took on totally new heights. It was also a place where addiction and violence were a normal part of life, and AIDS was just beginning to make its horrific presence felt. Cassara takes readers there with enviable skill; it's impossible not to feel utterly transported, to feel the hum of the music in your cells, to vibrate with the energy of the time and place, with all its attendant exhilarating highs and devastating lows.
An American Marriage by Tayari Jones (available February 6)
One of America's finest writers, Tayari Jones has offered up another masterpiece with her latest novel, a tremendously powerful story about love, injustice, inequality, and strength. Centered around Celestial and Roy, a newlywed couple whose future looks brighter than the stars themselves, An American Marriage reveals how quickly dreams can be derailed due to systemic malignant forces all around us. This story isn't simply about love lost and sorrow and injustice, of course, it is also about rebuilding and redemption. It is a narrative of hope, without ever resorting to easy answers to the huge problems plaguing our society. It's a novel of vision and grace, and it will bury itself in your consciousness.
Heart Berries by Terese Marie Mailhot (available February 6)
This powerful memoir reveals a life of struggle and illness, deprivation and pain, but is so full of strength in the face of adversity and resilience, that it is impossible not to read it and feel real hope and the possibility of triumph and renewal, no matter how dark things seem. Mailhot started writing the essays that comprise this book after being hospitalized and diagnosed with both bipolar II and post-traumatic stress disorders; through her writing, she grapples with her traumatic upbringing, her dysfunctional parents, and her own struggles learning how to love. The result is this singularly moving, poetic book, one full of rage and desire, fear and brilliance. Prepare for it to sink its teeth into your very heart.
Beautiful Days: Stories by Joyce Carol Oates (available February 6)
Okay, so Twitter is not Oates' medium, but that's just fine because here we have a collection of 13 new stories from one of our country's most prolific authors. And the short story is really Oates' strongest medium, I think. (I mean, have you read "Where Are You Going, Where Have You Been?" Please do so now!) So this collection is bound to be full of memorable gems, and will hopefully banish any of Oates' tweets from your mind so that you can just fully and simply enjoy the work of one of the greats.
We Are Taking Only What We Need by Stephanie Powell Watts (available February 6)
Each of these 10 short stories centers around working-class black Southerners, and all work toward offering a better understanding of the dialogue that exists between generations of black Americans as they work toward understanding who they are as individuals and as part of the collective black American experience. Powell Watts is as comfortable relaying intimate experiences as she is grappling with the institutional failures that have conspired to perpetuate an unjust way of life in this country, and the end result is a powerful book that reveals a full range of emotions and experiences.
Virgin by Analicia Sotelo (available February 6)
Look, I don't know you, but you probably don't read enough poetry. Make 2018 the year you start reading more poetry, and perhaps start with Virgin, which gorgeously, sensuously explores the pleasures and problems of the feminine experience. Sotelo's language is as lush and hot as the inside of a woman's mouth; her words can feel like a fever, like your eyes will blister if you stare too long at the page. But look closely anyway, what hurts makes us stronger, right? And what a pleasure to be hurt this way, with these words.
Call Me Zebra by Azareen Van der Vliet Oloomi (available February 6)
Okay, not many authors are compared to Borges, Cervantes, and Kathy Acker all in one breath, but that is exactly what we're dealing with here: Azareen Van der Vliet Oloomi is a twisted, twisty genius, whose latest novel is a wild, trippy ride across countries and, like, philosophies and intellectual theories. Protagonist Bibi is rootless in the way only a brilliant, parentless exile can truly be. She seeks answers, a home, and an identity; she is full of humor and despair and desire. She is in possession of an inimitable (sometimes annoying and self-absorbed!) voice, but it's all the better to help her—and us—navigate the chaos of this collapsing world.
The Mobius Strip Club of Grief by Bianca Stone (available February 27)
Just as everything in life is really about sex and death, so, too, are poems. This is never more apparent than in Bianca Stone's new book of poetry, which takes place in an afterworld burlesque club of sorts, in which women run the show and living patrons pay the dead to perform all sorts of taboo acts (like holding hands and saying, "I love you," but, also, so much more). It's a brilliant, wildly imaginative meditation on grief and loss and coping with being human and then not being at all.
Census by Jesse Ball (available March 6)
There's nothing like a road trip novel, which, admittedly, can go very badly in the wrong hands. But when done right, it serves as a profound evocation of the passage of our very lives, of the way we move across once-unfathomable distances so easily, of the way in which the destination is never the goal, and sometimes isn't even a goal. Jesse Ball has written a beautiful road trip novel, a love story between a father and son, who have set off together on a strange road trip, in which they're visiting towns in ascending alphabetical order. There's a rhyme to it all, but what is the reason? This is a question about the mission the father and son find themselves on, but also just about everything. What there's no question about is Ball's alternately fierce and tender portrayal of parental love, of how we grieve for the things we haven't yet lost, and of how we are responsible for understanding our roles in perpetuating the destruction happening all around us.
The House of Broken Angels by Luis Alberto Urrea (available March 6)
This brilliant (truly, like a multi-faceted gem) novel is intimate in its revelations of one beautifully complicated family, but epic in the way in which it portrays a myriad of human experiences. It centers around the De La Cruz family as they mourn the loss of both their patriarch and matriarch, all in one blow. But their grief is also full of humor and wisdom, love and grace, making for a novel that is explosive and empathetic, and a much-needed depiction of what life is like for this very American family, as it straddles different worlds and ways of being.
Laura & Emma by Kate Greathead (available March 13)
Who wouldn't want to get an inside peek into the rarefied world of New York City's elite in the 1980s and '90s? That's exactly what this smart, witty novel offers, as it explores the strength of the bonds of family, class, wealth, and privilege, leading many of its characters (to say nothing of its readers) wondering just how strong their own constructed identities are, and what it might take to make everything come crashing down?
The Merry Spinster: Tales of Everyday Horror by Mallory Ortberg (available March 13)
Ortberg's uniquely hilarious voice lends itself well to the dark and twisted milieu of fairy and folk tales, and her reimagining of the classics is predictably perverse, but also offers wonderful insight into the reasons why humans are so drawn to these stories of horror and loss.
Stray City by Chelsey Johnson (available March 20)
Radically funny and truly insightful, Johnson's debut novel, about a lesbian who finds herself pregnant after an ill-conceived one-night stand with a man, is a brilliant emotional roller coaster of a book, exploring what it means to create and sustain a family, and the difficulties of loving people—including yourself.
The Gunners by Rebecca Kauffman (available March 20)
Friendship novels are the greatest for a reason: their appeal lies not only in the way in which they're steeped in nostalgia but also in how they reveal the ways we are—and aren't—capable of growth. With The Gunners, Rebecca Kauffman enters the grand tradition of friendship novels by understanding that they are just another type of love story, full of as much pain and exhilaration as any classic romance.
Tangerine by Christine Mangan (available March 20)
If you liked The Talented Mr. Ripley, then you're going to go wild for this taut thriller, which takes place in the heat-filled streets of Tangier and centers around the oppressive, obsessive friendship between two young women, whose intense relationship devolves into a kind of insanity. Which, you know, sucks for them, but is absolutely delicious for the rest of us.
Waiting for Tomorrow by Natacha Appanah (available April 3)
This compelling novel tracks the complicated relationship of a married couple, who struggle with preserving their separate identities within their relationship, their individual artistic freedoms, and integrity, and teases out the myriad ways in which we're all capable of destroying our own lives, and the lives of those around us.
Betwixt-and-Between: Essays on the Writing Life by Jenny Boully (available April 3)
Oh, I live for the in-between of things, and so Boully's wild and weird essays, which don't so much straddle different realms as they kind of pierce right through, coming and going, like a needle weaving disparate things together, but still being its own unique entity, neither this nor that. But so: Boully's thought process, as seen on the page, is a pure pleasure to behold, she's full of delight and her words offer sensations beyond what mere words usually do. This is, I think, because there's real joy here, the joy of discovery; it radiates and it feels good to bask in its glow.
Varina by Charles Frazier (available April 3)
Perhaps best known for his best-selling Civil War novel Cold Mountain, Charles Frazier is back with another narrative tied to that fateful time. This one centers around the life of Varina Howell, who was just a teenager when she married the much older Jefferson Davis, who had not yet but one day would become the president of the Confederacy. Varina lived a fascinating life (in her later years, she moved to New York City and became friends with Julia, the wife of Union general and U.S. President Ulysses S. Grant), but this novel reminds us that complicity during times of evil can never be fully excused.
The Recovering: Intoxication and Its Aftermath by Leslie Jamison (available April 3)
A blend of memoir, reporting, history, and criticism, Leslie Jamison's latest is a fascinating account of the recovery movement and of addiction and its place in our culture. The addiction narrative is not a new one in literature, but Jamison does something wholly unique here in the way she contextualizes this ongoing struggle to find balance in our lives, rid ourselves of dependency, and understand why we desire the things that are most likely to kill us.
Wade in the Water by Tracy K. Smith (available April 3)
A new book of poetry by the poet laureate of the United States? Do you really need to know more? Well, if so, consider this: Few living Americans use words to the profound effect that Smith does, and in her latest work, she tackles our complicated horror show of the current political reality, and contrasts it with past American struggles, giving our present difficulties some much-needed context. Her words have a glow to them, their shine imprints itself on you, so you can carry them around with you always.
The Female Persuasion by Meg Wolitzer (available April 3)
Probably one of the most anticipated books of this winter, The Female Persuasion surpasses all expectations, offering readers a fascinating look into the power dynamics between women, ambition, ego, and desire. It centers around the relationship between Greer, a somewhat meek, insecure college freshman, and Faith, a magnetic leader of the women's rights movement. Wolitzer explores their dynamic and the thrills—and perils—of obsessive hero worship in a consistently compelling way, revealing how all of us want nothing more than to have actual evidence that we are really as special as we believe ourselves to be.
Eye Level by Jenny Xie (available April 3)
For a poet so capable of taking readers on far-flung journeys to places like Corfu, Cambodia, and New York, Xie is perhaps most remarkable for her ability to take readers deeper inside themselves than they have ever been. Her poems capture the power within us, the persistent questioning of ourselves that then propels us to move through the world and around it, restlessly searching everywhere for the answers that we fear we can't find within, or maybe just aren't yet capable of answering. Plus with language like this—"For years now, I've been using the wrong palette. Each year with its itchy blue, as the bruise of solitude reaches its expiration date"—Xie's work is just a thing of pure, piercing beauty.
And Now We Have Everything: On Motherhood Before I Was Ready by Meaghan O'Connell (available April 10)
This hilarious, brutally honest look at motherhood is a much-needed antidote to all the saccharine writing about parenting out there. One way O'Connell does this is by focusing on her own massive, profound identity shift; too often parenting narratives center around the child—even before they're born. But O'Connell explores, instead, the many anxieties attached to this radical transformation process, one that is almost impossible to be fully ready for, and which can lead to a very real case of imposter syndrome. In a world full of Instagram-perfect motherhood, this dark, funny corrective to all that aspirational mothering bullshit is exactly what we needed.
Not Here by Hieu Minh Nguyen (available April 10)
These dazzling poems by Vietnamese-American poet Hieu Minh Nguyen are exactly what we want to be reading next year, as they provocatively address the in-between spaces in life, those areas between love and longing, pain and pleasure, belonging and alienation. Nguyen's imagery is a sensory wonder, evocative of the depths of trauma and the dizzying heights of hopefulness and desire.
The Comedown by Rebekah Frumkin (available April 17)
Beyond having one of our favorite covers of the year (which isn't important, necessarily, but it also isn't not important), The Comedown also happens to be exactly the kind of wide-ranging, epic story, dealing with all the big issues—love, power, desire, drugs... Florida—that we want to read right now. Frumkin treads through that darkest of comedic territories—America—in this devastatingly smart look at our relationships with those who surround us, who, by accident of birth, are our neighbors, our friends, and our family. That this is Frumkin's debut makes the ambition of this story all the more remarkable.
Every Other Weekend by Zulema Renee Summerfield (available April 17)
Let this smart, sparkling debut take you back to the '80s and into the "land of broken homes," wherein every child knows that half of all marriages end in divorce because they spend their time getting shuttled from one home to another. Summerfield centers this novel around the experience of 8-year-old Nenny, who has moved with her mother and brothers into her stepfather's home. Nenny's anxieties blossom, but her perspective remains a lucid view into the burdens that children often carry, the ways they feel responsible for protecting their families. It's a fascinating look at what being a family is really all about.
You Think It, I'll Say It by Curtis Sittenfeld (available April 24)
What a treat it is anytime a new book comes out from Curtis Sittenfeld, but we're particularly excited about this short story collection because, did you read "Show Don't Tell" in The New Yorker's June Fiction Issue? It's perfect. In these 10 stories, Sittenfeld explores issues like ambition, desire, marriage, and social media envy—you know, the whole range of the human condition. She brings her unflinching eye, piercing wit, and storytelling gifts to everything she does, making this collection a series of perfect gems, each one worth going over again and again, even as you'll be secure in the knowledge that their shine will never fade, and that you'll always discover a new facet you hadn't noticed before.
A Lucky Man by Jamel Brinkley (available May 1)
This spectacular debut signals an important new literary voice in Jamel Brinkley, whose exploration of the dynamics between fathers and sons, between black men and a society that takes from them but rarely gives back, is quite simply stunning. In each of the nine stories in this collection, Brinkley explores and explodes the myth that any of us are anything but the products of our pasts and our surroundings; he deals with issues of race, class, identity, love, and desire, and is willing to go headfirst into territory that most people would run away from. Instead, he shines a light on difficult truths, making it easier to confront them, even if no solution to their problems is available.
Motherhood: A Novel by Sheila Heti (available May 1)
Apparently, the big word in publishing this year was "mother," because there are a lot of prominent books centered around this topic and even, literally, this word. But that's fine by me! Especially when it means that we get a new novel from the brilliant Heti, who here brings her acerbic wit to the topic of motherhood, and how women must navigate its treacherous shores in a way that is wholly unique to us, collectively, as a sex, but then also individually, as we seek to understand not only "how should a mother be," but "how should I, specifically, be as a mother."
The Pisces by Melissa Broder (available May 1)
This novel has everything: love addiction group therapy sessions, bathroom sex, bad Tinder dates, UTI-induced hospital trips, crystals, and, um, an impossibly sexy merman who is familiar with the work of ancient Greek poet Sappho. If you're not intrigued yet, I don't know what to tell you. Get better interests! But probably you are intrigued, as you should be; with The Pisces, Melissa Broder offers up one of the funniest, sexiest looks at the realities of being a woman looking for love in this modern, mindfuck of a time, in which options are limitless and yet also dead-ended.
The Mars Room by Rachel Kushner (available May 1)
After reading her absolutely brilliant novel The Flamethrowers, I pretty much vowed I would follow Kushner's writing wherever it took me. That her follow-up novel takes us to a California women's prison was not necessarily what I was expecting, after existing in the art world-centered pages of The Flamethrowers, but now I realize that it kind of makes perfect sense, because what is the art world but a prison full of arbitrary expectations and limitations, in which the people running the show are capable of doling out arbitrary cruelty and compassion alike? But so anyway: The Mars Room centers around Romy Hall, who has been given two (consecutive) life sentences, and so must accept that the reality she used to know will never exist for her again. Instead, she must acclimatize herself to institutional living, to the graceless barbarism that exists all around her, the myriad indignities, the constant hustle. Kushner is a masterful world-creator, and her accomplishment here is unparalleled; she has created a dazzling (like, it feels as if it would hurt to look too closely) world, full of pain and debasement and brutality, yes, but also an unsentimental form of hope and spirit.
Still Life with Two Dead Peacocks and a Girl by Diane Seuss (available May 1)
Taking its title from the name of one of Rembrandt's still life paintings, Diane Seuss' new poetry book meditates on all the different aspects of the Dutch master's piece. Seuss analyzes each small part as a means to better understand the whole thing, and, in doing so, allows readers to gain a deeper understanding of the ways in which it is possible to make sense of the seemingly incomprehensible, if only we take the time to pay enough attention.
D C-T by Joana Avillez and Molly Young (available May 1)
A pure pleasure to explore, this wittily illustrated book is an homage to William Steig and an incredibly fun adventure for anyone who loves word games, New York City, and jaunty drawings of rats. That's everyone, right? Truly, though, Avillez and Young have created a real conversation piece with this wondrous book, which will have readers guessing the meanings of seemingly inscrutable letter combinations (hint: sound things out, and you'll have an easier time understanding) and delighting in seeing the city they love come to life on the page. This is the kind of treasure you keep and pass down to your kids one day.
That Kind of Mother by Rumaan Alam (available May 8)
Alam's debut novel, Rich and Pretty, was one of our favorite books of the last couple years, and his follow-up demonstrates even more clearly that his is a voice we want to read on just about every issue. In this novel, the issues he addresses are parenting, race, class, and privilege, and he explores these fraught topics with his trademark wit and sensitivity, never pandering or veering into cliche. Alam subverts so many of the ideas we hold dear about motherhood as being this sanctified position, and instead lays bare all of its institutional flaws, but he does so with real compassion and an understanding that our failures do not mean we need to give up entirely, but rather must instead work toward better building the lives we want to see, the world we want to have our children live in.
Alternative Remedies for Loss by Joanna Cantor (available May 8)
Joanna Cantor's debut deals with parental loss and the many ways in which we search for our true selves, even though we have no idea what we're looking for or what exactly we might find. In the book, Olivia is just 22 when her mother dies, and this event leads her on a journey of self-discovery (why, yes, there are many bad experiences with men along the way). Along the way, Olivia realizes what things from her earlier life she should hold onto and learn from, and what is okay to surrender to the past.
Against Memoir: Complaints, Confessions, & Criticisms by Michelle Tea (available May 8)
I'd read anything Michelle Tea puts out into the world, but it's still a particular kind of pleasure to get to dive into her essays on the kind of wild, brilliant, complicated women who live on the radical fringes of society. (And, yes, that does mean that Tea writes about herself as well.) These essays are a thrill to read, and an essential look into lives too often relegated to the margins of literature, instead of where they belong: front and center.
In the Distance with You by Carla Guelfenbein (available June 5)
This novel spans several tumultuous decades in the life of an enigmatic Chilean author, Vera Sigall (who is based on enigmatic Brazilian author, Clarice Lispector), only it's told not sequentially, but in reveal after reveal, as several of Sigall's young admirers try to better understand the mysterious past of their idol.
Sick: A Memoir by Porochista Khakpour (available June 5)
This memoir of chronic illness, addiction, pain, and hope is an absolutely essential look into our flawed health care system and the devastating effects that a sustained uncertainty about what, exactly, might be wrong with you can have on your psyche. Porochista Khakpour's unsparing account of the impossibly difficult journey she endured while searching for the root cause of her longtime illness is beautifully written, thought-provoking, and an illuminating look at the myriad impacts chronic illness can have. And in a time when so many people's ability to access health care (affordable or not) is tenuous at best, Sick feels like something we should all be reading to better understand the devastating effects un- or inadequately treated illness can have on an individual and a population at large.
Bearskin by James A. McLaughlin (available June 12)
Let this thriller take you on a journey into the wilds of Appalachia, where Rice Moore has come to escape some trouble he found himself in back at home (it involved a drug cartel, so you know it was real trouble). Moore's wooded peace is soon interrupted when dead bears begin turning up on the nature preserve he's tending. His willingness to expose the poachers and bring them to justice is impacted by his desire to remain anonymous, and unidentifiable from his past enemies. Tightly plotted and beautifully written, Bearskin marks an auspicious debut for McLaughlin and has us thinking quite a bit about what lurks in the darks of deepest Appalachia.
Unclean Jobs for Women and Girls: Stories by Alissa Nutting (available July 3)
Alissa Nutting is one of the most wildly funny and provocative authors working today. Never afraid of the grotesque (rather, she likes to examine it at length), Nutting is comfortable exploring all aspects of the human condition, and this is all put to good use in her new collection of stories, which, yes, involves plenty of cybersex and even a "futuristic ant farm." (But is there dolphin sex???)
Squeezed: Why Our Families Can't Afford America by Alissa Quart (available June 26)
Not every book can be about futuristic ant farms, and so if you want to do a little serious reading in 2018, you should definitely check out Alissa Quart's look at why it's becoming unsustainable to raise a family in America. (Made even more unsustainable by the recently passed tax bill, which only benefits billionaires and Paul Ryan's ability to sustain an erection!) Anyway: Quart details the many ways in which our country has failed its middle-class families, and it's a necessary, if not at all feel-good, read. It's okay to feel angry after reading this. In fact, you should. Let this inspire you to protest the rampant inequality in this country, which is dooming millions of people to lives of desperation and destitution and despair.
Idiophone by Amy Fusselman (available July 3)
Perhaps all you need to know about this book (really one long, brilliant essay) is that it covers everything from ballet to quilt-making, with kind of everything else you can imagine thrown in between. Amy Fusselman is a genius with language, every sentence manages to surprise; they wend themselves into your brain—your everything, really. Fusselman's prose has the delicate, tensile musculature of a ballet dancer, and the best thing you can do for yourself is surrender to it, let Fusselman take you where she wants you to go, and then allow yourself to spring off the platform she has provided.
Eleanor, or, The Rejection of the Progress of Love by Anna Moschovakis (available August 14)
I once wrote about Anna Moschovakis' poetry book They and We Will Get into Trouble for This: "Moschovakis' latest work deals with questions about who we are and what is the nature of love and promises and the existence of soulmates in a manner which makes me—to put it bluntly but also, I hope, softly—want to bathe in the text," and what's funny is that I still feel like I'm swimming in her words from so many months ago. So, of course, I'm incredibly excited about the release of her first novel, which is a brilliant, visceral, sensual examination of the condition of being a woman, and the inherent struggles related to identity and authority that exist for all of us. You should get excited too. Moschovakis has outdone herself with Eleanor; it reveals all the emptiness behind our collective aspirations and makes me want to slow down and speed up all at once, empty and fill myself, perform and be true. It exists in a place of contradictions, just like we all do, and it feels like there's no better literary mirror into which we should all gaze right now.