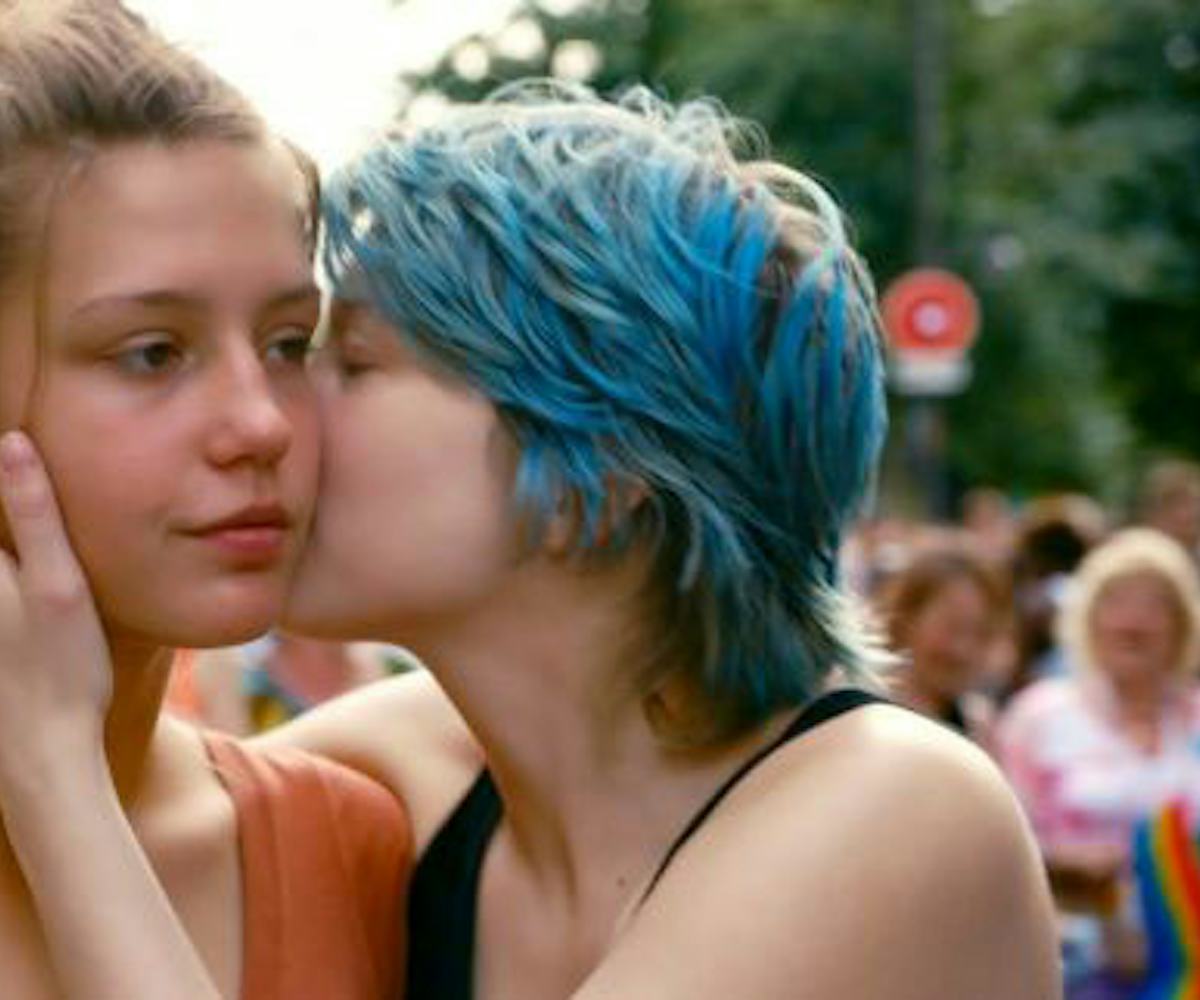 Photo courtesy of Sundance Selects
The 5 Most Daring Portrayals Of Female Coming-Of-Age Sexuality In Movies
Covering the movie world is an enormous endeavor, and by our standard, no one on the web does it quite as well as Indiewire, a one-stop destination for movie news, trailers, criticism, in-depth features, and thought-provoking lists. We proud to share some of their consistently excellent coverage with you, our movie-obsessed reader, and be sure to head to their site to for more.  
As The Diary of a Teenage Girl opens this weekend, we got to thinking about female coming-of-age films. The problem, though, is that there aren't many. And there are even fewer that treat sex with the same abandon as male-perspective movies. Where does it leave young women when the only onscreen representations they see are filtered through the male gaze?
Here are five examples of films that dared to break the mold and show us teenage girls discovering sex—from their point of view. 
More from Indiewire:
The 25 Best Horror Films of the 21st Century So Far
On The Rise: 20 Actresses to Watch
SomersaultCate Shortland's poignant debut is one of the most criminally under-seen movies of the past decade. This little 2004 Australian gem gave Abbie Cornish her breakout role as Heidi, a precocious 16-year-old who, after succumbing to the advances of her mother's boyfriend, leaves a toxic home environment to create a life for herself in the country. Alone in the world, Heidi's dual nature becomes salient: She is at once an erotic force of nature and an innocent child in search of security and love. Her sexual power is irresistible to men. Like animals, they gravitate towards her angelic face and hypnotic body language. But underneath that veneer lives a scared and broken young girl. Shortland's eye for poetic atmosphere and Cornish's nuanced, empathic performance create a heartrending portrait of a young woman searching for the right things in the wrong places. The film navigates morally complex territory that's at times difficult to watch as Heidi gets herself into debasing sexual situations; Shortland is unafraid of exposing the self-destructive tendencies of teenage girls who value themselves through the eyes of men. At the beginning of her journey, Heidi confuses sex with love. But by the end, she learns that womanhood means meeting intimacy and vulnerability face-to-face. She lives and learns, emerging with her agency and self-worth.
WetlandsJust when you think you've seen it all, in walks Wetlands. Carla Juri is a rollicking wonder as an unapologetic teenager who is "not into tidiness." The grounds traversed here range from hemorrhoids to vaginal mucous to vegetables used as pleasure instruments, all of it rendered in extravagant detail. No bodily function is spared in this witty German comedy. But make no mistake: David Wnendt's 2014 film is not built for shock value. It's a vivacious study in bulldozing conventions, especially those that work to keep us alien to our own bodies. Wetlands forces the viewer to experience the body in the same manner as an adolescent: surreal, gross and consistently surprising with its whims.
Turn Me On, Dammit!Turn Me On, Dammit! is the unbridled female teenage libido in full form. Jannicke Systad Jacobsen's 2012 film is the story of Alma, a sex-obsessed 15-year-old whose erotic fantasies outpace the bucolic reality of her Norwegian town. Teenage boys with unruly hormones are a familiar sight in movies, but it's not until you see Alma hijacked by her hormones, going full-speed ahead with phone sex and daydreaming of sexual encounters with just about everyone she sees, that you realize just how revolutionary this movie is. Jacobsen treats Alma's awkward explorations of the carnal universe with both frankness and wit. Unlike other stories starring teenage girls, Jacobsen doesn't punish Alma for her sexual acts or try to couch them in soft, romantic longing; in fact, the movie shows that engaging with these desires head-on is healthy and productive. It's a breath of fantastic fresh air.
Blue Is the Warmest ColorPart of discovering love is looking into the abyss of loss. Abdellatif Kechiche's 2013 Palme d'Or winner, Blue is the Warmest Color, takes us on an Odyssean journey through the life of a first love. We experience its tender beginnings, volcanic middle and inevitable tragic death. The fact that its protagonists are lesbians is inconsequential; for Kechiche, that element of the experience takes a backseat to the raw, gut-wrenching reality of heartbreak, and none is as earth-shattering as the first. Adèle Exarchopoulos and Léa Seydoux throw caution to the wind, bringing their characters to life over the course of three hours that are unrelentingly engrossing. The most buzzed-about scene—the explicit sex scene, almost 10-minutes long—is remarkable for the erotic realism it evokes, all the while portending Adèle's loss of innocence.
PariahIf films about young women of color are few and far between, films about young, black lesbians are basically non-existent. Dee Rees's 2011 Pariah is the stunning anomaly. Adepero Oduye plays Alike, a 17-year-old lesbian who has begun to accept her identity but remains closeted to her parents. Both parents are aware of Alike's changing behavior: Her mother passes it off as a phase and tries to "correct" it, while her father prefers the comforts of denial. Rees, a protégé of Spike Lee, manages to keep us close to Alike even as she feels most ostracized. She roots Alike's journey in the familiar adolescent fabric of heartbreak, disillusionment, and self- discovery. Oduye embodies Alike with a striking authenticity that takes us inside her experience, full of longing to be herself—despite the fact that it will hurt those she loves.