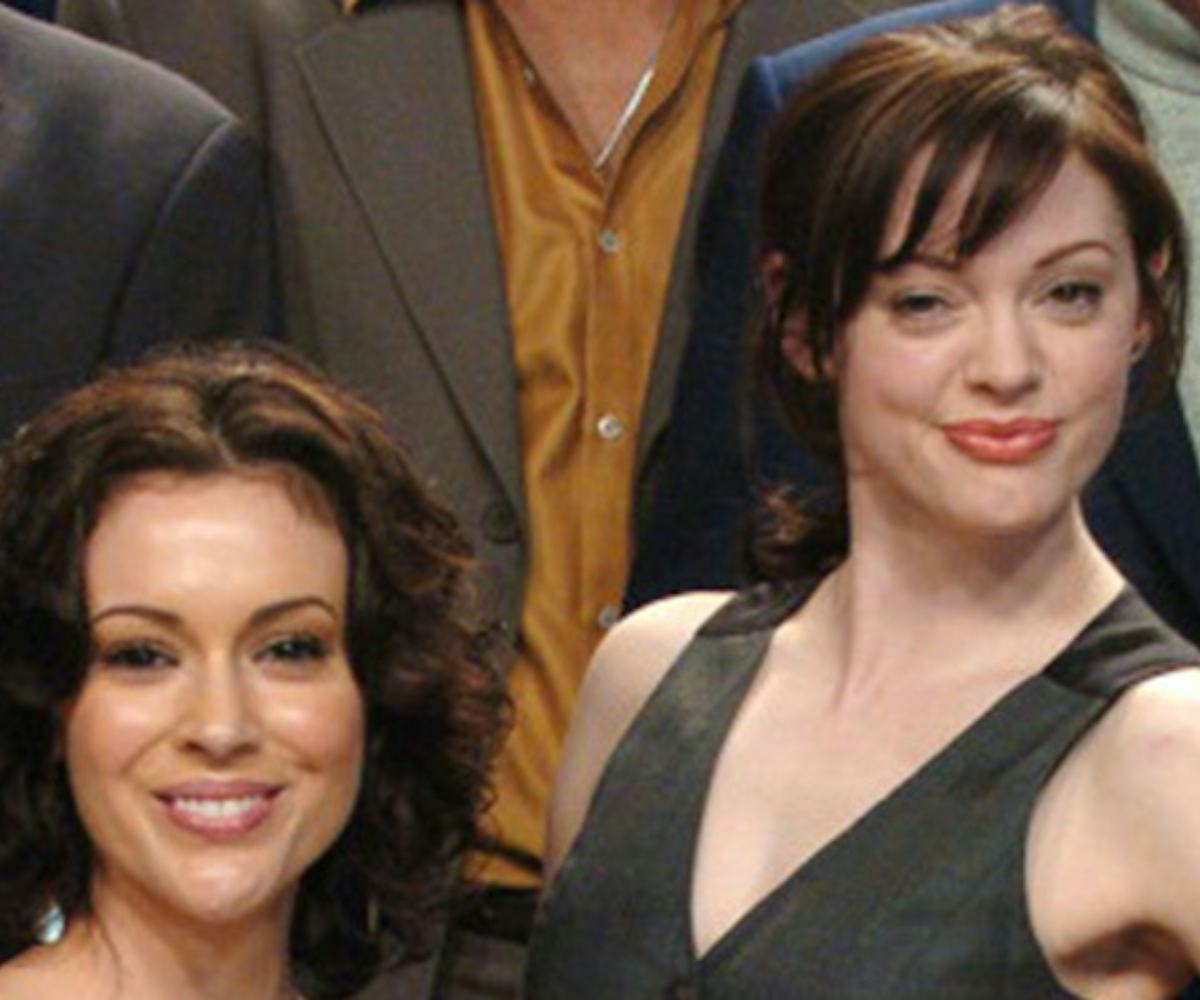 Photo by SGranitz/WireImage
8@8: Your Morning Scoop
Rose McGowan is not here to play games
Today is...
National Noodle Ring Day! (Which we can't believe is a thing, but we're very happy it is.)
News of the Day:
+ Rose McGowan is not done dragging anyone she views as complicit in Harvey Weinstein's decades-long history of sexual assault. She recently called out former Charmed co-star Alyssa Milano for being close friends with Weinstein's ex-wife, Georgina Chapman, whom McGowan believes knew about Weinstein's offenses. "You make me want to vomit. You actually gave me a body flashback," McGowan wrote to Milano. "Well done, fake one." Then she added, "Alyssa, maybe you and Georgina can call up Camille Cosby."
+ It's that time of year again, when you decorate your home for the holidays, and for some that includes a wreath made out of photos of Reese Witherspoon. The "Wreath Witherspoon" was an idea that first originated on the Mindy Project in 2014, and it's since taken off. A lot of people over the weekend shared photos of their own Wreath Witherspoons. (Personally, my wreath includes the entire Big Little Lies cast.) Someone also made a Chris-mas Tree, that features all the famous Chris's; and then too, there's a Judy Garland. 
+ Hannibal Buress was arrested in Miami over the weekend for disorderly conduct. In a video shared on Twitter he's being detained by police for trespassing, according to the officers. The comedian was in Miami during Art Basel. He posted bail before 6am Sunday and was not charged with trespassing. Police would not release the arrest report, saying public-records requests need to be made "during regular business hours."
+ You thought the feather brow trend was a step too far? Well, Christmas tree brows is asking you to please hold their beer. The new "trend" involves feathering your brows, with the option to dye them green or keep them your natural color, and adding rhinestones or other decorations. Whatever gets you through the holidays. 
+ 2017 is the year that women rise up and defeat all the men, right? According to the world of Jessica Jones, yes. The trailer for Season 2 was released and Jones is just the hero we need right now. In the new clip, she beats up many men, and it's very satisfying to watch. Enjoy. 
Deal of the Day:
If you want to support a company that hates Trump as much as you do, REI is offering an extra 25 percent off select select clearance items until December 10. Items on sale include men and women's clothing (including a ton of leggings), footwear, camping and hiking gear, backpacks, and luggage.
Advice of the Day:
"I don't want my life to imitate art, I want my life to be art." — Carrie Fisher
GIF of the Day: