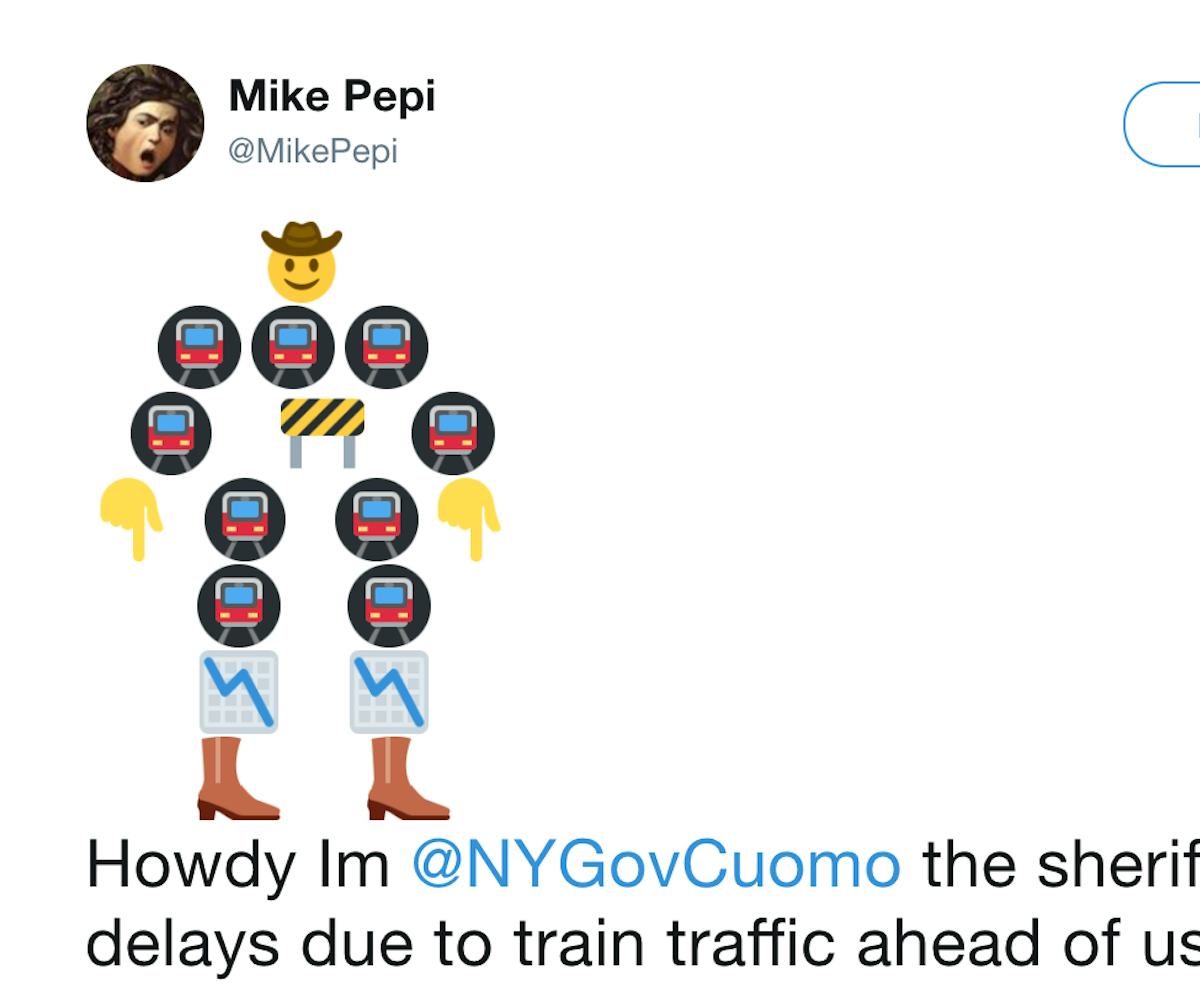 image via twitter
8@8: Your Morning Scoop
Howdy, this new sheriff meme is taking over Twitter!
Today is...
National French Fry Day!
News of the Day:
+ The latest meme to take Twitter by storm is the Howdy Sheriff! Somewhat of a DIY creation, the Howdy Sheriff is made up completely of emojis—the first being the cowboy face emoji, followed by emojis of the creator's choice, and finished with two cowboy boot emojis. The first Howdy Sheriff was created by Twitter user @BRANDONWARDELL, and since then, the internet's response has been nothing short of hilarious. 
+ Have you ever texted someone who took forever to reply? For
, their correspondence took years—three, to be exact, because they both, you know, were busy with life. After their story went viral, Tinder just had to get involved and offered the two a trip, on them, to any city of their choice, so they could finally meet up. The couple decided on Maui, Hawaii, and, hopefully, they pack their bags faster than they text.
+ When Riverdale actress Lili Reinhart discovered that her Lush Cosmetics bath bomb resembled the same one Harry Styles used for the cover of his debut album, the internet went crazy. Now, the cruelty-free brand is sending 100 Sex Bomb bath bombs to the singer, to honor his penchant for pink baths (and for being a total sex bomb, of course). What a time to be alive. 
+ Fashion brand CottonOn has released a Simpsons-inspired line under its stationery brand, Typo. The line includes bags, phone cases, headphones, and more, all adorned with a variety of Simpsons quotes, logos, and iconic images. The pieces range from $2.99 to $39.99, and you can shop them here. 
+ This is not a drill: You can win a lifetime supply of ice cream from McDonald's on July 16 in honor of National Ice Cream Day! To enter the contest, use the fast food chain's app to redeem the free ice cream coupon in stores between 2pm and 5pm. The winner will be served ice cream in one special brass-and-gold cone. May the odds be ever in your favor. 
Deal of the Day:
Brace yourselves: The Outnet's summer clearance sale is here! You can shop your favorite designer pieces up to 85 percent off. And with items already marked down, the sale is practically a steal. Shop the sale, here. 
Advice of the Day:
"If you are able to look yourself in the mirror every day with the decisions that you make, that's where power starts." —Selena Gomez
GIF of the Day: