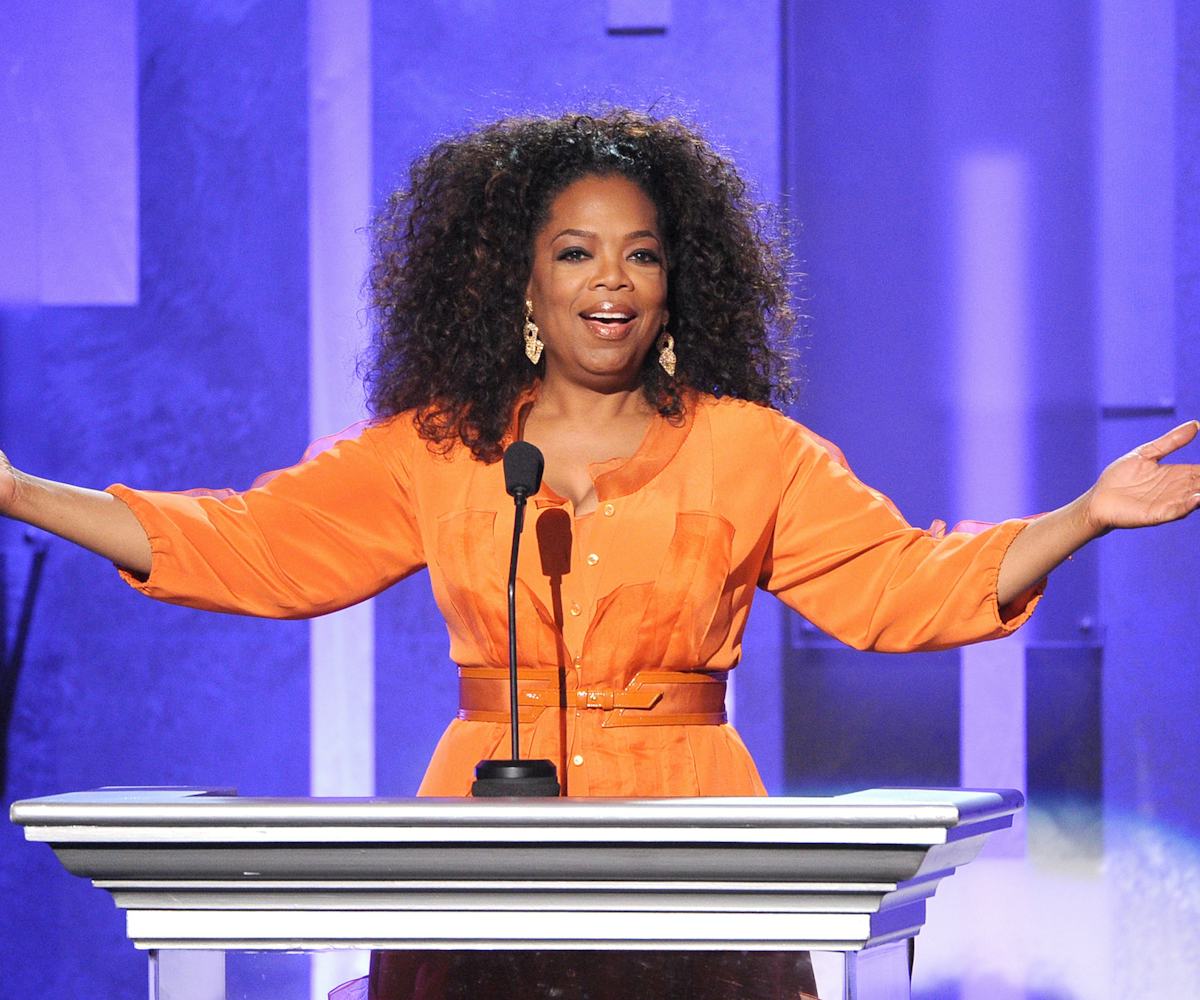 Photo by Kevin Winter/Getty Images
Today is...
National Banana Cream Pie Day!
News of the Day:
+ Oprah may be reconsidering running for POTUS. Although she seemed quite skeptical about the proposal, Oprah recently told David Rubenstein that she's "thinking" about it. "I thought, 'Oh, gee, I don't have the experience. I don't know enough,'" she said. "Now, I'm thinking, 'Oh.'" As far-fetched as it may be, we're thinking that "You get a car!" would be a lot better slogan than "Yuge." 
+ Bella Hadid gave us the first peek at her Dior Beauty campaign. The 20-year-old model seemed over the moon as she revealed the Diorshow Pump'N'Volume Mascara ad in a post on Instagram. Her big sis Gigi is also making headlines for gracing the first-ever cover of Vogue Arabia in celebration of her Palestinian heritage. 
+ Ava DuVernay and her independent film distribution collective, Array, are back with yet another Twitter takeover in honor of Women's History Month. This time, DuVernay was joined by 26 female filmmakers, including Julie Dash (Daughters of the Dust) and Amma Asante (A United Kingdom), for a Q&A held through the hashtag #ArrayToday. DuVernay enters this Twitter streak following her Oscar nomination for Netflix documentary "13th," and her niece's Oscar-worthy celeb selfie-taking skills. 
+ Daniel Kaluuya, the star of Jordan Peele's box office hit Get Out, will now be joining Viola Davis and Cynthia Erivo in the film adaption of British TV series Widows. There's no set release date yet, but you can start preparing by peeping the series here. 
+ Donnie Darko is back and better than ever just in time for the film's 15th anniversary. Arrow Films is bringing the 4K restoration of both the theatrical and directors cuts releases to theaters across the country for a week-long run. Watch the trailer, below. 
Deal of the Day:
ban.do's first-ever handbag line under $100 is finally here! The bags are available in three styles—the comrade, the amigo, and the sidekick—and come in four colors. They're the perfect steal for you and your partner in crime! Shop them all here.
Advice of the Day:
"Life is just about believing in yourself, believing in your dreams—and you are the dream! As long as you're believing in yourself, you are completing everything that is necessary for you here, in this time, in this moment. —Keke Palmer
GIF of the Day: