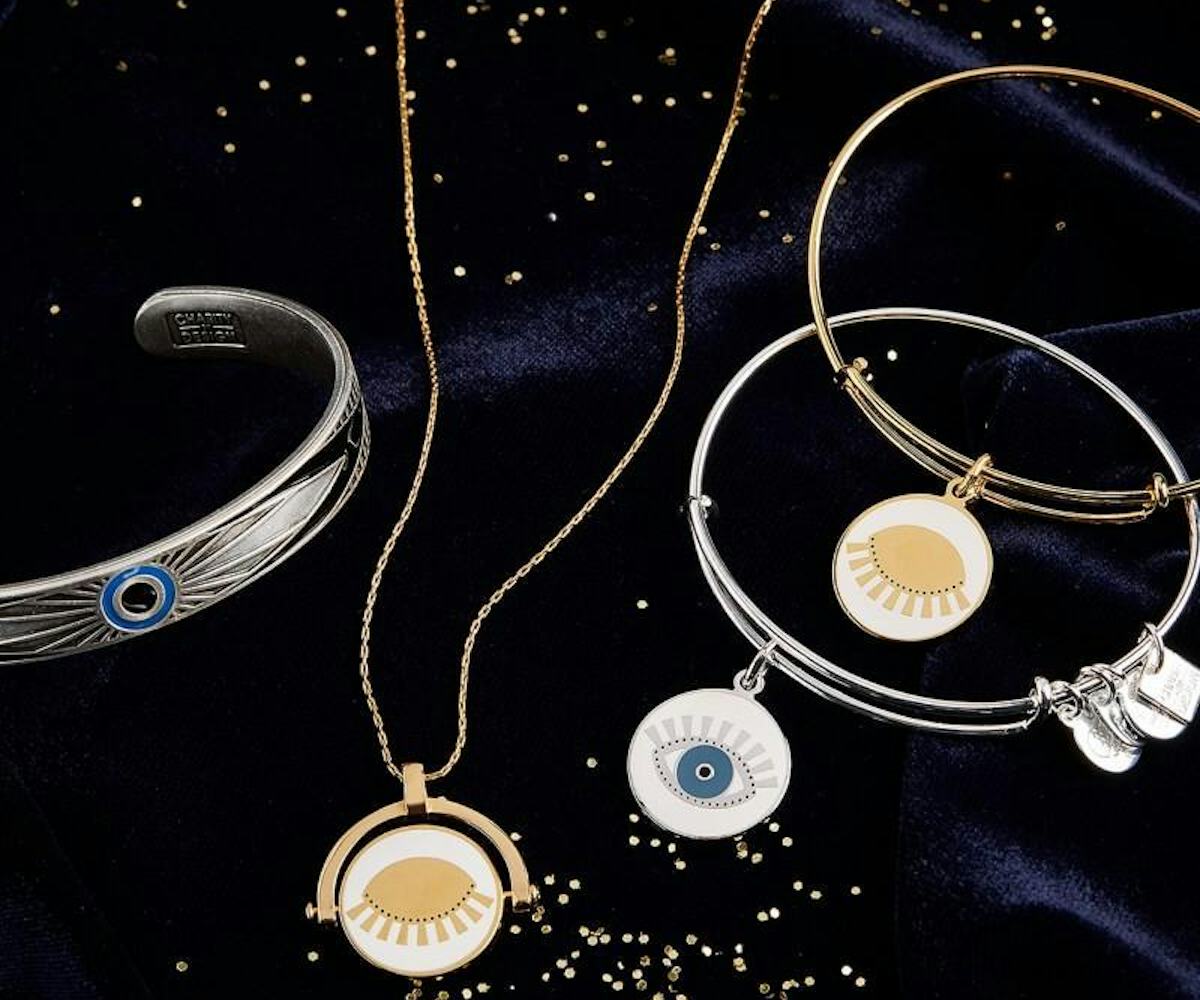 Photo Courtesy of Alex & Ani
8@8: Your Morning Scoop
David Lynch now has a jewelry line
Today is...
National Jukebox Day!
News of the Day:
+ David Lynch is making up for denying us another season of Twin Peaks with a line of jewelry. He designed the collection in collaboration with Alex & Ani, and might we say, it's a damn fine consolation. In true Lynchian fashion, the pieces are inspired by the art of Transcendental Meditation—which he has practiced for decades—and a portion of the profits from each piece sold will be donated to the David Lynch Foundation, which aims to bring the calming practice to less privileged populations. The three pieces—two bracelets and a necklace—range in price from $42-$88, and each feature a meditating eye. You can shop the collab at Alex & Ani stores and online. 
+ The power of the Juicy Couture tracksuit is powerful indeed. Somehow, the brand and its iconic clothes haven't disappeared from our radar as so many other iconic older brands have. If you've ever wondered why that might be, get ready, because a Juicy Couture television show is on its way to a small screen near you, which will uncover the tricks that made the empire so great. The show, called Juicy Stories, will be based on the founders' memoir titled The Glitter Plan, which Pamela Skaist-Levy and Gela Nash-Taylor wrote back in 2014. The two will serve as the narrators for the series, which has been green-lit by E! (because, who else?). The show was created by Michael Patrick King and Amy B. Harris, who were the masterminds behind Sex and the City. We can't help but wonder what they have in store for us. 
+ 7-Eleven just dropped a… makeup collection? The much-loved convenience store has released an offering of beauty products, and each is priced at less than $5. While this may seem like a stretch for the company, just think of all the times you forgot to pack your mascara for a trip or found yourself in a bind on the way from work to a party. Convenience stores have always been one-stop shops for everything from food to household products to—yes—makeup, so why shouldn't 7-Eleven hop on the bandwagon? 
Photo: courtesy of 7-Eleven
+ The "crown brow" is the latest innovation in the growing list of weird eyebrow trends, and it's exactly what you think it is. Basically, those interested create small spikes out of their eyebrow hair, and top each spike with a sequin. You might question the wearability, but you can't argue with its creativity. The look can be credited to Instagram user Sofie Petersen, whose feed proves that this is one of the more tame eye looks she's done. 
+ We can't stop talking about the Too Faced Chocolate Gold collection, and the brand has taken notice. Their new White Chocolate Bar palette is now available early at Sephora for VIB and Rouge customers to snag, before the rest of the world can get its hands on it November 23. Sure, it's only one day in advance, but the palette looks so sweet that it's near impossible to wait 24 hours more. Head over to Sephora to get early access. 
Deal of the Day:
In a sea of companies trying to capitalize off of the latest turn toward social activism, cosmetics brand Lipslut is actually using their product to raise both money and social awareness. They have released a new bright red liquid lipstick called "F*ck Hollywood", which is "50 percent toward charity, 100 percent against abuse." Half of all proceeds from this shade will go to an anti-sexual assault organization that customers help choose. You can pick from options like Planned Parenthood and the National Alliance to End Sexual Assault at checkout, and the charity with the most tallies gets the donation. You can preorder the lippie here—and while you're there, pick up F*ck Trump, a nude pink that donates half of the proceeds to "a civil rights organization targeted by the Trump administration."
Advice of the Day:
"Don't let your steps forward be diminished by he or she who has longer legs. Don't let your leaps feel like crawls. Appreciate yourself. Pat your back for doing well and learn—don't lurch—when you fuck up." - Leandra Medine
GIF of the Day: