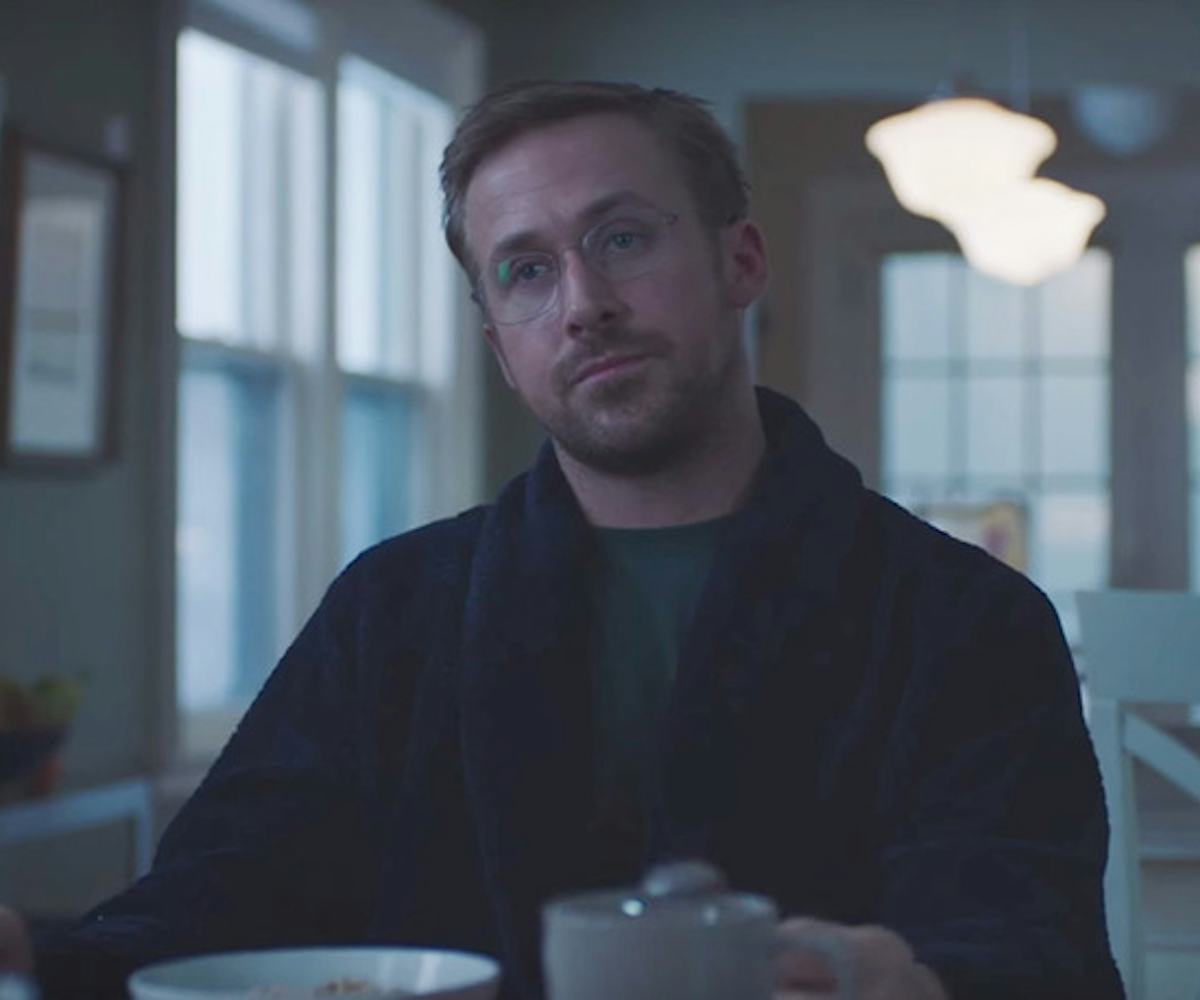 Image via YouTube/Saturday Night Live
8@8: Your Morning Scoop
Ryan Gosling hates Papyrus as much as you do
Today is...
National Consignment Day!
News of the Day:
+ SNL finally returned Saturday night and in addition to ripping apart Donald Trump, they took time to address another national embarrassment: the Papyrus font. In one sketch, Ryan Gosling plays a man haunted by the fact that Avatar uses the Papyrus font in its logo. He has a breakdown after he finds himself surrounded by the font—on signs for hookah bars, Shakira merch, and off-brand tees. It's truly terrifying. Watch the sketch below. 
+ Kim Kardashian is no longer staying quiet when it comes to Trump. Over the weekend, she called out the president on Twitter after he criticized the mayor of San Juan as she works to rescue her people after Hurricane Maria. "They don't have power to watch the news!!!" Kardashian tweeted in reply to Trump's message that Puerto Ricans shouldn't listen to the "fake news." "Please stop tweeting & golfing while people are dying! Please step up & help!"
+ Amber Rose, who hosted her annual SlutWalk in L.A. this weekend, released a video addressing the tampon tax, called "Periods are not a luxury. Period." In the clip for Period Equity, the "nation's first law and policy organization fighting for menstrual equity," Rose mocks the fact that in 36 states, tampons are considered a luxury. "A tax on tampons is a tax on half the population," the video says. They also share a link to PeriodEquity.org to encourage others to fight the tax. 
+ If you were thinking of being a unicorn for Halloween, Too Faced has you covered. The makeup line just released its Unicorn Tears Melted Latex lipstick. After months of build up, you can finally purchase the highly pigmented, iridescent blue-silver gloss for yourself. 
+ It's October, which means everyone is back to debating whether or not candy corn is good (it's not). The internet seems to be divided on the issue. To some, candy corn is "wax garbage" and "diabetes candles." Others are willing to psychically fight someone over how good it is. This is a debate you might want to sit out this year. 
Deal of the Day:
Surf brand Reef launched a collaboration on Sunday, teaming up with Surfer Magazine to create a collection of magazine-cover inspired sandals and T-shirts. The Reef design team chose four iconic covers from different eras from the '60s through the '80s, showing the progression of surfing culture. The Reef X Surfer collection is available at surf shops and select retailers starting Oct. 1, 2017 and items retail at $26-$30. 
Advice of the Day:
"True confidence leaves no room for jealousy. When you know you are great, you have no need to hate." - Nicki Minaj
GIF of the Day: