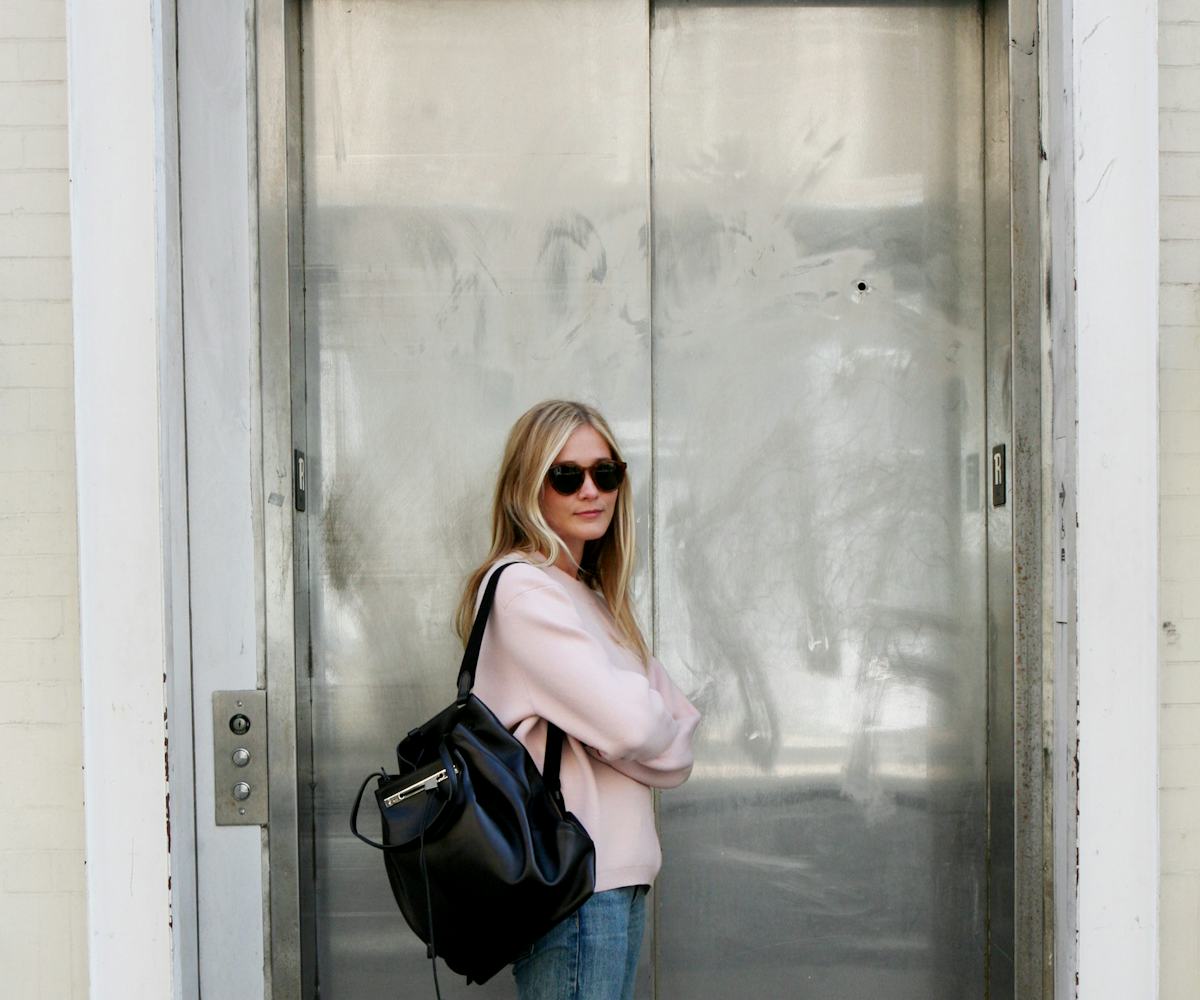 photos by liz riccardi
8 ways to style your sneakers
Once upon a time, It girls wore glass slippers and glitter stilettos. Now, we wear sneakers and whatever else suits our fancy and all is well and right with the world.
Still, if you haven't stepped foot in your trainers since those high school track days, you might be a little confused on how to style your New Balances or Nikes without your yoga mat. But don't worry, we've got you covered. Click through the gallery to see how NYLON staffers style their kicks.
Michelle Lee, Editor-In-Chief (@heymichellelee)
"I'm pretty obsessed with button-down shirts right now, especially this funky owl one from Zara. They're surprisingly versatile, depending on how rolled and buttoned they are. So it was a no-brainer for me to pair these Common Projects white leather high-tops with my fall staples: soft, stretchy denim and a button-down. Business on top, party on the bottom."
Marissa Smith, Fashion Assistant (@marissaexplains)
"I'm a HUGE supporter of wearing sneakers with everything. Every season, I fixate on a couple pairs that I have to have - usually it's Nike, Adidas, etc., but when these Marc by Marc Jacobs sneakers came out in the Fall'14 collection it was like Luella Bartley and Katie Hillier were reading my mind. Iridescent, low tops, black? Everything I love. I paired them with a classic pleated skirt and some tube socks to give them a bit of a different vibe. I like mixing my sneakers with skirts and dresses so make my outfits more urban and fun."
Jade Taylor, Senior Beauty Editor (@jadextaylor)
"I've been a huge fan of Converse since I was a little girl—and I've worn them in all different colors: pink, purple, green, navy, etc. You name it, I've worn it. So I decided to take my obsession to the next level by custom designing my own pair. Hi-tops, check. Black leather, check. And to top it off, I decided to write a sassy phrase on the back--they say "WHATEVER" in cursive—since Converse wouldn't let me put a curse word or demonic saying on the shoes. I wear them with everything, but as you see here, I think they look best with a vintage metal shirt and weird skirt."
Whatever.
Beth Garrabrant, Photo Director (@bethgarrabrant)
"I like to wear my sneakers with sweatshirts and shameful mom jeans. Sneaker game inspired by Jodi Foster in Freaky Friday."
Yasmeen Gharnit, Digital Editorial Assistant (@yazzysjazzy)
"The great thing about Nike Air Max kicks is that they literally go with anything. Even when that something is a slip skirt, an asymmetrical hoodie, and a leather jacket. It almost makes the entire outfit look intentional."
Haley Stark, Art Director (@haleystark)
"Even though they were originally intended to speed up your run, Adidas Springblades make any outfit awesome because they literally put bounce in your step. The name is really fitting—the cool bendy blades act like springs for your feet. I was jumping around the office all day saying I felt like a kangaroo. I think I made everybody crazy."
Lisa Mischianti, Senior Editor (@lisa_mischianti)
"I'm a uniform-dressing kind of girl, so I'm pretty much always wearing a black skirt, vintage tee, and hat (plus I'll toss on a trusty jacket as it gets chilly). These awesome low-top pinstripe vans—which I paired with an ankle-height black sock—work perfectly with my go-to look."
Kelly Shami, Designer (@kellyshami)
"If you were born in the '90s, it's hard not to be a Jordan fan. One of my favorite pairs of sneakers are my Jordan 10's, which were released during Jordan's absence from the NBA. When he came back from retirement in '95, he wore these sneakers on the court for the first time. I love these especially because they are one of the most comfortable pairs I've owned, and I admire the soles which have stripes designed emphasizing MJ's accomplishments. I paired the retro cool greys with a baseball jersey dress, and, of course, an all black Yankee hat."