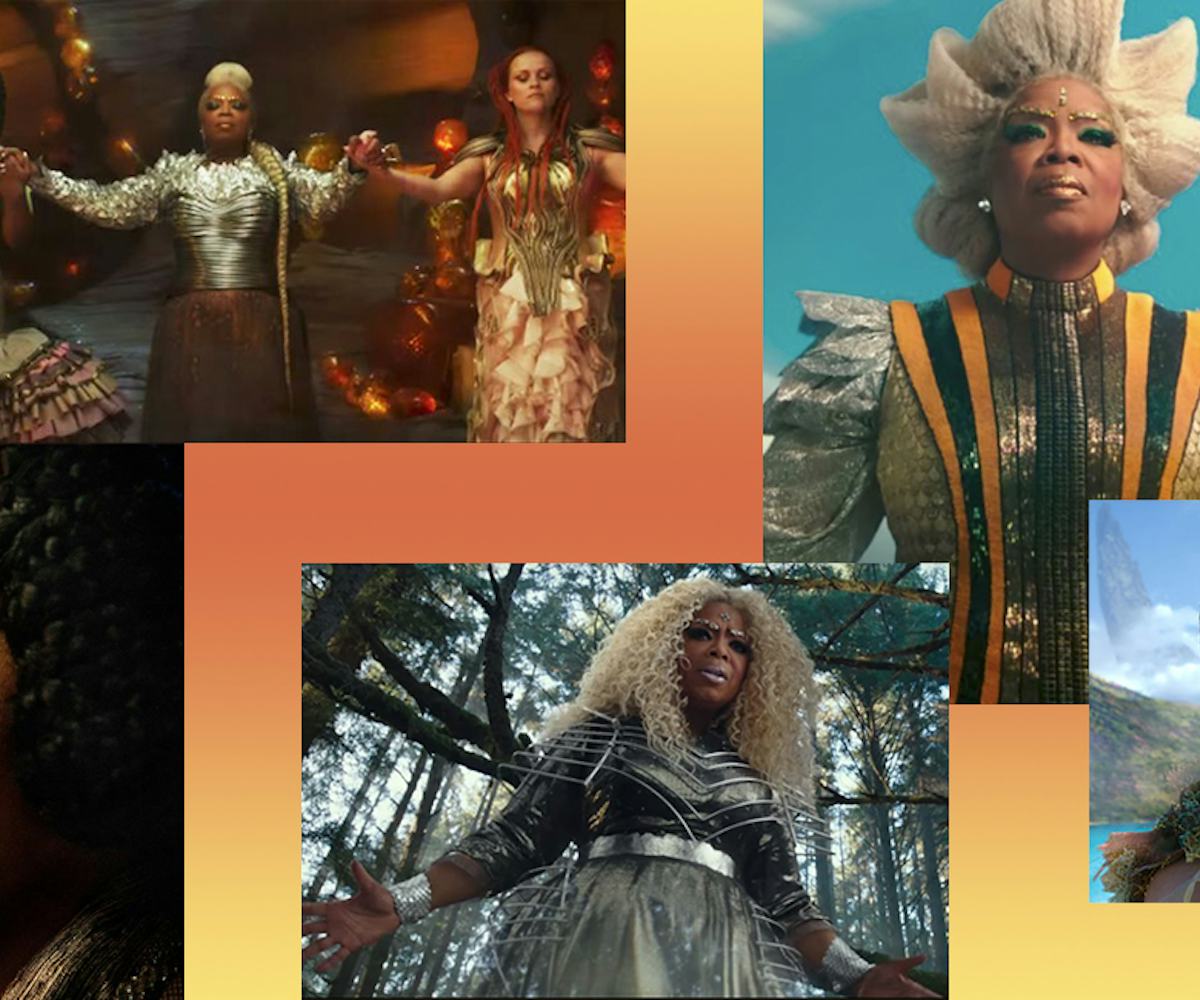 Get To Know The Secrets Behind The 'A Wrinkle In Time' Hair Styles
A whole trailer was used to house all the hair
Beyoncé may have a closet that houses her hair, but stylist Kim Kimble had a whole trailer just for hair while working on Disney's Ava DuVernay-directed A Wrinkle in Time. "We had a lot of hair," she says. "So, we had a couple of trailers and one, in particular, was for the 'Mrs.'s and their wigs."
Kimble has a long and impressive resume of styling some of the most iconic hair looks in recent memory, including ones for Beyoncé's visual album Lemonade. She also has her own line of products and worked on films like The Five Heartbeats, and Austin Powers: Goldmember in the past. But none of her prior work could have prepared her for a project like A Wrinkle in Time. When DuVernay beckons, though, you say yes and worry about the work later. "I got a call from one of the producers asking me to be a part of this project, and then Ava told me that the hair was going to be very intricate and avant-garde," Kimble tells us. "And I was like, 'Okay. I'm in.'"
Sci-fi, avant-garde, and next-level were all terms used for general inspiration, but each character in the film very much has their own individual look. But the looks that stand out the most are those of the three primary celestial beings—Mrs. Who, played by Mindy Kaling; Mrs. Whatsit, played by Reese Witherspoon; and Mrs. Which, played by Oprah Winfrey. Their beauty looks are the ones that required the most work and are the most exquisite.
Kimble describes Mrs. Who as being made up of a bunch of different cultures. "Her inspirations were a little bit of African, Asian, and Colombian," she says. Her hair is mostly seen in very intricate updos—which included lots of texture, braids, and sculpting—that frame her face. "Even in her clothes, she's got a tapestry and quilt made up of all these different places… she's very wise and well-rounded." 
Mrs. Whatsit is whimsical and earthy with a little bit of fire in her, Kimble says, hence her softer styles, like pigtails and loose waves. "Her having the red hair, it felt very bohemian in a way. It spoke to her character," Kimble explains. 
Mrs. Which, meanwhile, is the leader of the bunch. So, her hair had to be just as commanding as she is. "Big hair, textures, and bold platinum colors is what we considered for Oprah's character," Kimble says. "I thought about all of the colors coming from minerals and the stars out in the universe." There's one look in particular that shows Winfrey with a constellation of hair orbiting atop her head. Kimble says this is the style that gave her the most trouble—they had to try five times before they got it right—but it's also by far the most memorable.
Kimble and her team of 20 spent about three months prepping, designing, and putting together the hair looks just for these three characters. Not only did they have to create custom colors for the hair, but they also had to build the different hair pieces from scratch. Each Mrs. character has five unique looks that needed to be conceived—not to mention, all the looks for stand-ins and stunt doubles. Kimble estimates about 50 wigs were created in total, but it's impossible to estimate how many hours were needed. However, seeing the final product makes the whole thing completely worthwhile. "I was so blessed to be a part of a project of this magnitude," Kimble said of the experience. "It was a lot of work, but I prefer it that way. I like to work on movies where the hair is a big deal because that's part of the challenge: creating and figuring out how to make something given the time and also get the look that we want." 
Kimble says she looks forward to seeing the Halloween costumes and wigs that will inevitably come from the film. Until then, she has a couple of other projects coming out, some of which may or may not involve Beyoncé. She's not at liberty to divulge details because they're very much still "under wraps." And, well, we hate to say it, but not even the queen herself can eclipse the magic Kimble's brought to the big screen.
A Wrinkle in Time hits theaters this Friday.