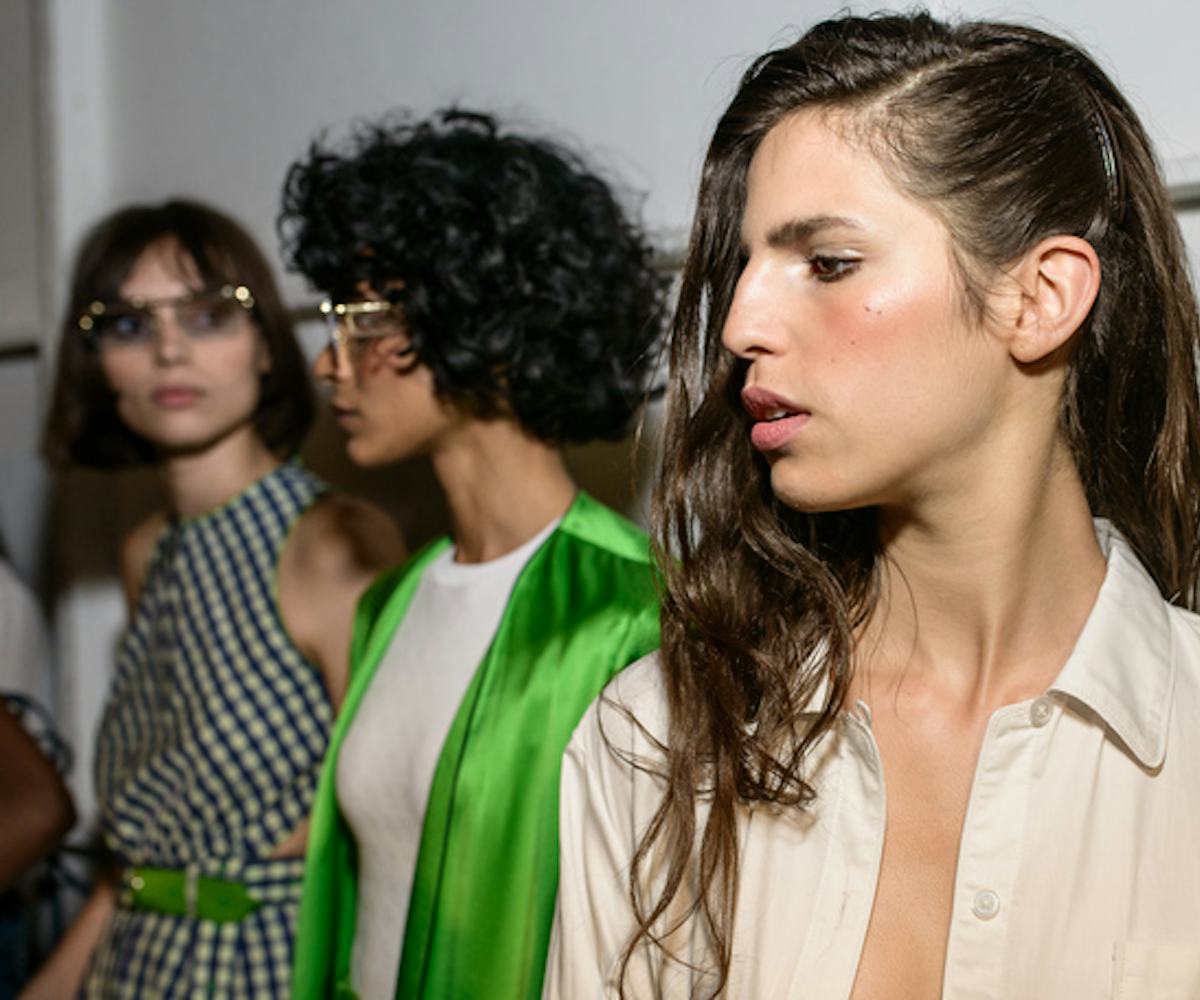 Photo by Paul Terrie
How To Get Adam Selman's SS18 Runway Hair
Presented in partnership with amika
Adam Selman wants to remind us that America has always been great. His spring/summer 2018 runway show was a whirlwind of denim motifs, unexpected takes on workwear, and clean, sophisticatedly cool beauty. "He wanted it to feel a little tougher and cool this collection around," James Pecis, the show's hairstylist, told us backstage. "Everything was starting to look too cute."
Armed with an arsenal of amika hair products, Pecis and his team honed in on side parts, pulling the hair on the left side of the head back and securing it with what Pecis calls "granny combs." He adds, "They're such a great way to hold the hair back, but this is a cool way to use them, where it doesn't feel so dated." 
The result was a perfect marriage of glamour and toughness: drama on the right side of the face and a no-holds-barred attitude on the left. Luckily, this runway look is totally easy enough to do on your own. "This is the best 'not a lot of time' look, and because you can pick the products up at almost any drugstore, it's affordable, too," Pecis tells us. 
Ahead, Pecis outlines exactly how to go about channeling your own spring/summer Selman girl—you know, the ones reminding the world we're already great.
What you'll need...
What you'll do...
Mist the Bombshell Blowout Spray from the roots to the ends of the hair and blow your hair dry.
Create a messy side part and sweep hair over to one side.
Use a curler to add volume to the front section of the heavy side.
Continue to add a natural wave through the lengths of the hair with the curler.
Rake through the waves with your hands and spray Silken Up Dry Conditioner throughout the hair.
Massage Haute Mess Texture Gel into your hands and run through hair. Then apply a small amount of the gel and push through the low side—use a slide comb to secure.
Finish the look with Touchable Hairspray.