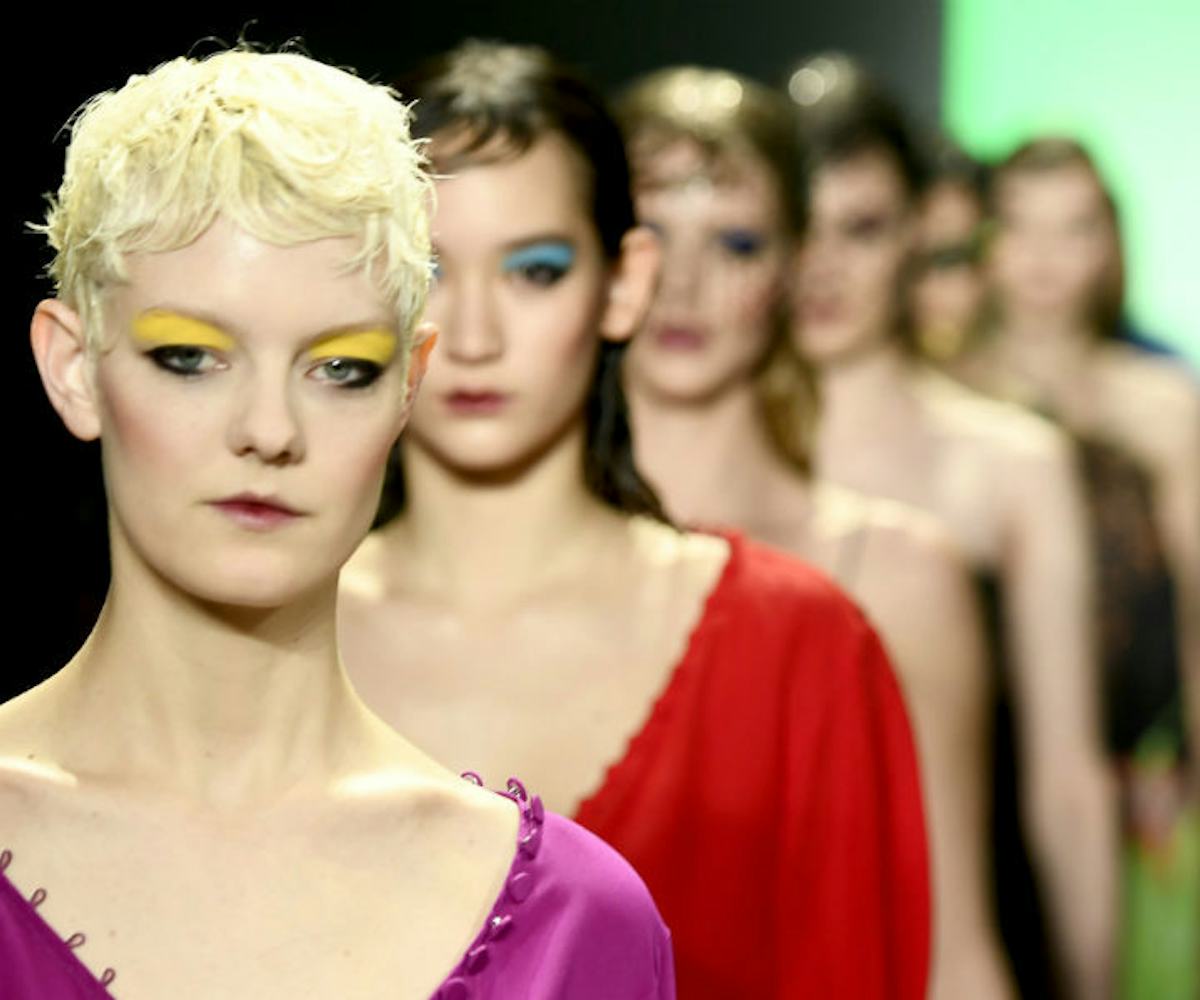 Photo by Frazer Harrison/Getty Images for New York Fashion Week: The Shows
Adam Selman's Fall Beauty Look Was Inspired By Tonya Harding
And "Willie Nelson roadies"
Tonya Harding liked her nails bright, her hair teased, and her makeup loud. To pay homage to that boldness, Adam Selman borrowed from the former ice skater's beauty look for his Fall 2018 show.
The nails, in particular, were a shout-out to the athlete, who had fallen from grace following the attack staged by her ex-husband on fellow ice skater Nancy Kerrigan in 1994. They were filed into an almond shape, with half painted using a "strong and sexy" red and others a glitter fuchsia. "Back in the day, before the movie, she always had nails," ORLY Ambassador and nail artist Holly Falcone told us backstage. "Even in interviews now, she always has a strong glitter nail, a french nail, or something." She also notes that Selman was a fan of Harding's long before the Margot Robbie-helmed I, Tonya, but we're sure her relevance now and the nail nod isn't a mere coincidence.
On a different note, the hair was inspired by "Willie Nelson roadies," hairstylist James Pecis tells us. "When I think Willie Nelson, I think, of course, of braids," he says. The models were seen with plaits backstage, but they were taken out before they hit the runway. This was done to add some waves to the hair. "When I think of a roadie, I think of someone who's wearing a hat, moving equipment around, that's sweaty and sticky," Pecis says. Hence the "boyish swoop" of hair that could be seen on most models.
The makeup, meanwhile, included a stripe of blush, a bitten wine lip, and a pop of either chrome yellow, bright pink, or blue color on the eyes. It was topped off by three different kinds of black eyeliner. "We're not correcting, we're painting," makeup artist Dick Page says. "It's an imperfect kind of beauty."
Together, we get a late '80s, early '90s beauty dream. "It's a balance of being sick and twisted," Pecis explains. 
Check out some versions of the full look ahead.