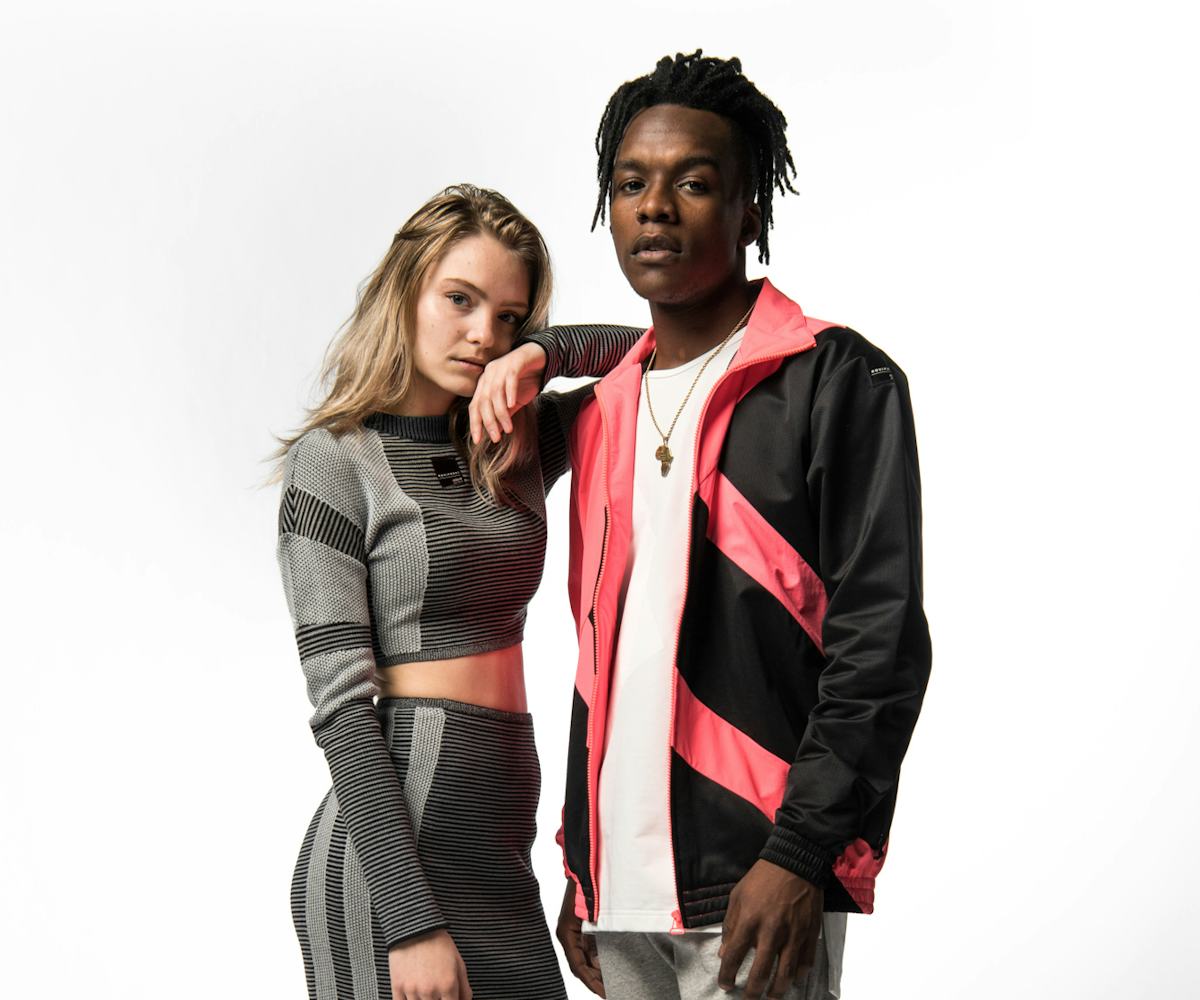 Photo courtesy of Adidas
Adidas' EQT Line Proves Athleisure Is Here To Stay
"Everything that is essential, and nothing that is not"
I was never too big on the whole athleisure thing. I owned maybe one pair of sneakers that wasn't meant for the gym, and Chelsea boots were my go-to for every day. This, of course, all changed once I caught a glimpse of Adidas' new Equipment—or EQT, for those in-the-know—line. Now I'm basically a sneakerhead in the making.
EQT actually originates back to the early '90s, when the brand decided that they needed to find a new direction in footwear due to the "oversaturation of style over substance." They wanted to create sneakers that were stripped of the unnecessary designs based on fashion and trends and instead offer performance, protection, and comfort.
Now, they've brought back the line in a way that's much more relevant to today, with colors, styles, and even apparel that will make even the least athleisure-minded shopper drop everything. While the 2017 EQT line may be a more modern version of the original early '90s launch, the core designs and message remain the same: emphasis on the line's legacy of quality, use of premium materials, and purposeful construction.
As I've noticed myself over the past few seasons—along with the athleisure trend—the popularity of sneakers is growing outside of the gym. I'm seeing fewer heels making appearances during Fashion Week, with most editors opting for the style and comfort of sneakers, as well as on the streets. I chatted with some of the most knowledgeable sneaker retailers out there as to why the EQT line is so relevant to women—even for those who, like me, weren't necessarily "sneaker people." 
"Being a woman in the sneaker world, the first thing I look for when purchasing is something that's versatile and comfortable, but also stylish and goes with a lot of my wardrobe," says Julie Hogg of Wish in Atlanta. "I think that EQT falls in that category with their colorways and clean aesthetic—and that's really important to women. It's like, 'How can I rock this? Can I do it with a dress? Or with shorts?' If they can visualize it with things they already own, and the style is simple and clean while also current, then it's an easy pickup. The EQT line definitely fits this bill."
Of course, it helps that EQT—once a very masculine line—now nods toward the feminine. Rather than using the vibrant green that was once associated with the line, the latest launch's signature pop of color is Turbo Red, an almost fluorescent pink—something you'll see in both men's and women's styles (which frankly could all be considered unisex). "I think the evolution of the EQT line is parallel to the evolution of how women are involved in sneaker culture," says Jeff Staples of Extra Butter in NYC. "I think in the early days of the line, back in the '90s, it was connected to that sport green colorway, which is very masculine. Their shift to using a more feminine pink is emblematic of the fact that there are more women wearing sneakers—as well as the fact that men are more comfortable with their femininity. It's sort of a nod to what's going on in the culture of it all, that women are just now seen on the same playing field as male sneaker influencers and connoisseurs."
Being that athleisure has become such a trend over the past few seasons, is it something that's destined to fade back into the lulls of the trend cycle before reemerging at some later time—or is it, rather, something that's here to stay? Both Hogg and Staples agree that athleisure isn't going anywhere anytime soon. "I think both athleisure and androgyny are here to stay," says Hogg. "I think that men's and women's pieces aren't really going to be separate anymore and rather will just have a small to large size run. And for athleisure, I don't even think it's a trend—I think that now, it's become a way of life.
"It's not really a trend since it's rooted in performance and comfort," adds Staples. It just comes down to functionality and purpose. To me, EQT directly relates to that. It's the equipment for what you need in your life."
Click through the gallery below to check out the latest EQT ready-to-wear and sneakers, and shop the latest from the line at Adidas.com.