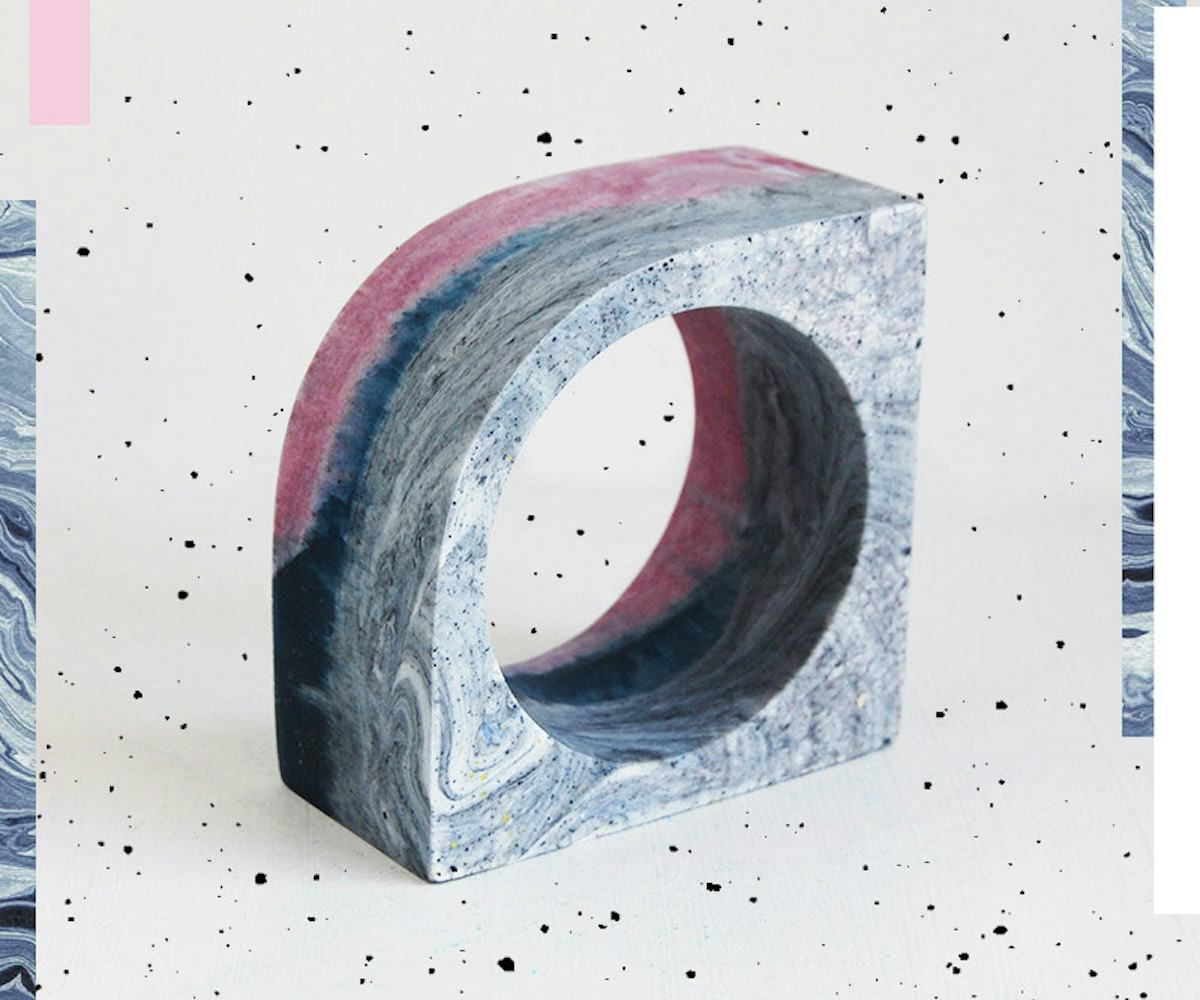 Photo via Adorn Milk
design nerds: your new favorite jewelry store is here
form, function, and fly as hell
Whether it's an understated, delicate ring or a sculptural statement necklace, there is nothing like piece of well-designed jewelry to instantly up the ante on your wardrobe. And with more and more indie designers putting a totally unique spin on their pieces, handmade jewelry is about as close as you can get to rocking art on your body (the non-permanent kind, anyway). Jaime Derringer, founder of Design Milk, gets that, which is why last week she formally launched Adorn Milk: a brand-new curated collection of eclectic, unconventional jewelry, made for people with an appreciation for all things design. Or, in Derringer's words, people who are more about form and craft than, you know, bling.
Nearly a decade ago, Derringer launched a little blog to pay homage to good design found all around the world. Today, Design Milk is one of the most well-respected design hubs on the web. Adorn Milk, which officially launched last week, is Derringer's latest endeavour: a way to share some of her favorite designers and artisans she's encountered over many years of hunting down the best design in the world.
From delicate, matte-black geometric earrings to over-the-top statement necklaces, each and every piece on the site is handpicked by Derringer herself (and with over 150 offerings, we're guessing it's keeping her pretty busy). Derringer describes the collection as "architectural, high-quality, handmade adornments," with more designers to come each month and possibly some exclusive partnerships in the works, too. "My goal is to keep it highly curated, so I don't necessarily want every piece from one line," Derringer says. "I want to handpick everything to make it more special." Some of the pieces that made it from her own jewelry box onto the site include this stainless steel pendant and chain by Yumi Endo, these simple OfMatter studs, and this thing of beauty made from copper, rope, and wool. 
The venture was inspired by Derringer's own collection: When strangers kept complimenting her on her unique pieces—and asking her where they could find them—she realized she might be on to something. She tells us that she never set out to be particularly into jewelry, it just happened as she encountered more and more cool pieces of art that she could actually wear. "I didn't feel like there was one place out there that designed for people who loved architectural pieces, or that was trying to establish these jewelry designers as being true designers in the design world," she tells us. "I wanted to bring them into the forefront of the conversation I'm having with everybody else."
As for the pieces themselves? Let's just say you'd be hard-pressed to find anything like this at a shopping mall. Derringer is mostly working with smaller, emerging designers, especially those whose creations are handmade or one-of-a-kind. "I think our customers will be less interested in getting it the next day, more interested in the story behind it," she adds. "I'm hoping whoever appreciates these will appreciate them for the craftsmanship, the thought behind the actual design of the pieces, and how it fits on your body."
Check out our favorite pieces in the gallery. 
Adorn Milk, Okru "Lung" Necklace, $55, available at Adorn Milk.
Adorn Milk, The Good Machinery "Stranauno" Bracelet, $148, available at Adorn Milk.
Adorn Milk, Jamie Spinello "Mini Pharaoh" Necklace, $120, available at Adorn Milk.
Adorn Milk, Alessi Fiato Sul Collo Necklace, $167, available at Adorn Milk.
Adorn Milk, Rope Ring, $130, available at Adorn Milk.