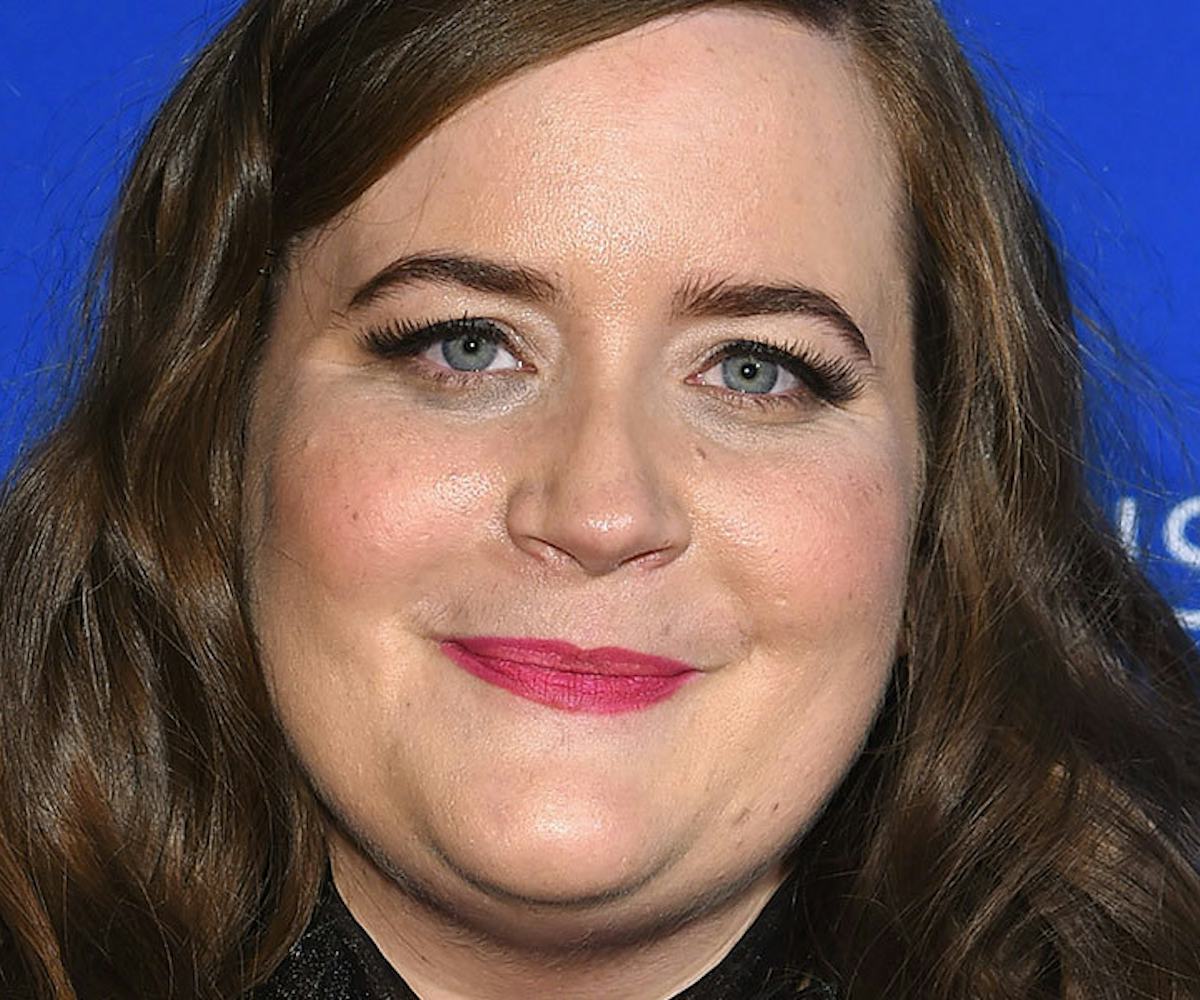 Photo by Jamie McCarthy/Getty Images.
Actress Aidy Bryant Defends Amy Schumer's New Film
"It's a movie I wish I could have seen when I was 14"
Amy Schumer's forthcoming film I Feel Pretty has been teeming with controversy since the trailer released last month. The story follows Schumer's character after she wakes up from a fall "believing she is the most beautiful and capable woman on the planet," the synopsis explains. The movie is meant to be about self-love, but not everyone sees it that way.
Many took issue with the fact that Schumer—white, able-bodied, and femme—is already society's beauty ideal. While others were appalled by the message that the only way "bigger" girls can have confidence and be happy is from suffering a head injury. Many have already dismissed the film, despite it not being released yet. Now, actress Aidy Bryant, who also stars in the movie, is asking them to reconsider.
After Bryant posted a photo of herself, Schumer, and co-star Sasheer Zamata on Instagram, according to People, one commenter expressed her disappointment. She wrote:
I think you're great @aidybryant, but from the previews I've seen of this movie, it's a HUGE step backwards for the feminist movement, that at this very moment is having a huge identity shift that many of those on the front lines of the work are working against the messages in this film on a daily basis. I won't be supporting a movie that continues to perpetuate fat phobia and the notion that for a woman to be confident she needs to look a certain (read: thin, white, rich) way. The previews are extremely problematic and as a fat woman in Hollywood, who has thousands of fat girls who look up to you, I hope you will consider the message this film sends. Thumbs down.
Bryant quickly came to the film's defense, noting that the commenter and others should see the film before coming to any conclusions. "I'm very proud to be in a movie tells the story of someone who believes confidence is directly tied to looks but learns that confidence comes from within," she wrote. "It's a movie I wish I could have seen when I was 14."
The actress hasn't been in the industry for too long, she admits, but in the short time she has, she's come across scripts that use her weight and body for laughs. "I choose my projects carefully with exactly these things in mind," she continues. "Change cannot happen over night and this movie is a step in the right direction."
I Feel Pretty hits theaters April 20, so you can judge for yourself then.