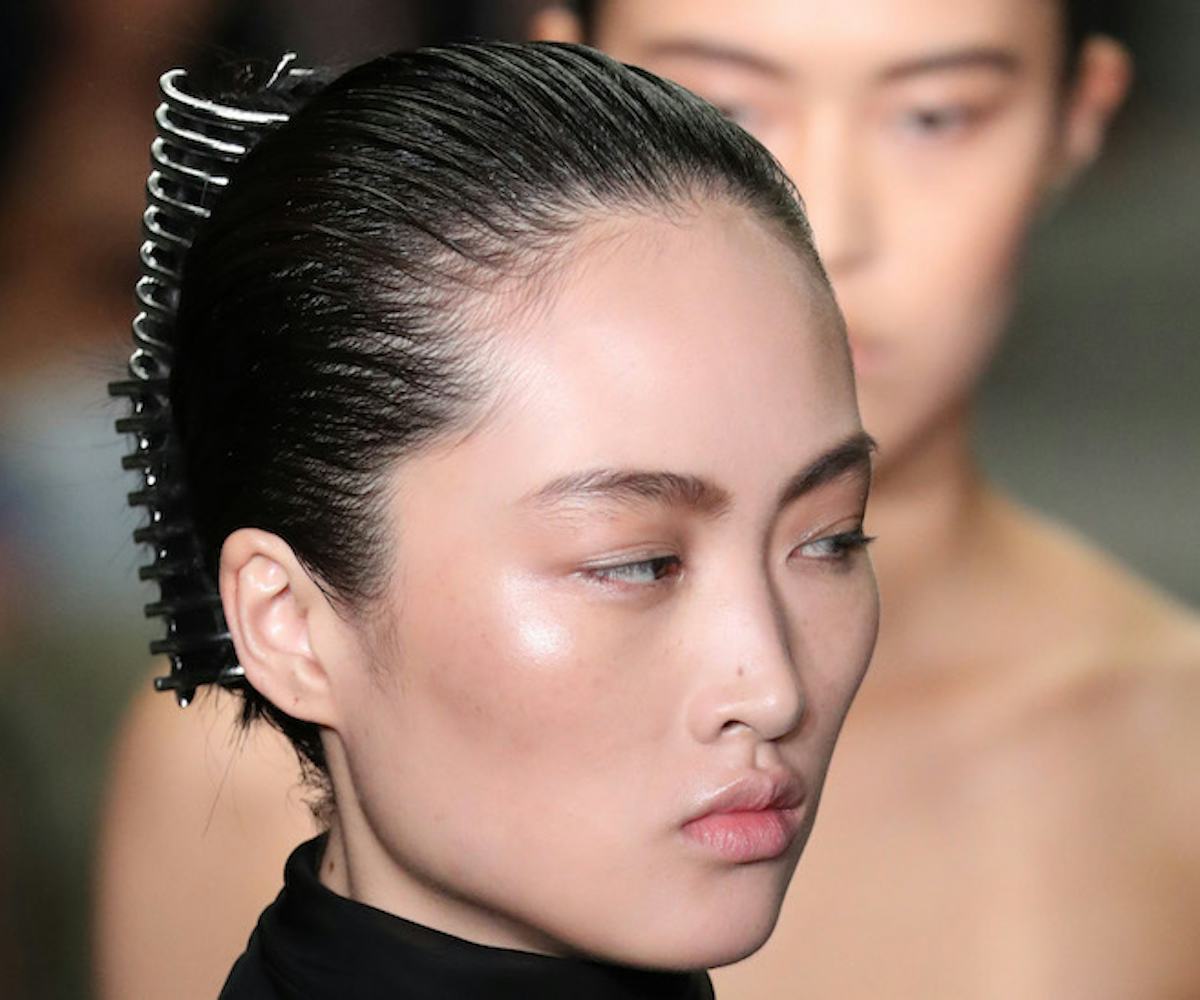 Photo by JP Yim/Getty Images
Alexander Wang Just Made Banana Clips A Thing Again
Another long lost hair trend of our childhood has made its way back into high fashion, and it's all thanks to Alexander Wang. (And guess what? It's not the scrunchie this time.)
For his Fall 2018 collection—and farewell to NYFW—Wang paid homage to the '80s power woman, and her hair accessory that would trickle down to our own childhoods until the '90s. Get ready to welcome back the banana clip.
Models donned the familiar claw clip—for some, two—fastening the hair above the base of the neck. "This is Alexander Wang's take on the power woman. It's inspired by the '80s, when we first saw female empowerment in the office," said hairstylist Guido Palau for Cutler/Redken backstage. He admits that there is a bit of irony to it, as "at that point, they were kind of new, and then they had a bad connotation… we're sort of seeing them again through a different eye."
He first used a blow dryer to blow the models hair back and create a powerful—almost masculine—shape, twisting the ends up and locking them in place with custom-made, logo stamped silver claw clips. The makeup, by Diane Kendal of NARS, was strong—almost hard—with a bit of highlight to add softness. And the nails, by Rita Remark for Essie, remained typical to a Wang show: nude, but this time, with a bit of shimmery dimension.
The collection itself also pulled from this power woman aesthetic. Models were sent down the runway in looks that were both nods to the '80s and office chic attire, but with Wang's signature edgy twist. Of course, by runway, we mean down the hall of the abandoned Vanity Fair offices at Condé Nast's old 4 Times Square location. It was the perfect setting to showcase this powerful woman (and admittedly, a trippy experience for anyone who's been in this industry for a while.)
Excuse us while we head to the nearest Duane Reade to stock up on our own banana clips, which we're sure will be flying off shelves any minute. This might just be a resurfacing trend we can get behind.