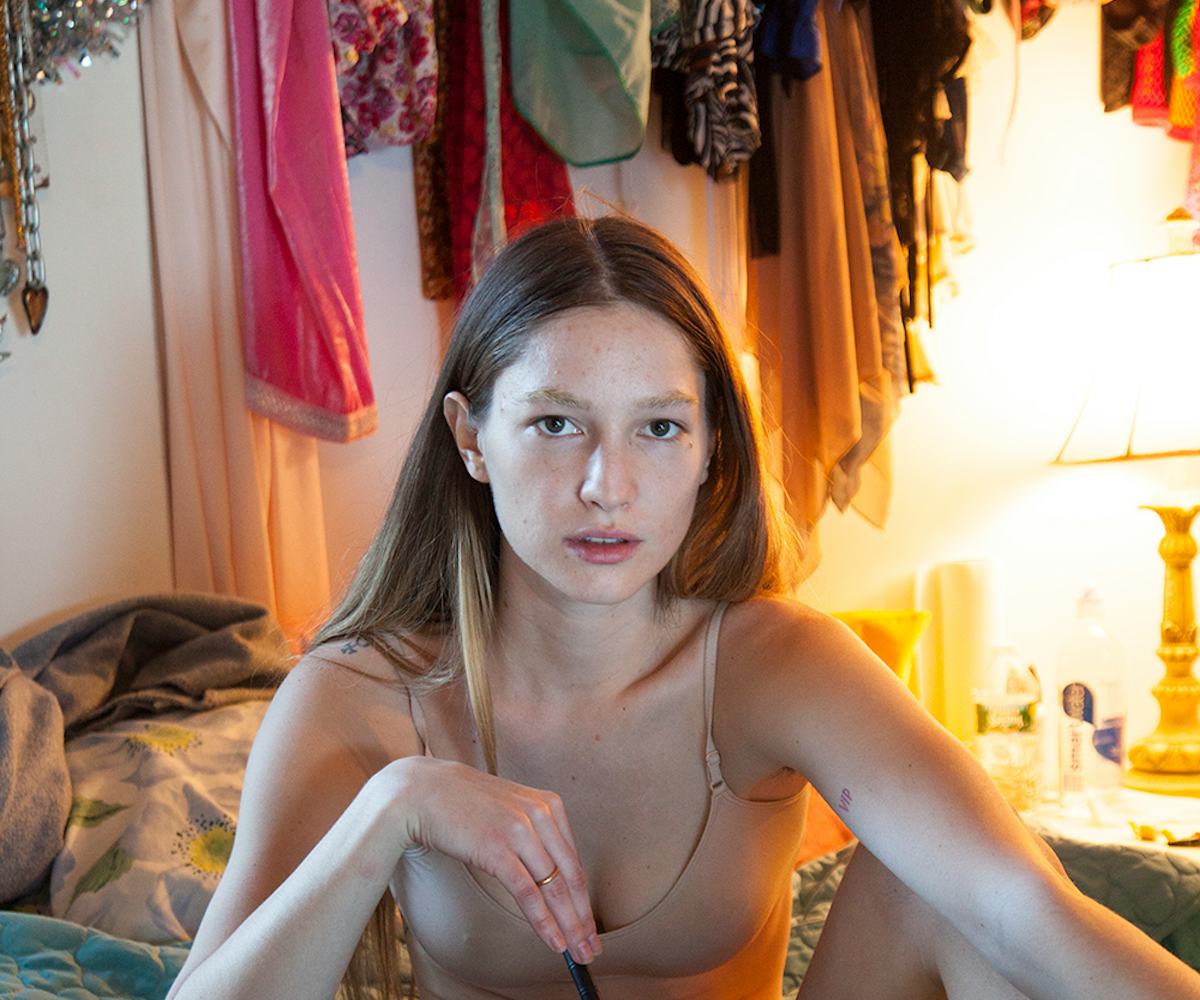 Photographed by Silja
alexandra marzella scores as model and artist
by turning the camera on herself
"It's been called a drag queen's closet," says Alexandra Marzella of her bedroom in the spacious Brooklyn loft she shares with five roommates. It's a pretty accurate description. Skirts, scarves, and necklaces dangle above her bed, while shelves line the walls, practically buckling under the weight of her shoe collection. To the right is a fully stocked garment rack and more shelves, which hold dollar-store plastic bags stuffed with even more clothes—testaments to Marzella's habitual thrifting. The room is a metaphor of sorts for the model's career: Three years out of art school, the 24-year-old is still figuring out how to consolidate her numerous artistic interests into one job title, much like how she's still figuring out how to organize her overwhelming collection of clothing into a single wardrobe.
When asked what she does, Marzella's answer is simple: "It's much easier to say I'm an artist." In actuality, she's a model, designer, stylist, dancer, photographer, videographer, and, most notably, a selfie artist. Her risqué and, on occasion, cringe-inducing photos consistently push the envelope of social media censorship, so much so that her original Instagram account, @artwerk6666, was reported and deleted, along with her 14 subsequent accounts. (You can now follow her under the handle @artburp6666.) Still, she caught the attention of Calvin Klein Collection, which included her in CK One's ode to sexuality and Internet stars for its 20th anniversary campaign last summer.
Since then, modeling has taken up a significant portion of Marzella's time, but she sees it as little more than a way to put food on the table. She doesn't want to be a model. She wants to be an artist. So far, she's shown work at "The Last Brucennial," collaborated on Petra Collins's Art Basel Miami exhibition, and has recently been commissioned to do photographs for a magazine, simply based on the success of her Instagram account. "I'm very much a young artist figuring it out... but I'm not sitting here twiddling my thumbs wondering what I'm gonna do. I'm figuring it out actively," she says with a flip of her waist-length blonde hair. "I'd like to think of myself as more of a hustler."