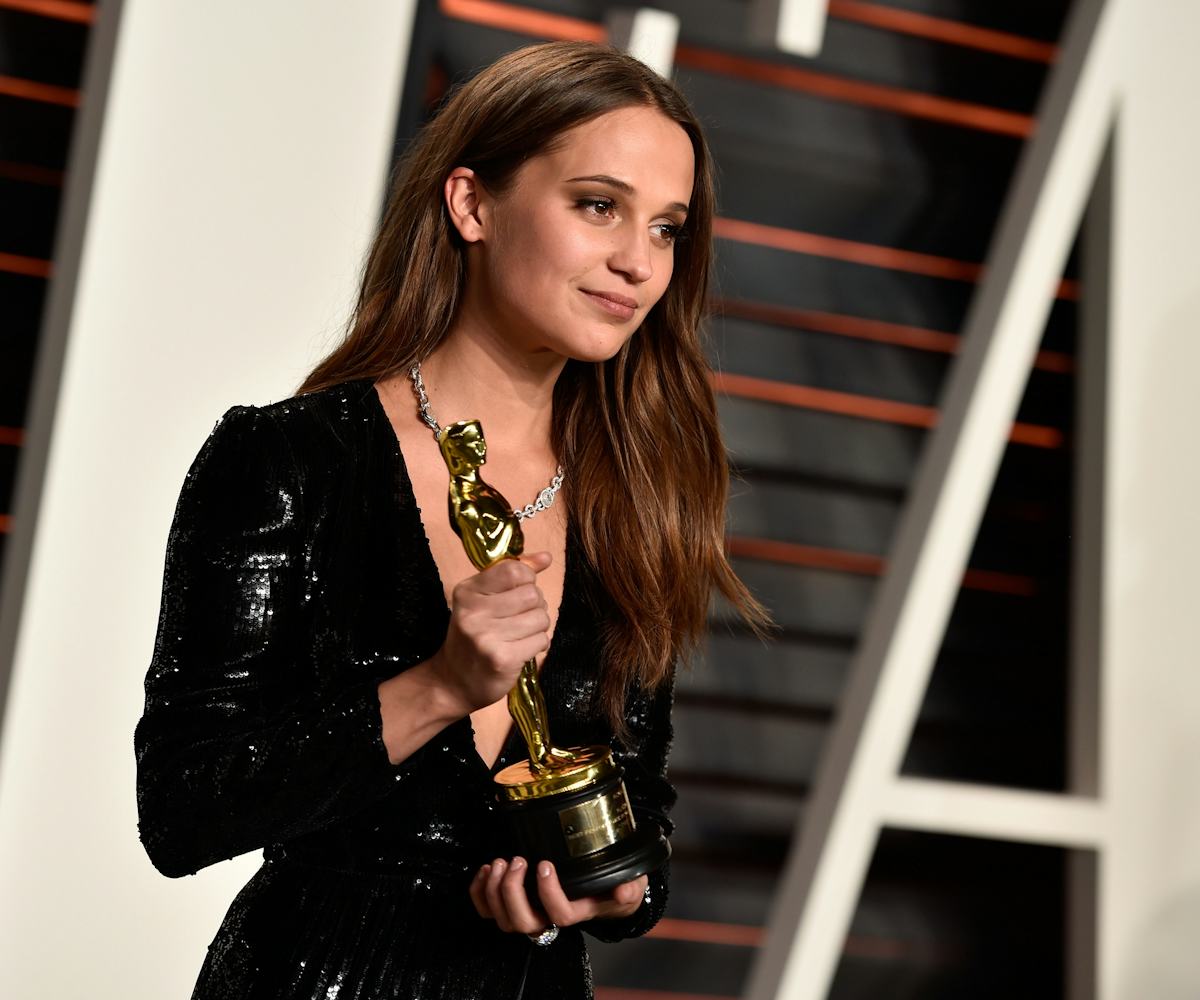 Photo by Pascal Le Segretain / Getty Images
Alicia Vikander On The Whirlwind Experience Of Winning Your First Oscar
Backstage with best supporting actress
It didn't come as a huge surprise that Alicia Vikander took home the Best Supporting Actress Oscar for her role in
The Danish Girl
. The Scandinavian actress had a banner year that included an equally riveting performance in
Ex Machina
, and was considered a lock to pick up the prize. Still, no matter how many people tell you you're going to win, when you're a 27-year-old actress from Sweden, nothing can prepare you for the moment itself. So when Vikander made her way backstage to face the media, she was still clearly stunned. Below she reveals what went on in her head as they announced her name, how she plans to celebrate, and on walking the red carpet.
Do you feel that your success and the success with The Danish Girl will open the door for additional LGBTQ stories to be told in Hollywood? 
I definitely hope so. I came on this film only two years ago and I know that this was not an easy film to get made and it has been almost 15 years that one of our producers, Gail, had worked on it. And to see kind of the cultural change since I actually finished the film, with Caitlyn Jenner coming out, with
Transparent
and 
Tangerine
, it's like a social change. In the same way, that this film has been so educational for me and with so many people that I got to meet, and in preparation for it, I hope that it can open up an even wider conversation.  
Can you describe the first thought that went through your mind when they announced your name? 
I'm trying to remember anything that just happened in the last five minutes. I had my mom next to me. This night every year, I woke up and set the alarm clock at 
2am
to watch this, to celebrate in a distance film and people behind films, and to have my mom's hand and to experience just being here in this room has been pretty cool.  
What does this mean for you personally and for your career?
This is a celebration of film and the people behind it, so I'm just really honored that I was invited to be part of this thing tonight, and to get this is just beyond anything I would ever imagine. I never thought from back home that I would do films in English. I didn't know that you could as a foreign actress, really. I think if I can continue to work, that would be great. 
Who will you be celebrating with tonight and what will you be doing to celebrate?
I hope I'm going to get the chance to go out, have fun, and have a glass of wine and meet up with my family and my entire crew that is here. I even have a shorter dress in front so I can bounce and dance in it, so that's what I'm going to do.  
What is your take when you have to walk the red carpet?  Do you ever feel an obligation to sort of step it up and, if so, how? 
It is supposed to be fun. I have been to a few weddings in my life where I walked one of those red carpets. That was the only time you got the chance to wear dresses like this, and it's just incredible to wear something that is like a piece of art. I don't know how many hours it took to make this dress. So it's fun. 
I was wondering what your take was on Chris Rock tonight in his opening monologue?
I thought he was great. I just admired him. I admire him as a big comedian, and I'm so happy that he came in tonight and just brought up both a lot of laughs and brought a lot of reality issues in the same way, and I'm very happy that he is our host tonight.  
What piece of advice would you give to young girls around the world? 
Apparently a lot of things can be possible, things that I would never, ever, ever have believed in, and that is only because I have had some incredible women supporting me, so that is probably what I wanted to say to some young girls; just keep on doing it, I guess.