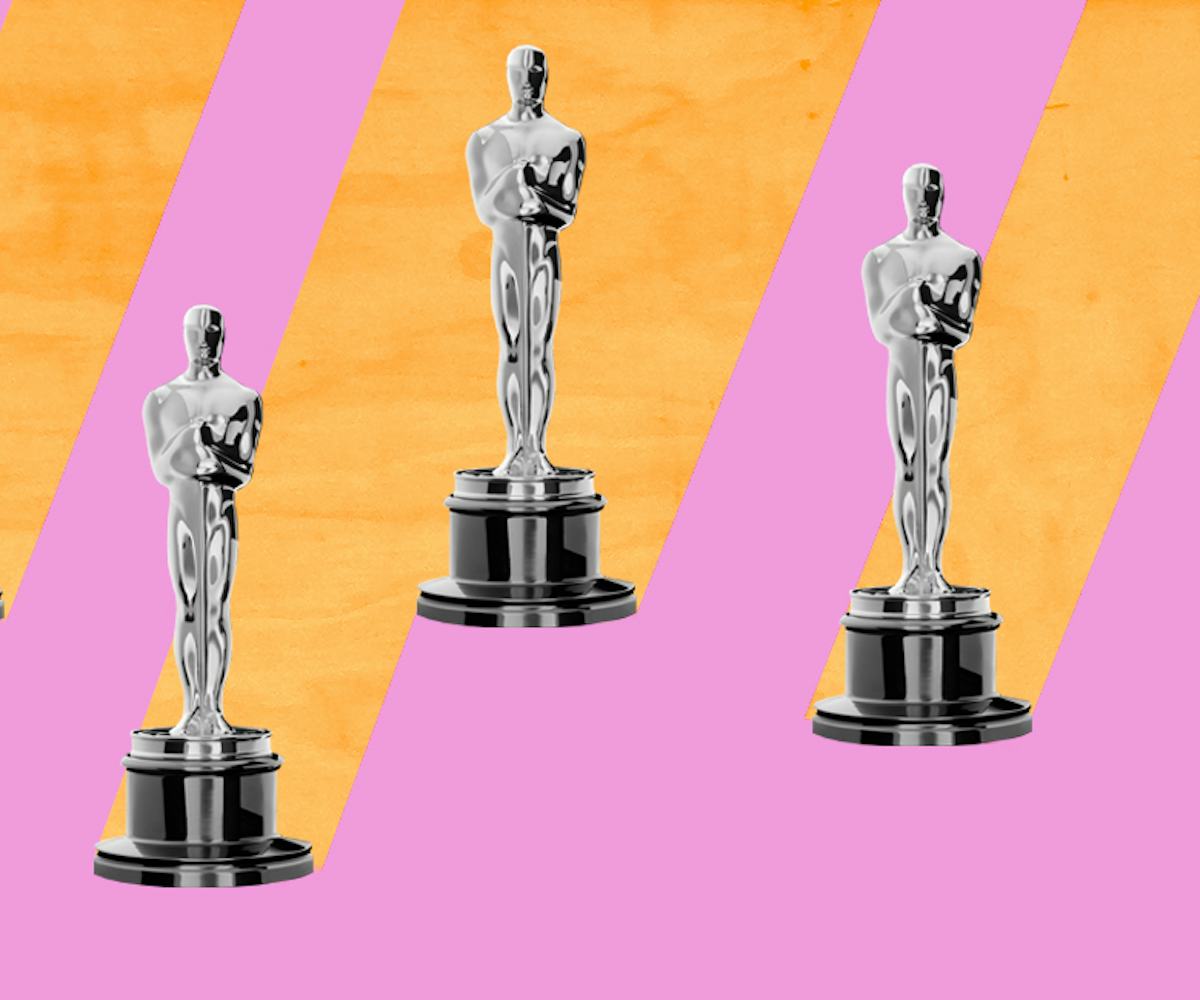 Here's Everything That Should Be Winning An Oscar This Year—But Won't
Think of this as the alt-Oscars
It wouldn't be Oscar season without a dash of nomination controversy, but this year's debate has been fairly subdued. Yes, the Best Picture and Director categories are still dominated by (mainly white) men and some critics have questioned Three Billboards Outside Ebbing, Missouri's seven noms in light of its prickly racial politics, but there's been nothing as contentious as last year's Best Picture snubs for Jackie and Silence, or Jacob Tremblay's absence from the Best Supporting Actor list in 2016. That being said, the Academy never gets it completely right, and an extra-strong field of candidates this year has left a wealth of excellent films and actors shut out from the major categories. In an ideal world, this alternative selection would have made the cut.
Best Picture: The Killing of a Sacred Deer
The Greek auteur Yorgos Lanthimos is certainly an acquired taste, which may explain the glaring absence of The Killing of a Sacred Deer from this year's Oscar slate. Everything about his work is tailored to unsettle, from his repetitive, artificial dialogue to the extreme wide shots that make his actors seem more like miniature marionettes in a puppet theatre than humans on location. But while 2015's The Lobster (nominated for Best Screenplay at last year's Awards) placed Lanthimos' apparent muse, Colin Farrell, in a dystopian world of human hunts and animal transformations, Killing takes place in a world that, barring one potent detail, is entirely naturalistic, thus ramping up the tension and relatability of its horrific scenario. While strong performances are par for the course for Farrell and Nicole Kidman, both embracing their late-career renaissances with gusto, Lanthimos' supporting cast is equally scene-stealing. Barry Keoghan, fresh from Best Picture-nominated Dunkirk, is engrossingly psychopathic as vengeful teen Martin, while, as Farrell and Kidman's children, Raffey Cassidy and Sunny Suljic reckon with the prospect of approaching death with a delicate and tragic sensitivity. Perhaps this bleak, postmodern take on fairy-tale horror was simply too scary for the Academy.
Best Director: Good Time, Ben and Josh Safdie
So many blockbuster movies are set in New York but, as any New Yorker will tell you, so few accurately depict life in the five boroughs. Good Time, lit by bodega neon and stuttering street lights, is a tonic to the idealized New York of Hollywood rom-coms and superhero flicks. From the opening bank robbery sequence in Flushing's New World Mall to the chase through Long Island's decrepit Adventureland amusement park, the Safdie Brothers create an innate sense of location, infusing their bloody picaresque with a stunning visual representation of the "real" NYC. The duo coaxes an enthralling performance out of the often-wooden Robert Pattinson, whose would-be bank robber Connie vibrates with a manic energy reminiscent of vintage Pacino, and provide previous collaborator, Buddy Duress, another well-deserved outlet for his nervy, tweaked-out temperament. Supporting roles from Taliah Webster as spiky teen Crystal and horrorcore rapper Necro as one of Duress' criminal contacts bring flesh out the surreal, after-hours world the Safdies create. Most impressive, however, is Ben Safdie's double duty as director and star, playing Connie's developmentally challenged brother (and confused co-conspirator) Nick. Pulling off a film as visually arresting as Good Time from behind the camera is one thing, but portraying a disabled character with sensitivity and pathos is truly something else.
Best Actress: Brooklynn Prince, The Florida Project
Not to discredit Tatum O'Neill, who at 11 became the youngest ever Oscar winner for her role in Paper Moon (1973), but seven-year-old Brooklynn Prince more than deserves to steal her crown. Although she'd be up against some fierce competition in this year's Best Actress category—including Saoirse Ronan's career-defining turn in Lady Bird—Prince more than certainly holds her own. As Moonee, a plucky and audacious kid navigating a world of disadvantage with irrepressible joy and adventurousness, she hits the sweet spot of artless authenticity that many child actors fail to achieve. It's rare to see believable, likable kids onscreen, and Prince's debut performance expertly captures the mixture of innocence, exuberance and shrewd perceptiveness perfected by forebears like Jacob Tremblay and Quvenzhané Wallis. It's perplexing to see Willem Dafoe receive a Best Supporting Actor nom when Prince outshines him in every scene. His gruff but kind-hearted motel manager is a well-acted archetype but an archetype nonetheless, while Prince's complex depiction of a childhood shaped by poverty and compromise sets her apart from the pack.
Best Actor: Colin Farrell, The Killing of a Sacred Deer
Colin Farrell's aforementioned renaissance is one of the more gratifying cinematic narratives of recent years. Following his Golden Globe-winning performance in Martin McDonagh's In Bruges (2008), Farrell meandered through a fruitless morass of big-budget genre pictures (Winter's Tale, Fright Night), mannered period dramas (Saving Mr. Banks, Miss Julie), and forgettable action flicks (Dead Man Down, Total Recall). But after his initial partnership with Lanthimos in The Lobster, Farrell has cycled through a series of nuanced performances, with knockout appearances in last year's Roman J. Israel, Esq and The Beguiled. It's his second collaboration with Lanthimos, however, that truly solidifies his comeback. As Steven, a cardiac surgeon faced with the impossible choice of killing one of his family members, Farrell dials back his trademark sarcastic bite, instead opting for a state of numb bemusement punctuated by moments of incandescent rage. Under less skilled hands, Lanthimos' repetitive, Beckettian dialogue might have seemed comical, but Farrell's blank, near-ritualistic delivery imbues his lines with a sense of gravitas and urgency. Despite the fantastical elements of the film's narrative, the control and sensitivity with which Farrell approaches the role makes it pre-eminently believable, and certainly Oscar-worthy.
Best Foreign Language Film: On the Beach at Night Alone (South Korea)
In the wake of the #TimesUp movement, Hong Sang-soo's 19th feature film could not be more relevant. Across a series of dreamy, play-like vignettes, On the Beach… charts the trajectory of Young-hee (Kim Min-hee), an actress returning to Korea after a self-imposed exile following a public and potentially career-ending affair. Kim's portrayal of Young-hee is alluring and near unbearable by turn, as she channels her rage and disillusion into a series of painfully uncomfortable interactions with friends, colleagues, and ultimately her former paramour. Implicit in the film is the specter of male privilege: Much as Harvey Weinstein and other Hollywood abusers avoided repercussions while their female victims' careers imploded, so, too, does her ex-lover, a director who came out of the affair professionally unscathed. Hong's slow-burning depiction of Young-hee coming undone brings this systemic injustice to searing, discomfiting life—a reminder never to underestimate the stories of survivors.
Original Score: Good Time, Oneohtrix Point Never
Good Time is a film that seems designed to produce anxiety, as Pattinson's Connie stumbles from one seemingly-inescapable situation to the next. Much of the film's stress-inducing atmosphere is produced by its score, an electronic hellscape created by Brooklyn producer Daniel Lopatin, better known as Oneohtrix Point Never. Lopatin's arpeggiating synths, whirring drum machines, and ambient soundscapes keep the viewer constantly ill at ease, underscoring the film's visual violence with a well-fitted sonic counterpart. Lopatin's droning synth work draws from the contemporary deconstructed club scene and Harold Faltermeyer-style soundtracks alike, rendering the score deeply alien yet oddly familiar at the same time. Pulsating tracks like "The Acid Hits" would not be out of place at notorious Berlin techno haven Berghain, while the oceanic ambiance of "Ray Wakes Up" feels like a crash course in experimental sound design. Most exciting, however, is when Lopatin strips back the layers of electronic dissonance on "The Pure and the Damned," an affecting piano ballad that soundtracks the film's tragic ending. Iggy Pop's faltering baritone suffuses the scene with a dull pathos, giving the viewer space to process the last 90 minutes of frenetic, belligerent action.