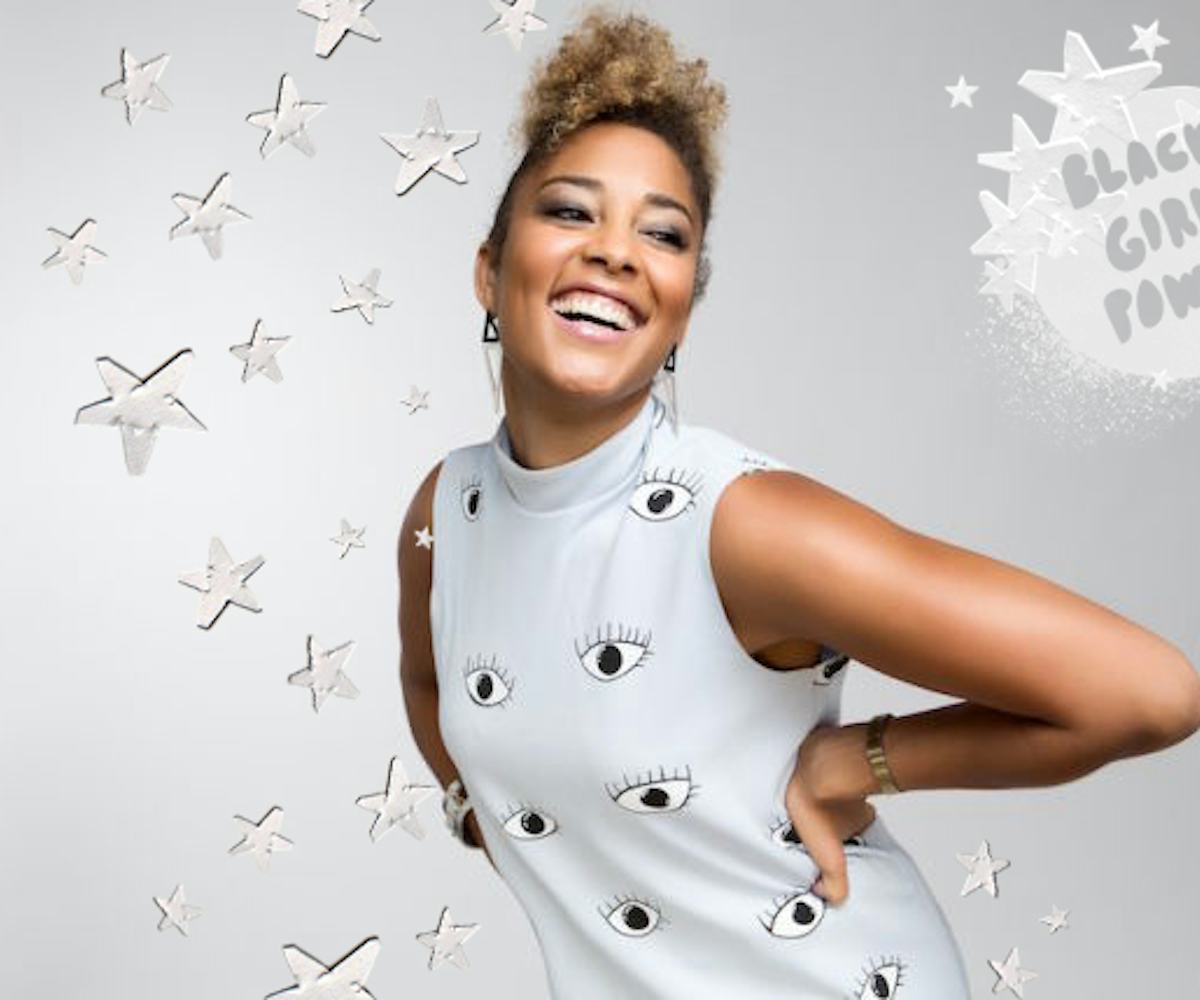 Photo courtesy of Amanda Seales
Amanda Seales Makes Television Worth Watching
In celebration of Black History Month, NYLON is running a spotlight series called Black Girl Power... The Future Is Bright. Every day, phenomenal black women from different industries will be featured to tell their stories—revealing how they became who they are, showing what they have accomplished, and pinpointing how they navigated their careers. Black women deserve to be celebrated 365 days of the year, and we hope that this series will inspire everyone to believe in the power of #blackgirlmagic. 
If you used to watch VH1's Best Week Ever all the time, then you know exactly who Amanda Seales is. The dynamic 34-year-old comedian, writer, and host has worked at some of media's most popular outlets like MTV, BET, AOL, Disney, and the Huffington Post. (She's also a poet, painter, singer/songwriter, and playwright in case you were wondering.) Before her mutli-platform career launched, Seales graduated from Purchase College in 2003 and went on to earn her master's in African American studies from Columbia University. She is also trained in sketch writing courtesy of UCB Theater and was once a semi-finalist in NBC's Stand-Up for Diversity. Whew, caught up?
Let's fast forward to 2014 when Seales made a guest appearance on CNN though. In the segment, she shut down a sexist man who defended cat calling and street harrassment. The video instantly went viral, and Seales' incredible facial expressions flooded everyone's newsfeed on Twitter for days. Seales typically has us laughing hysterically, but in the moments when she covers serious issues, she is not playing around. (And we applaud her either way.)
Seales currently stars in Get Your LIFE, "a scripted comedy about my unscripted life" that is written and created by her, and hosted on Issa Rae's platform. She also covers news on her TIL This Week web series, and owns her own production company DivaWorks Inc. Get to know Seales more in the interview, below!
How do you maneuver your respective industry as a black woman?
Boldly and authentically, yet strategically (aka every battle ain't worth fighting).
Could you describe a moment where you felt like you defied the odds or broke a barrier?
Every moment that I continue to be able to live off my point of view and my art is me defying the odds or breaking a barrier. So many who came before me had to squeeze into a box before they could get their freedom of voice and expression and I feel like I've managed to stick to my guns and my multi-hyphenate ways and it has not held me back.
How did you grow into your black identity? (Or, if you're multiracial, how did you grow into your identity as such?)
My mother is black, from Grenada, so my blackness was always there but It wasn't until I started hanging with the upperclassmen black actors at my high school that I really got my roots in being a black American which is a distinctly different identity and experience. As far as my work though, it always felt natural that my blackness permeated throughout, but I would curb it in order to "cross over" and seem more "accessible."  However, after seeing
12 Years A Slave
I literally walked out the theater and said, "Fuck that. We ain't crossing over. We're gonna break through. And I'm gonna be as black as I want in order to!"
Growing up, where did you look for inspiration? Who or what inspires you now?
I've always found inspiration in icons that were really of purpose in their craft or calling. From Bob Marley to Maya Angelou to Malcolm X, inspiration came from seeing how committed they were to their vision and determining it themselves.