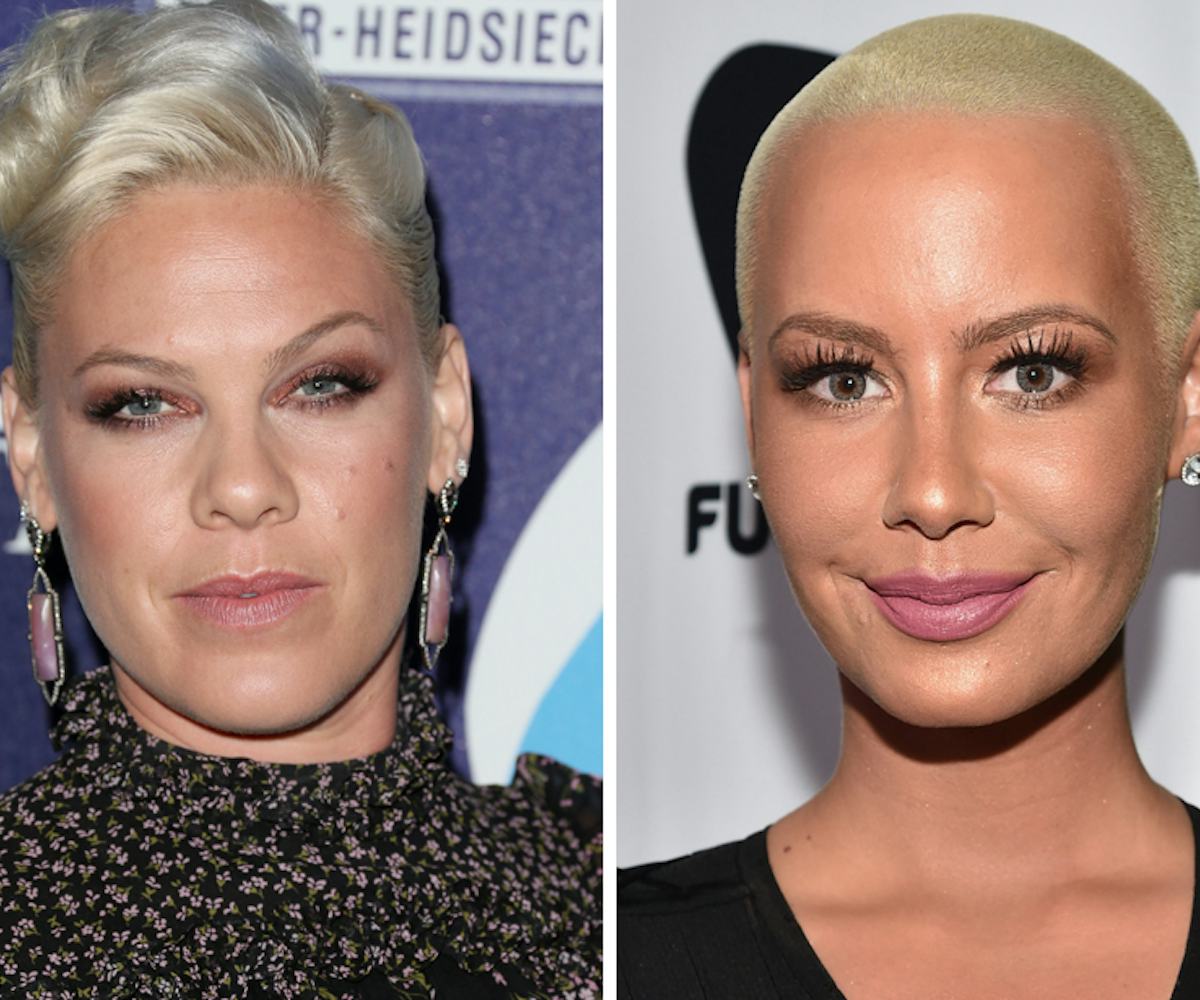 Photos by Frederick M. Brown and Alberto E. Rodriguez/Getty Images
Amber Rose Just Ethered Pink For Her "Classist" Kim Kardashian Comments
And raised a damn good point
It's now the selfie that launched a thousand pointed, feminist responses, and few Internet-famous celebs are sitting on the sidelines and not talking about it. As we showed you earlier, many celebrities are rushing to Kim Kardashian West's defense following the release of her nude selfies, with a few others offering various criticisms.
One celeb who is not fully on Team Kim is P!nk, who gave us this analysis and perspective via her Twitter account. 
It's something worth thinking about, for sure (we can't help but support her ideas about "talent" and "work ethic"). Certainly, it impressed Chloë Grace Moretz who echoed the sentiments in her responses. When P!nk goes off on "that kind of attention," however, she loses us a bit. Certainly, she lost Amber Rose.
Rose—an online fire thrower if ever there was one—screencapped P!nk's tweet, posted it to Instagram, picked up a flamethrower, and put the singer on blast for some very solid reasons. Read her response in full below.
Damn Pink we were all born naked society sexualizes our breast and bodies. If a grown mother of 2 is comfortable with her body and wants to show it off that's none of ur business or anyone else's. Now, if u wanna talk to kids and be a mentor to young teens, tell them to go to school and to not use their bodies to get ahead?! I'm all for it! But please as a grown woman let another grown woman live as she wishes. That's our problem! We're so quick to down each other instead of uplifting! Pink, We've seen u damn near naked swinging from a rope( Beautifully) but what's the difference between a rope, a pole and a pic on Instagram? Classism. Because u sing while ur half naked does that make it "Classy" or is it because u have a "talent"? I'm not dissing at all Pink just curious after u said "You'll never have to make a silly excuse for yourself".
To remind you, Rose is open and proud about her experiences as a stripper, and certainly body positive in just about every way you can think of. This not only makes the issue of Kardashian West sharing her body via social media a bit more personal to her, than it is to perhaps the average person, but also makes her criticisms of Kardashian West more relevant as well. The fact that Rose is normally on the other side of the field from Kardashian West—given her ongoing beef with the reality star's husband, Kanye West—just proves how strongly she feels the need to defend her and women who celebrate their bodies as is.
Moreover, Rose's personal experience gives her a perhaps unique position to observe and analyze P!nk's comments. After all, as Rose points out, much of what P!nk has incorporated into her current performances is but a hair's breath away from what you might see in a higher-brow exotic, burlesque, or strip performance and, certainly, taps into the same celebration and presentation of the female body as Kardashian West's selfies. 
Indeed, the difference between a rope and a pole is slight, and the difference between P!nk's Cirque du Soleil-style performances and what Rose used to do is wholly a matter of perspective… class-based perspective. Performance is performance. It might not be in the venue that we have all conceptually "agreed on," but she's right. What's the difference between a fit nude Kim selfie and a fit nude P!nk rope dance? And even more, does it matter? When it boils down to it, says Rose, P!nk's critique and advice to other women isn't feminist based or common-sense based, it's privilege based.
P!nk is right when she says that maybe—maybe—kids should wait to get all those "likes." But in doing so, she's conflating the notion that sexuality and smarts aren't compatible (particularly when that sexuality exists in unsanctioned spaces such as the strip club or social media). The claim that one woman has "talent" and the other doesn't is a) subjective—Kim K. has built an entire, multimillion-dollar enterprise—and b) highly qualitative. What are those qualities? Who has decided what talents mean more and are more acceptable than others? 
Obviously, this one Instagram of Kardashian West has spawned a whole world of interesting, valuable commentary from people we sometimes don't credit with the ability to offer it. It reminded us that we sometimes undervalue the perspectives of these women as a matter of class and privilege, and that we do so to our own detriment. Yes, it was weird to spend International Women's Day unspooling this, but maybe it was the right way.