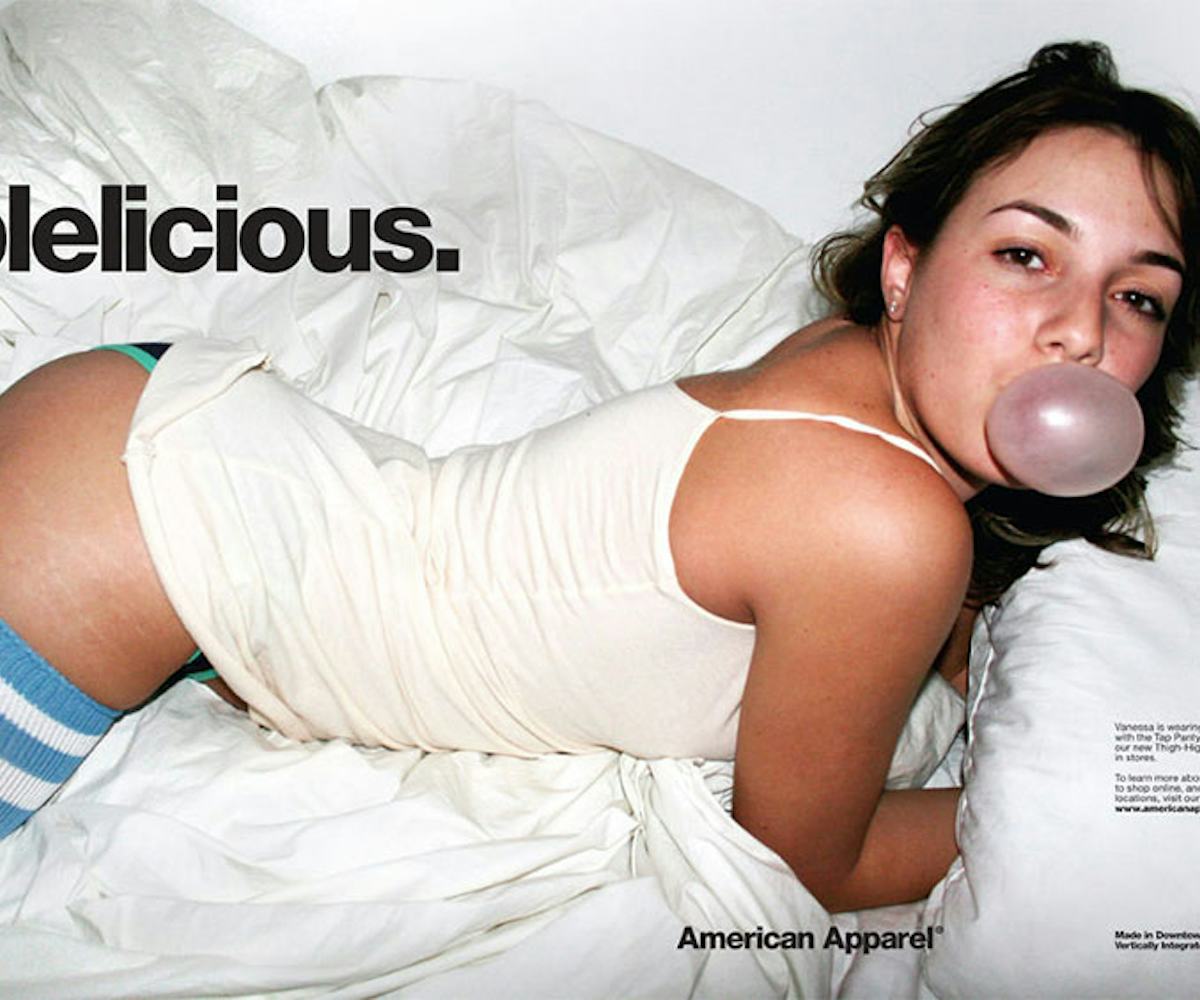 Image via American Apparel
American Apparel Files For Bankruptcy—Now What?
we knew it was coming, and now here it is.
We had a feeling this might happen: In a filing this morning, American Apparel, the 26-year-old company known for its pre-weathered t-shirts, retro booty shorts, racy advertising, and a divisive founder, filed for Chapter 11 bankruptcy. It's not AA's end, but it is a notable point in the continued downward slide of the once-edgy brand that has lost $384 million over the last five years.
As of this summer, American Apparel had a staggeringly low $11 million on hand—less than some luxury Manhattan apartments and also less than the $13.5 million interest payment due to its creditors next week. 
In a new deal, the brand has converted $200 million worth of bonds its creditors held in the company into shares, giving those lenders full control of American Apparel. The move halves AA's massive debt and reduces its interest-payment rate, allowing for a new round of investment. In theory, this move allows American Apparel to properly operate—recent statements suggest it was only able to ship 10 to 15 percent of its new fall line because of financial shortages—and even expand the company. Several financial analysts have echoed those predictions.
On a human level, it means that—at least for the moment—both factory and retail workers will keep their jobs. Along with many optimistic statements released by key members this morning, American Apparel's corporate leadership expressed a commitment to keeping its manufacturing in the U.S.
In terms of legacy, the filing and restructuring reduces ousted-founder Dov Charney's once-considerable stake in the company to almost nothing. Despite Charney's recent attempts to regain control of the brand he established in 1989, it looks like he is out for good. It's notable that, whatever your personal feelings about the man's sometimes reprehensible behavior, American Apparel's already serious financial troubles only increased in his absence. 
American Apparel is already different from the brand Charney founded, in many ways: The designs have changed, the overall quality of the product is not as strong, the in-store spirit has shifted, and the visual identity has been tamed. With a larger, more corporate ownership structure that will, by nature, be more profit-driven, we're willing to predict that those trends are likely to continue for better or worse.
We have fond—if problematic—memories of American Apparel's heyday and would love to see it become a brand we shop from again. It continues to have potential. While the company predicts it will take six months for its restructuring to be complete, it may take far longer to see if that potential will ever be realized or if AA will even survive. 
(Via The New York Times)