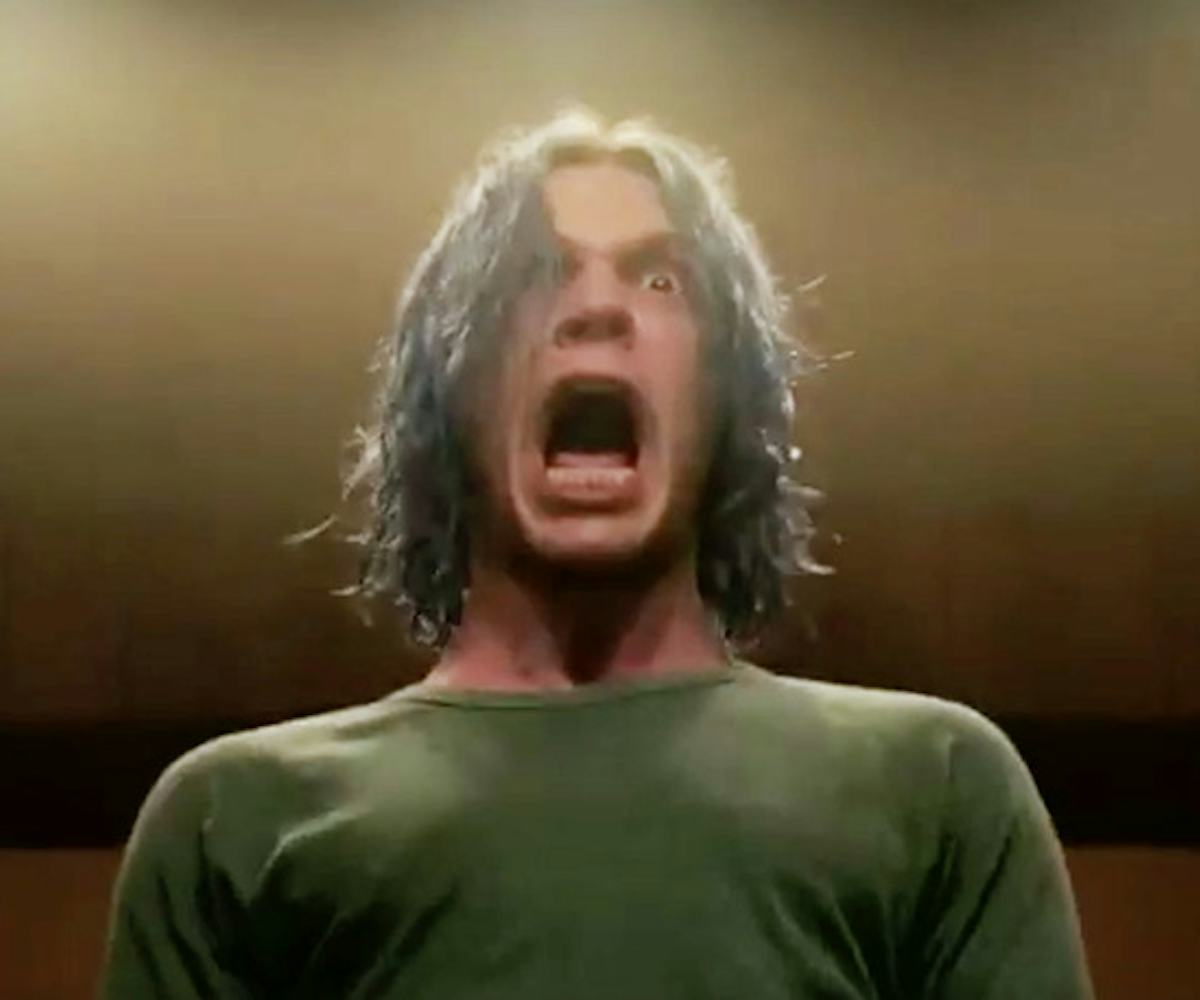 Image via YouTube/Trailers Promos Teasers
The New 'American Horror Story: Cult' Trailer Will Take You Back To Election Night
It's just as painful the second time
The new official trailer for American Horror Story: Cult is not for the faint of heart. It will take you back to the night of the 2016 election, when neo-Nazi sympathizer and all-around gross person Donald Trump was named the president of the United States.
In the beginning of the clip, Sarah Paulson's character, Ally, is watching the news in her home in Detroit, Michigan, when they announce that Trump has won the presidency. She, like many of us did that night, screams at the TV in horror. At the same time, Evan Peters' character, Kai, a blue-haired kid hiding away in a dark basement in another part of town, is ecstatic. 
"[Cult is] about illuminating and highlighting people who don't have a voice in our culture—people who are ignored by the current administration and who are afraid and feel terrorized that their lives are going to be taken away," showrunner Ryan Murphy told The Hollywood Reporter of this upcoming season. 
Trump becoming president causes several of Ally's phobias to worsen, including coulrophobia, a fear of clowns. "Since election night, it has all been getting so much worse," she tells her therapist. 
Ally is married to Ivy, played by Alison Pill, and they have a son together, whom Billie Lourd's character, Winter Anderson, babysits. 
When Kai asks Winter what "fills her heart with dread," she replies, "children." Meanwhile, she tells Ally and Ivy that she's "always enjoyed children." She then gives their son a creepy Twisty the Clown doll, a returning villain from a previous season, Freak Show. The actual Twisty will be played by John Carroll Lynch. 
"If you get people scared enough, they will set the world on fire," Kai says in the trailer, as terrifying images of clowns and blood flash on the screen. At the end of the clip, Kai stands in front of the cult's symbol and whispers, "Join me."
This trailer is just as disturbing as the opening credits for Cult that were released yesterday. And it's probably a real bummer for Peters' fans to find out he's playing, what looks like, a Trump supporter, arguably worse than any of his other AHS characters, including a serial killer and a Frankenstein frat boy. 
AHS: Cult premieres September 5. You can watch the new clip, below, if you're in the mood for a painful walk down memory lane.