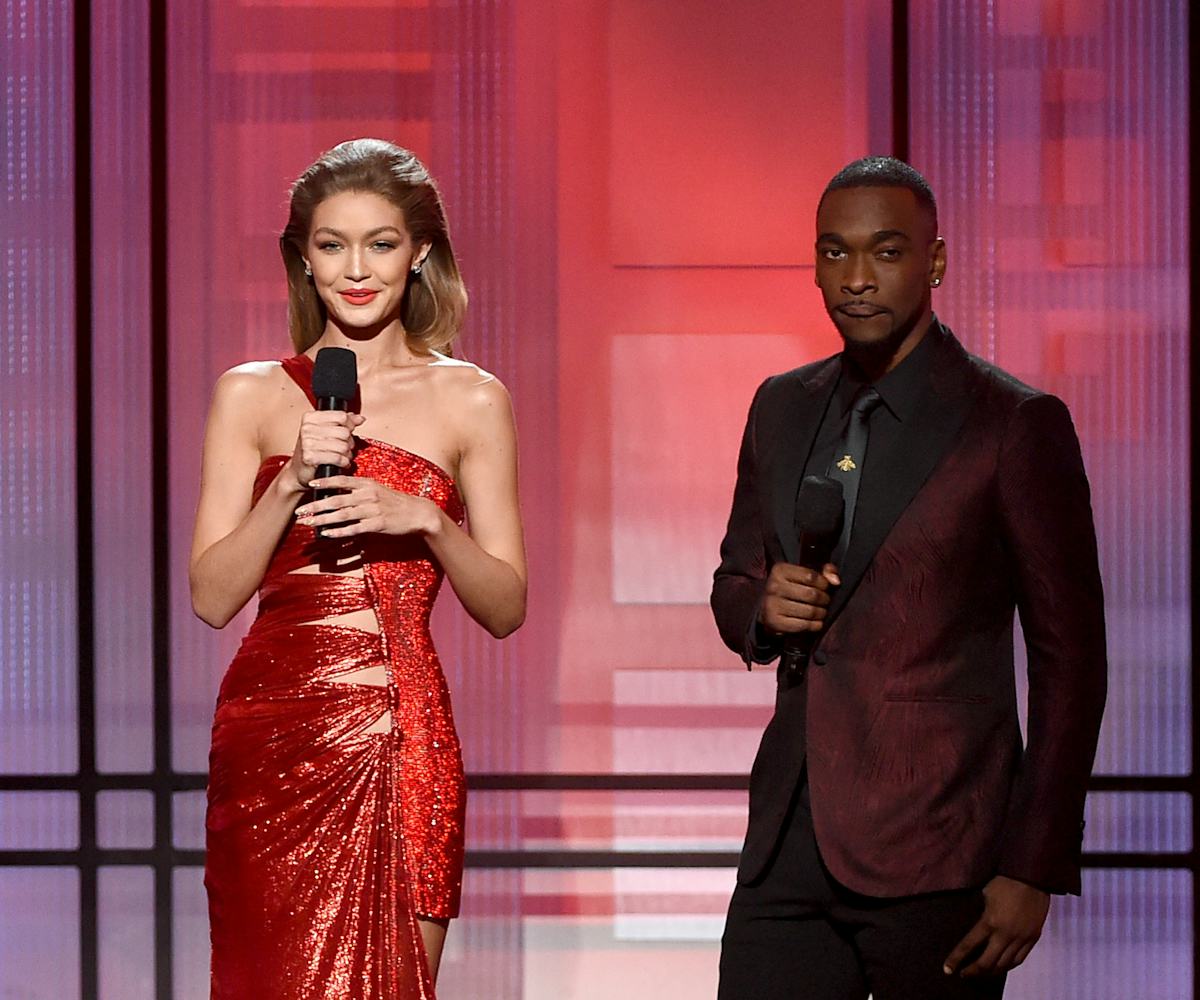 Photo courtesy of Kevin Winter / Getty images
Watch Gigi Hadid, Green Day, And Others Blast Donald Trump During The American Music Awards
This is only the beginning
It's been nearly two weeks since Donald Trump won the election, and since then, a good chunk of Hollywood has been openly critical of the President-elect (unless your name is Kanye West). Most of Hollywood's anti-Trump rhetoric has lived on social media, but with awards season just around the corner, that's about to change in a very big way. 
Sunday's American Music Awards provided a taste of what might be in store for Trump, as multiple celebrities used the platform to either condemn or mock the future President. Right off the bat, hosts Gigi Hadid and Jay Pharaoh called him out in their opening monologue. Hadid busted out her best Melania Trump impression, saying: "I love my husband, President Barack Obama, and our children, Sasha and Malia," a reference to the future First Lady's plagiarism scandal. Then it was Pharaoh's turn. "I love Bruno Mars. I don't know what color he is, so I can't deport him," Pharoah said in an impressive Trump voice. "I mean, everyone, everyone, look, he looks like Mowgli from The Jungle Book, he does. Listen, everyone, I love 'Uptown Funk,' it was so totally about me, it was originally called 'Uptown Trump.' Listen, I'm going to funk this country up, bigly."
Next up was Green Day, who lived up to their punk roots when they called out Trump and his white nationalist ties during a performance of their hit song "Bang Bang," with lead singer Billie Joe Armstrong repeating, "No Trump, no KKK, no fascist USA."
Finally, Broadway (and Frozen)'s very own Idina Menzel addressed the weekend's "Hamilton" controversy, joking that she was relieved that "unsafe, scary theater people wouldn't be invited to the inauguration." You might recall that Trump scolded the cast of the hit musical after they delivered a message to Vice President-elect Mike Pence at a Friday night performance. 
"I love you, 'Hamilton'!" Mendel added. She's not the only one.