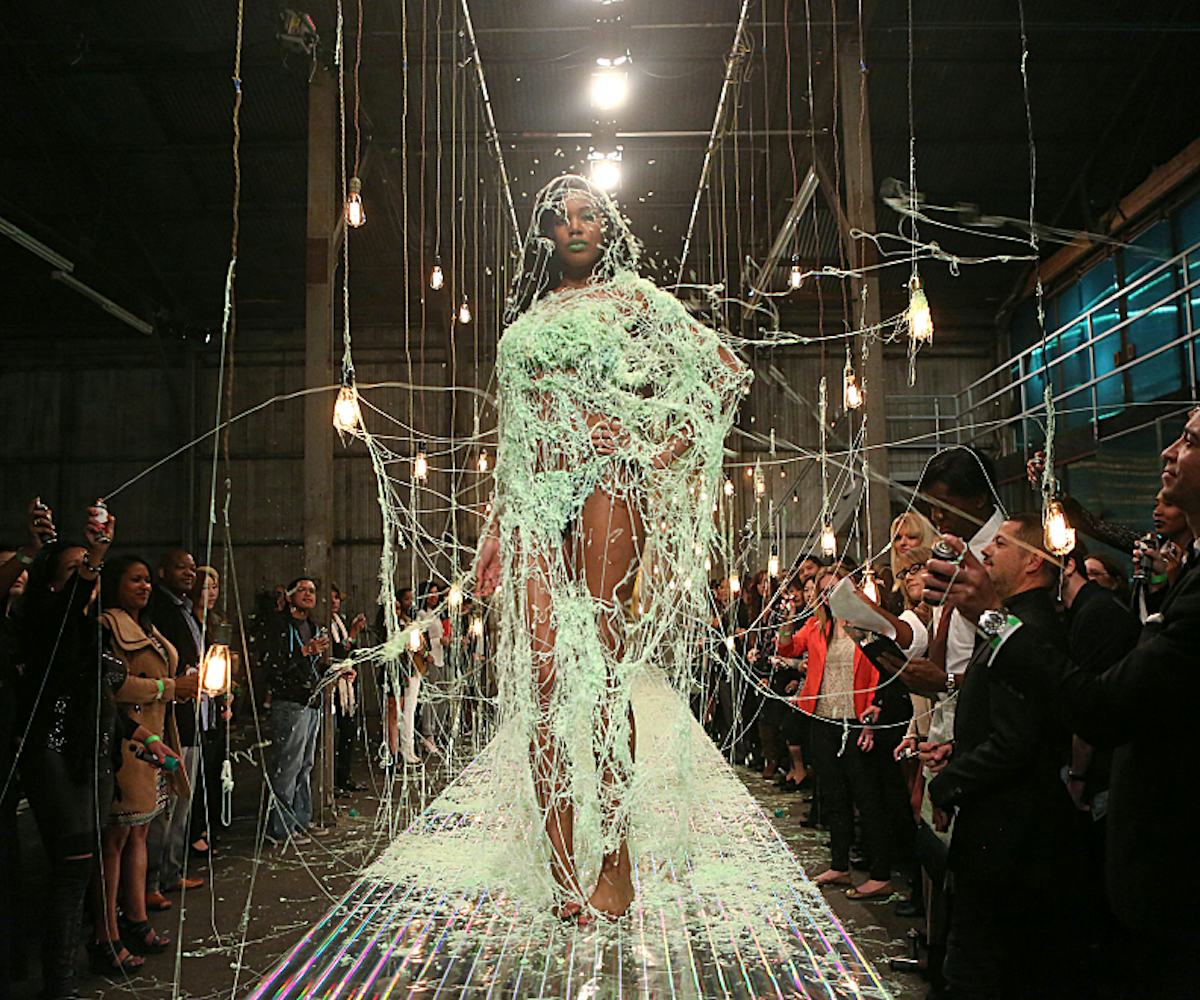 all photos by patrick wymore for the cw via the cw network, llc.
will's world: get an exclusive recap of antm cycle 21, episode three
ouija boards, silly string, and major drama.
So, the top 14 have been chosen and the competition begins! There's no time for celebration--it's straight into the first challenge and we're wearing only Silly String (Say what?!). The only chance to actually rejoice in what happened was the sprint to the runway. Then, it was off to hair and makeup where the pressure began.
I don't know about you, but if I had Romeo casting spells on me to go home I would be scared out of my mind (Let's hope that I can stay in his good graces). I have to agree with him though, Ivy, is definitely some strong competition for the rest of us. Romeo just can't keep his mouth shut; he brought the drama along with his Ouija Board. 
Matthew and Mirjana…already some love in the air. But wait, what Mirjana? You have a boyfriend? I wonder how he is going to feel about this. Is it smart to get your emotions involved this early?
Next up: Our first coaching by the fabulous Miss J Alexander. Already we see Kari making her mark on the competition and killing her walk during practice. Precious Matthew has too much swagger for Miss J to handle. He better pull it back a notch!
Let's see who can rise above and win this competition.  
Where is my confidence? It's in me somewhere, I just know it is. Time to get it together.
But wait, let's get a close-up shot of my naked self and some more Silly String getting sprayed on the private area. Talk about personal boundaries being violated. 
Keith is first and goes for his sexy swag, really owning the runway. He got the crowd going for the rest of us. 
Second up is yours truly, diva strutting his stuff down the catwalk while being sprayed from every angle, trying to keep that fierce attitude. I think I brought it on this runway challenge!
One by one the cast got sprayed with Silly String as they walked down the runway. Since this was the first challenge, we all knew we had a lot to prove to the judges, and there were a few standouts for me: I think Lenox and Mirjana did it for me, they gave me so much life on that runway! I think their faces just annihilated the competition, and I have to hand it to them, I was thoroughly threatened as a competitor. Adam on the other hand continues to scare me when he does pretty much anything. I'm not a fan of the growling and I hope he can get it together and take fashion a little more seriously or he may be going home.
Time for some feedback!
Adam and Ivy didn't impress, and Keith and Chantelle were the two to beat. But ultimately, Keith wins the coveted key to the mysterious Tyra Suite that we have yet to see. Oh but wait, he gets to choose someone to join him and if it isn't obvious already, he chooses his crush, Kari. I must say, I cannot blame him, that girl is on fire. 
This challenge was not my best--nor my favorite--but if this is any indication of how the rest of the competition is going to be, I need to kick it up a notch and not be so nervous!
Do you think Keith deserved to win this challenge? I want to know who you think should have won this "Risqué Runway," so comment below!
Did you see the house? We get to live here? Million-dollar mansion for these crazy fools, they sure do trust us! The view from the house is by far my absolute favorite thing. We were able to wake up and look at the Los Angeles skyline every single day; a view I will never have in my life again. This house still blows my mind every time I see it and you can't help but party all night long! Keith and Kari definitely took advantage of the privacy of the Tyra Suite. Not too much action on the first night, though, just some cuddling (*wink wink*). Meanwhile, Mirjana and Matthew are having some trouble in paradise. I think the fact that she has a boyfriend and was canoodling with the fellas shocked us all…don't know how long these little love connections are going to last, but I can tell that our time in the house is going to be very interesting, so stay tuned!
Our first ever Tyra Mail!
I can't believe I am reading the first Tyra Mail of the season. Cheesy, but it's a dream come true and a surreal moment for all of us. Time for the photoshoot, and one person is going home—but you can bet your bottom dollar it isn't going to be me. 
For this photoshoot, we had water cascading down our heads while looking fierce, which definitely was a challenge. We did get the chance to watch the glorious and majestic Tyra Banks do the photoshoot as well as the opening scenes for America's Next Top Model. This will go down in my memory as one of the greatest moments of all time, ya'll! She is flawless and turns on in front of the camera making my mouth drop to the floor (and I can't seem to pick it back up). To be able to watch someone so incredibly talented and learn from the Tyra Banks was such a gift and an inspiration for me, so I could not let her down.
Then it was our turn. Erik Asla joined us as our first photographer and wanted us to bring it; you don't have to tell me twice! I don't know if you can tell, but this shoot was difficult (Woo, honey!). One by one each of us stepped onto set and the drowning began. One of the hardest things about this shoot was the fact that the water was uncontrollable, there was no way to know where it was going, so the whole time it is falling on you, it is moving back and forth and side to side making each of us shift to meet it so we get the perfect shot. Not an easy task. As you can see, I struggled through this one. The Willie Hunch begins and it's not good feedback from Yu Tsai. I guess looking like a drowned, harassed rat is not attractive (Who knew?!). For me, Lenox and Matthew slayed everything about this shoot. Yes, those two are the two to beat this week. Comment below with who you think really brought it and got the shot. 
Night two and there is already drama.
Save it for your momma.
Adam has been drinking and for some it seems like too much. I'm staying out of this one. They always say pick your battles wisely, and Mirjana isn't someone I want to mess with just yet.
Dun dun dun!
First ever panel.
One by one we go up to the judges, feeling completely vulnerable, to get our critiques. Can you say nerve-racking? First up is Adam, and Kelly is not shy about what she has to say. Denzel's shot was killer. Raelia had a flashback and lost it in this shot, but I still love my bestie. =) Ben hasn't learned those angles and Mirjana is too much sex and not enough sexy. Matthew is easily turned on and gets the shaft from Mirjana, but his picture gave me life! Shei got too sexy, losing the high fashion. Romeo brought the high fashion look, but Ivy lacked what the judges were looking for and needed that extra umph. Chantelle gave us something full of emotion and Kari showed us how to work our angles. As I predicted, Lenox won this photoshoot. Then there is #Manaconda--amazing face and intensity. Last but not least, my turn. Hot mess turned hot stuff! I loved my shot and no, Kelly, I didn't go take a shower in the back of a retail store, thank you very much. Who do you think gave you the fiercest look in their shot?
So, who stays and who goes?
It's the moment of truth.
One by one we are called in ranking order: First Keith, then Lenox, and so on, all the way down to the bottom two.
Wait! I'm in the bottom two?!
I don't think I have ever been this nervous in my life, ya'll. Confidence is key and I'm working on it. I feel like I can get there, save me Tyra! Intense eyes, dramatic pauses, numbers flashing, and bam I get to stay! I love me some Ivy and will miss her so much. Wishing Ivy the best of luck.
Now it's time for me to get it together and slay these other models. On to the next week!
Who do I think became my biggest competition this week? Keith. To win best photo and challenge made it apparent to us that he wasn't there to play--he wanted to win. No time to watch him take the crown, because it's time for the rest of us to step up to the plate.
Get ready for another episode of America's Next Top Model Cycle 21 on Monday, 9/8 at 9PM (EST) on The CW Network. Tune in to see which of these fine models makes it to the top 12!
Until then be sure to follow me, Will, on Instagram and Twitter for even more updates, and check back next Tuesday for another recap on NYLON.com with even more inside scoop. 
Judges J. Alexander, Tyra Banks, and Kelly Cutron get ready to give the contestants their critiques!
Erik Asla and Yu Tsai getting those water shots!
Shei, working it.
The Top 14!