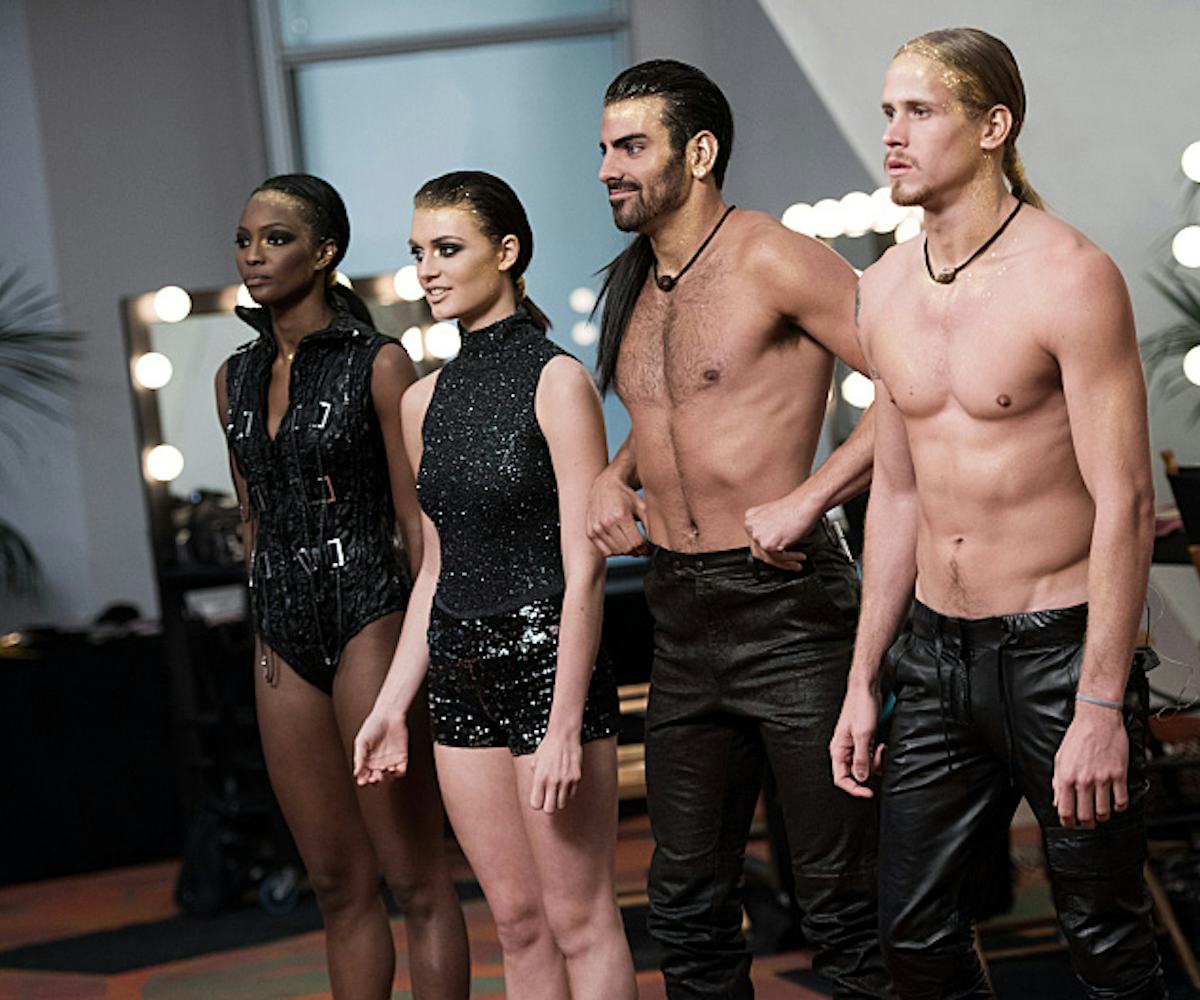 Photo: Eddy Chen/The CW.
'ANTM' Recap: That's All She Wrote
This was the most intense and emotional episode for me during the whole season. Everything I had worked for and everything I had learned was finally culminating in our last challenge: the final runway. Throughout this journey, there were many days when I wished I could just run to my mother for comfort, so it was the best feeling ever having our moms with us this time around. I'm extremely blessed to have had this opportunity and cannot thank Tyra, Kelly Cutrone, Yu Tsai, Miss J, and the production team enough for everything.  
We began the final moments of the show by presenting to the judges our life and career plans post ANTM. They wanted to know that we were capable of capitalizing on the platform we were being given, and that we wouldn't simply fade out. Lacey presented an almost robotic rendition of her PowerPoint slides, but had good ideas on how to further her virginal "good girl" image and brand. I decide to just speak from the heart and present to the judges why this platform, in addition to my platform as Miss Maryland USA, would benefit youth—specifically young girls—everywhere. I genuinely aspire to inspire. No choking this time; I expressed my love for service and social change, and how my efforts beyond modeling could make an impact. Tyra commended my realness and said, "The one thing that I feel with you is passion and drive...I feel your fire." Nyle, on a similar track, hopes to make a greater impact in the world rather than just achieving fame. Mikey finally showed off his vulnerable side when he could barely able to get through his presentation because he was fighting back tears. His presentation was very touching. 
Besides his best effort though, Mikey was sent off first, and Lacey soon followed, which meant Nyle and myself were the Top 2 finalists of Cycle 22. Then it was show time!
Photo: Patrick Wymore/The CW.
The final runway show was held at the Walt Disney Concert Hall, with amazing live music and a crowd to match. Before Nyle and I were about to go out and make our final walk, I realized that it didn't matter who won because we both came into this competition with passion and purpose. We were both driven by a goal and a journey bigger than ourselves, and it showed every week in our photos and during judging. It finally hit me that I had accomplished one of my dreams and surpassed all expectations I originally set for myself.
We took to the runway, and Nyle's first, fast-paced walk was no match to my fluid but powerful stride. But he collected himself the second time around.And For my part, I strut down the runway and demanding everyone's attention in a way that even reminded Tyra of herself, circa the 2003 Victoria's Secret Fashion Show. Basically, this competition just got tougher for both of us. 
When it came time to decide who would be America's Next Top Model, the judges went through our individual bodies of work and analyzed our performances throughout the competition. Safe to say, either one of us could justifiably win. 
No one ever competes to lose of course, but, as a competitor, you realize later on that the true victory is in the process, not in the win itself. This experience has taught me so much about my abilities in different situations. I have proved myself, to myself. And I know that I have what it takes to be successful in modeling, and, more importantly, in life.
In the end, Nyle won. Not only is he the second male winner, but he is the first deaf contestant, and he has shown us that that being deaf is a blessing, not a disadvantage, to him. This cycle marks the end of the ANTM pop culture phenomena! Millions of us have been watching this show for 12 years now, and it has truly redefined many of our perceptions of beauty because we were taught that perfect is boring and that our power lies in our differences. A HUGE congratulations to a great friend, Nyle DiMarco, for closing out the series with a bang!