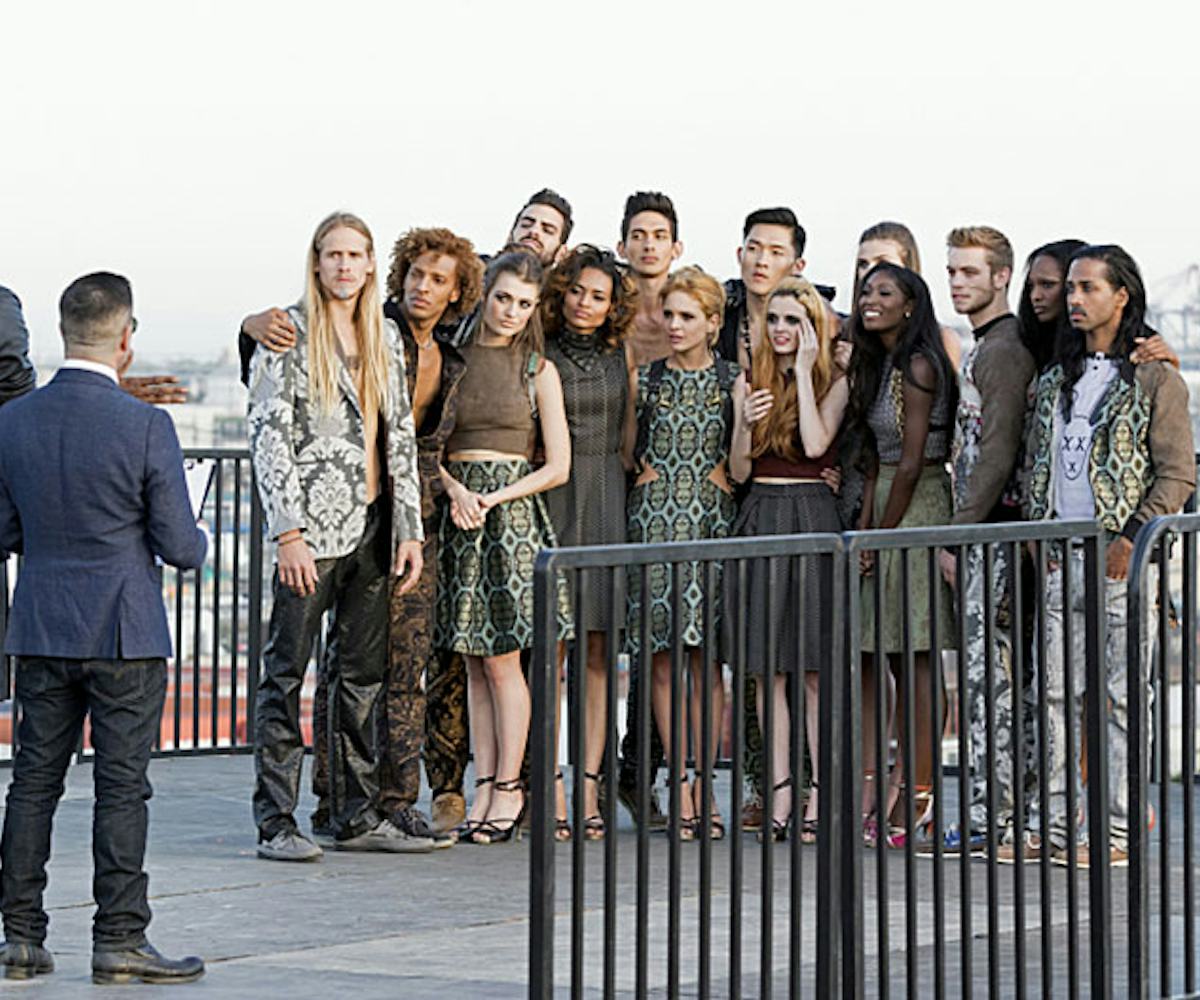 Photo: Aaron Epstein/The CW — © 2015 The CW Network, LLC. All Rights Reserved
'ANTM' Recap: mikey soars as models drop
And just like that, 22 contestants get whittled down to 14 finalists! I'd be lying if I said I wasn't nervous. A runway four-stories high? It's not like you prepare yourself for a runway show like that. Usually, runway shows take place in a nice, relaxed, indoor setting, but hey, this is America's Next Top Model; you have to be ready for anything.
I was one of the last people to walk the runway and was extremely anxious since I knew only 14 people would make the cut. During the runway show, people were dropping while others were being lifted to the other side. Since I was at the end of the line, the 14 spots were quickly filling up. Was I a little worried? Yes. Did I think I was going to go home? No. I've worked my whole life for an opportunity like this; plus, I felt like the judges saw the potential in me.
Out of everyone that didn't make it, my biggest disappointment was Dallas dropping. I was certain he would make it to the other side. He's such a cool dude. I was in complete shock, but I know he will do just fine in the industry! Good luck, bro! See you in L.A .soon!
So, let's talk Courtney: First things first, I'd like to apologize. I was wrong for talking like that, but I got so mad with Ava, because since day one, all I did was try to be nice to Courtney. And now, because suddenly Courtney was crying, everyone wanted to be best friends with her and see what was wrong. I thought that was a little strange, seeing as the how night before, she had no bed to sleep in and no one offered her a place to sleep except me. I wasn't feeling the awww Courtney! It's okay! We're best-friends-all-of-a-sudden thing. With that being said, I'm sorry for talking like that, Coutney and I'm sorry, Ava, for telling you to shut up.
Okay; I feel better now.
Photo: Aaron Epstein/The CW -- © 2015 The CW Network, LLC. All Rights Reserved
Now, as far as the photoshoot goes, Courtney and I killed it! Or as I would say, we murdered it! I was a little frustrated with Courtney, though. You have to perform well in your photoshoots or you go home. It's as simple as that. So when you're working with another model on set, your energy has to match to make a good photo. I was trying to push Courtney and build her confidence because I truly believe she's an awesome model. Seriously, just look at the photo!
Going into panel, I wasn't worried at all—and I'm not being cocky! Courtney and I got really solid feedback from the judges. I knew we would be safe…for now. 
I did feel bad for Delanie. It has to be tough to get this far in the competition and go home so quickly. She handled it well, though. She's going to be a great model.
That's it for now, but tune in next Wednesday, August 26 at 8pm E.T. on The CW to see if I can finally get lucky in the house!