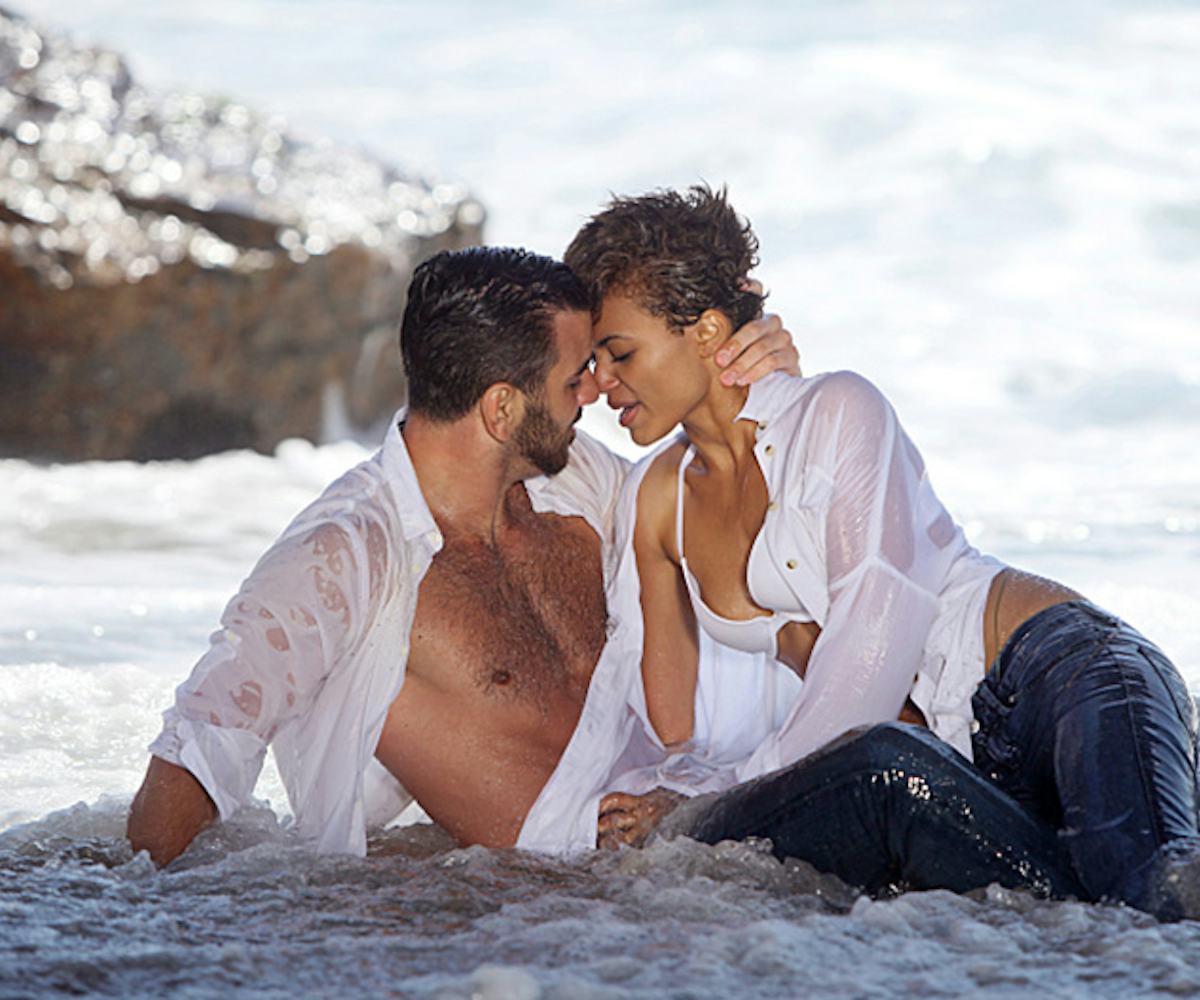 Photo: Patrick Wymore /The CW -- © 2015 The CW Network, LLC. All Rights Reserved
'antm' recap: the guy who acts a fool
Nyle DiMarco took over the Tyra suite this week after a very well-deserved win and stealing best photo with the Possession shoot! Full disclosure: Nyle had been feeling shaky and fearing that he may become "invisible" in the house with the communication barrier. But he proved himself this week. To our surprise, a guest showed up on ANTM's doorstep this week, too! It Nyle's best friend (and high-school lover) Brittany, who is also deaf. All of us were given an hour to "Sign and Dine" with them as they taught us their language. I have to admit, communicating in American Sign Language, was very tricky. The sushi was amazing, but learning ASL was the highlight of the event.
This week we met Lori Openden, the Executive Vice President of Talent and Casting at the CW. Lori and Kelly Cutrone informed us that we would all be auditioning for a Shakespearian love scene, which required a partner. The winner of the challenge would receive a walk-on role on a scripted CW series. As soon as I saw Lori's face and heard those words, I knew it was time for me to turn it out. This challenge prize is an opportunity that can open so many doors if you play your cards right. Not many professional actors get the chance to audition in front of the head of casting producers, and the fact that each of us was given that chance is baffling.
Nyle picked me to be his partner, which I was thrilled about, because I am growing closer and closer to him each week. With every week, I understand more of his language, which makes our friendship stronger. Mame chose to work with her man, Justin. Hadassah picked Bello, Devin selected Ashley, which left Mikey and Courtney together.
Our rehearsal time was very limited, so every second was critical. Memorizing lines, blocking out spacing, and practicing the way you would actually audition is ideal. While some of us utilized every second of rehearsal time, others took it as a joke and sat around. Mame and Justin used their genuine flames to pull off the love scene, while Devin attempted to make the audition very comical, which ended up leaving Lori angry and feeling disrespected. This disrespect not only harmed Devin, but hurt Ashley as well. Hadassah was caught off-guard when Bello totally changed the script on her, leaving everyone in the room confused. Mikey and Courtney used every element they could but just couldn't seem to shine bright enough. Nyle and I went in fully confident. Neither of us referred to our script, we pulled off a chemistry that worked in our benefit, and ultimately put us in the top two of the challenge. Lori pronounced me the winner. She and the CW Executive Panel loved my presence and noticed my comical side. High-five to childhood Lacey for fulfilling her dreams of being an actor.
Photo: Patrick Wymore /The CW -- © 2015 The CW Network, LLC. All Rights Reserved,
Next stop: Zuma Beach. On set, we meet Erik Asla and Yu Tsai. We had a sexy commercial shoot for a cologne on our hands. Boom Boom Boom is a cologne spray that we will be advertising in our commercial with partners. Yu Tsai paired each of us, and I was paired with Devin. Knowing that Devin failed to pull off the acting challenge made me worry, but I told him to step it up because there is no way I would let him drag me down. Tensions rose as Mame locked lips with Mikey; making Justin jealous. Justin decided to give Mame a taste of her own medicine, and kissed Hadasssah. Can you say awkward?
All of us were more than excited to enter Panel to see our commercials. I was over the moon at how my commercial turned out. Not everyone can say they've filmed a commercial, and I am extremely honored I was given the chance. And behold, I take top performance this week. Pinch me, is this real? I just won the CW acting challenge and best commercial this week. Holy cow. I guess all those years of small-town acting classes payed off. As always, someone has to go home, and this week it was between two best friends: Devin and Ashley. Sadly, Ashley was chosen to pack her bags and leave the competition. Although Ashley was sent home, her story has managed to leave a mark and inspire others.
Tune in to America's Next Top Model next Wednesday, September 23 at 8pm ET on The CW.