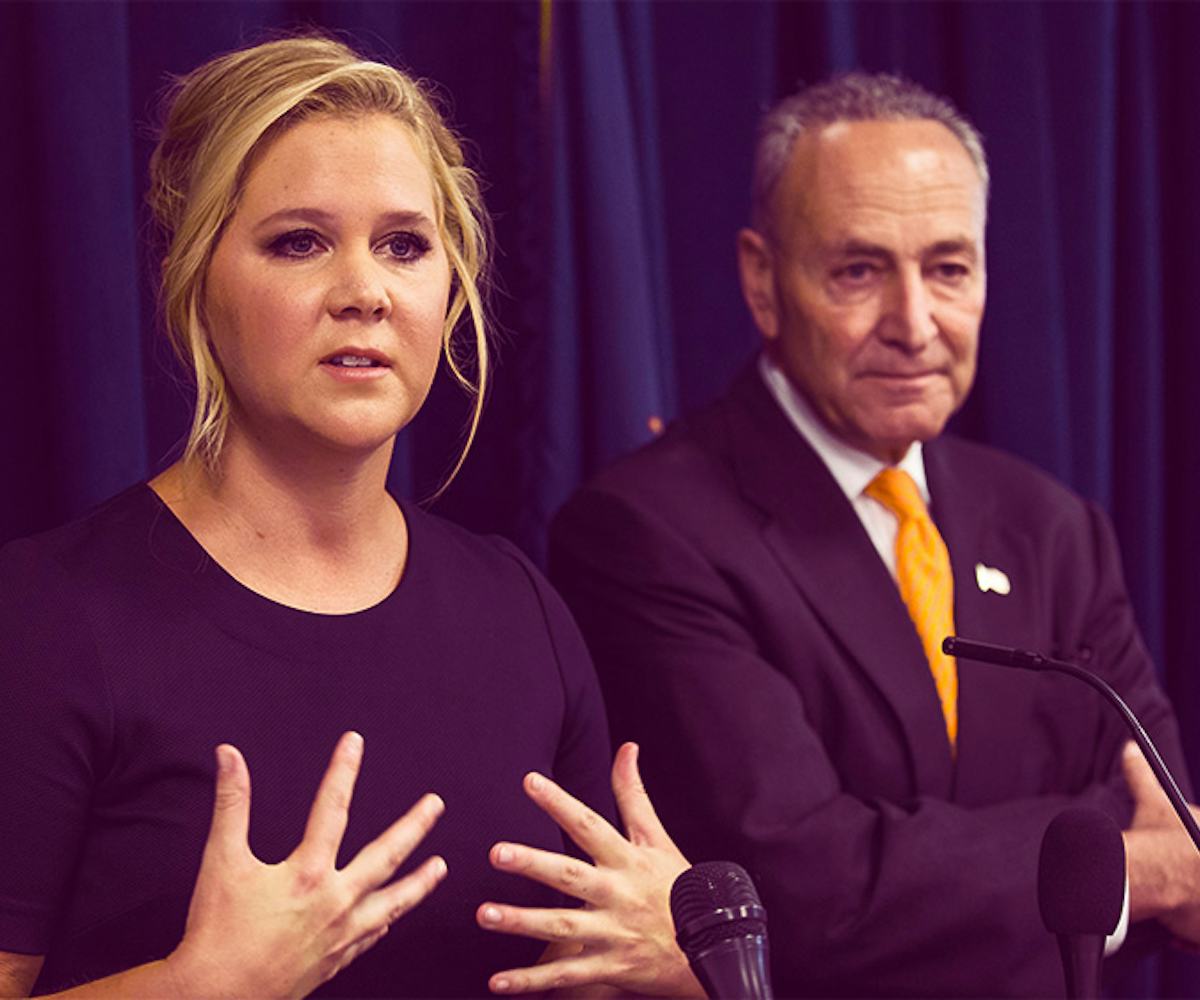 Photo by Andrew Burton / Getty Images
amy schumer joins fight to end gun violence
with senator chuck schumer
Last month, in a theater in Lafayette, Louisiana, a 59-year-old man opened fire and killed two young women and injured at least nine more during a screening of the film Trainwreck. Today, Amy Schumer, who wrote and starred in the film, tearfully addressed the matter at a conference and announced her intentions to fight back.
The comedian will be working alongside her cousin Senator Chuck Schumer to promote new legislation to fight against gun violence. "I've thought about these victims each day since the tragedy," she said of Mayci Breaux and Jillian Johnson, the two women killed in the tragedy. "People say, 'Well, you're never going to be able to stop crazy people from doing crazy things,' but they're wrong. There is a way to stop them."
Senator Schumer's initiative would create monetary incentives for states to submit thorough background checks on gun owners to the federal database (with harsher penalties for states that don't). According to authorities, the Lafayette gunman suffered from mental illness, and his access to a firearm might have been prevented entirely with strict and proper enforcement of these background checks.
Schumer hinted at her participation in promoting this plan earlier this month when writer Sarah Clements wrote an open letter to the comedian asking her to be more vocal about tightening gun control policies. Schumer responded in a tweet, "Don't worry I'm on it. You'll see."
Speaking about the NRA, Senator Schumer said, "We are up against a very powerful lobby." Schumer then revealed that she has received death threats in the past. "I'm expecting a backlash and I'll handle it," she said.
We love Schumer for her refreshing honesty on feminist issues and sexuality, and our level of respect for her has just skyrocketed. It is clear that she is intent on fighting for this matter, and she won't back down until progress is made. "These are my first public comments on the issue of gun violence," she shared at the conference, "but I promise you they will not be my last."