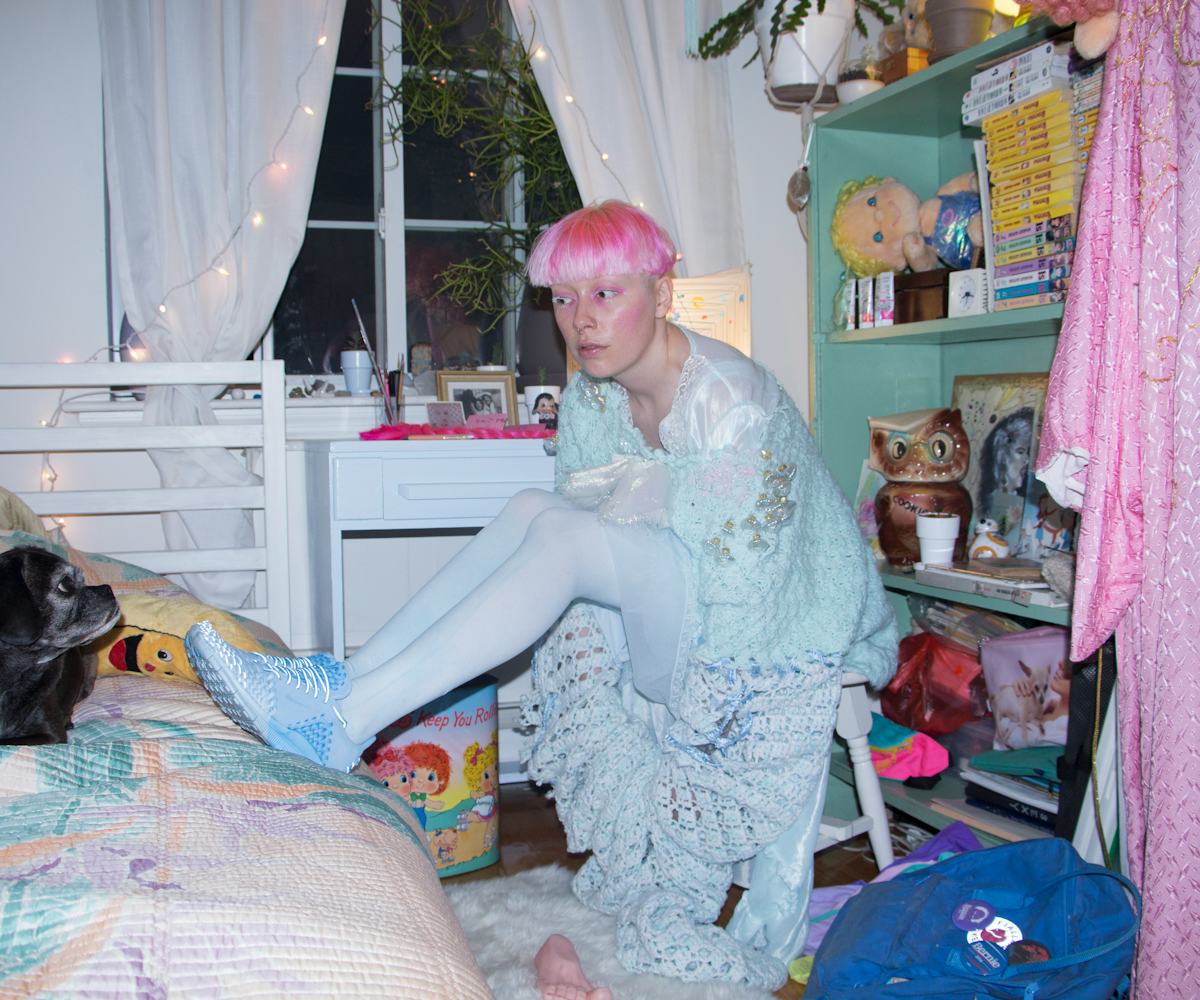 Photographed by Gabel D'Amico.
Get Lost In Mr. Twin Sister's Vibrant, '80s World
Meet the band's bold frontwoman, Andrea Estella
Whether it's her band's music or her personal style, the element of "play" is a strong and recurring motif when it comes to Andrea Estella, visual artist and lead singer of Mr. Twin Sister (formerly Twin Sister). Not unlike a character from a children's book, Estella's world is one of Japanese Decora, granny lace, toy plushies, and pastel metallics—a medley of childhood emblems and dollhouse fantasies. Her fondness for vibrant colors makes it easy to evoke details of what she'd worn the day I met her. 
Estella's crown of hot pink hair and glittered eyelids greeted me from a close proximity while she entertained a group of Japanese boy bands. With frisky aquamarine eyebrows, her hot pink tank top vividly matched to her baggy jeans that were hand-sewn with characters from the '80s Hugga Bunch. Our first conversation ensued with some background on Estella's milieu as an artist, including her own childhood, and what she's up to when she's not working on the band's new album. 
Listen to Mr. Twin Sister and learn more about the band's frontwoman in the interview, below. To view more of Estella's artwork, check out her website, Instagram, and Tumblr.
What was your experience like growing up as a Latina in America? Do you feel a strong connection with your heritage?
I had a lot of fun, and I have more fun with it now. I would say it was confusing as a little kid because I was so light skinned. My father is a light-skinned Puerto Rican who was born in America. Even though he spoke Spanish at that time, in my head he was a "white guy." My mother is Salvadorian and has a nice even tan with shiny dark hair. She is technically a Central American Indian. I'm like her pastel clone. She used to get super pissed when people started asking her if she was my nanny. I quickly became Americanized when I attended a really white elementary school. They stuck me in a special class for "slower" learners because I would switch between Spanish and English. I aced every test and they kicked me out.
Before going to school, my friends were Greek, Korean, all sorts of Latinos, and a few Caucasians. With this weird transition into a predominantly white elementary school, it made me do this horrible thing to my mother and aunts. I can't forgive myself to this day, and I believed it was true too. I would tell them, "No youuuu're Spanish, not me, I'm white." So disgusting! Why wasn't I smarter!? Being Latina, you must deal with a touch of racism and all that ugliness. Not too long ago, this clueless guy was shocked to hear that I was part-Salvadorian because he thought they were always "ratchet." He meant it as a compliment. Damn, and I know he believed in what he was saying. I could see his mind being blown. I also get dished that I'm not Latina enough because I am too light skinned. It's like, "Then who am I?" It's not worth dwelling over such nastiness. I'm happy and proud of my heritage.
When did you ignite a relationship with art, and what drew you to playing music?
I would say at about four years old. My uncle is an artist, and he would bring me a bunch of mediums to play with. I wanted to be just like him. As for music, I would say the first artist I truly loved was Michael Jackson. I would watch
Moonwalker
obsessively—I still have the VHS tape. I knew I could never be him, but I would pretend I was Michael. He's kept me singing and dancing all these years. I never thought I would be a real musician. I just liked how it made me feel. My father used to play guitar, and his friends were all very musical. They were in their mid-twenties—my parents had me young—so they had me listen to so many bands like The B-52's, Smashing Pumpkins, Talking Heads, Blondie, Björk. I was a little sponge soaking it all up, and MTV was actually playing videos back then. I don't think I'm the best musician there ever was, it just makes me happy.
Were your parents artists?
My mother is a secret artist. She is very good but is too embarrassed to keep at it. She used to sew and make costumes. My father used to be a musician. Now he is a different type of artist—he is a chemist, and he is incredibly good at what he does. He deals with the world differently than a normal person. Everything is science to him, and he solves problems by thinking this way. He taught me to mix paints when I would get stuck trying to match colors. My uncle and my
Abuelita
were the artists in my family, and now my younger siblings are as well. I think everyone is an artist.
Looking For The Truth by Andrea Estella
You have a very strong stage persona. What was it like when you first performed for a live audience? I can imagine it came very naturally for you.
Thank you, I can never remember it once it's over. It's like blacking out, and I hate looking at videos of myself performing. I have been dancing since I was 3 years old and performed in recitals for 12 years. I transitioned from playing in high school bands straight into Mr. Twin Sister. I just imagine I'm John Travolta, Nina Simone, Prince, or Michael Jackson. 
Songs like "Kimmi In A Rice Field" from In Heaven have always reminded me of a really dreamy anime or video game. Do you have any favorite anime shows?
Yes, it's so nice to have so much anime at your fingertips these days—it used to be so hard to come by. I had a subscription to a monthly magazine called
Animerica
. I love Lupin III, Magical Princess Minky Momo, Di Gi Charat, the Guyver, 3X3 Eyes, Marmalade Boy, Kodocha (true favorite), Paranoia Agent... I could go on forever. I'm not too fond of new anime—it looks awfully digital. I love the way painted backgrounds and cell animation looks.
Stylistically, do you find there's a theme in your art?
There's not a clear theme, but there is a clear color palette that I use across mediums, including the way I style myself.
Laundry Girl by Andrea Estella
Can you tell me a bit about the clothes you've been designing? Have you always made your own stage outfits?
Yes, I've always styled myself for live performances. Since I only bring a microphone to shows, I think of my outfits as my "gear." I only recently started making costumes and casual wear from scratch. I finally bought a sewing machine a year ago—I've always been too impatient to learn, but now with YouTube, you can learn anything. I also have some friends that work in fashion professionally who've been giving me tips. I love playing with clothes, but it can put me in a rotten mood. I'm the same way with hair. I can cut and dye, but I'm so IMPATIENT!
What else are you currently working on? 
An album, album artwork, and merchandise. I'm dreaming of building a fully functional ventriloquist dummy. Also, a podcast, dying tights, painting socks, painted hats, some summer dresses, and a summer stage costume. Last summer I was Video Girl Ai.
How has your taste evolved over the years?
In my late teens and early twenties, I was interested in reinventing myself. Now I just want to go back to liking all the things I loved as a child and in middle school. That's the time when your love for music, movies and art is super pure. I'm going back in time a little bit in that sense, but with the Internet and social media, I'm finding so many new artists that I love. That keeps me moving forward. It's nice to be balanced.