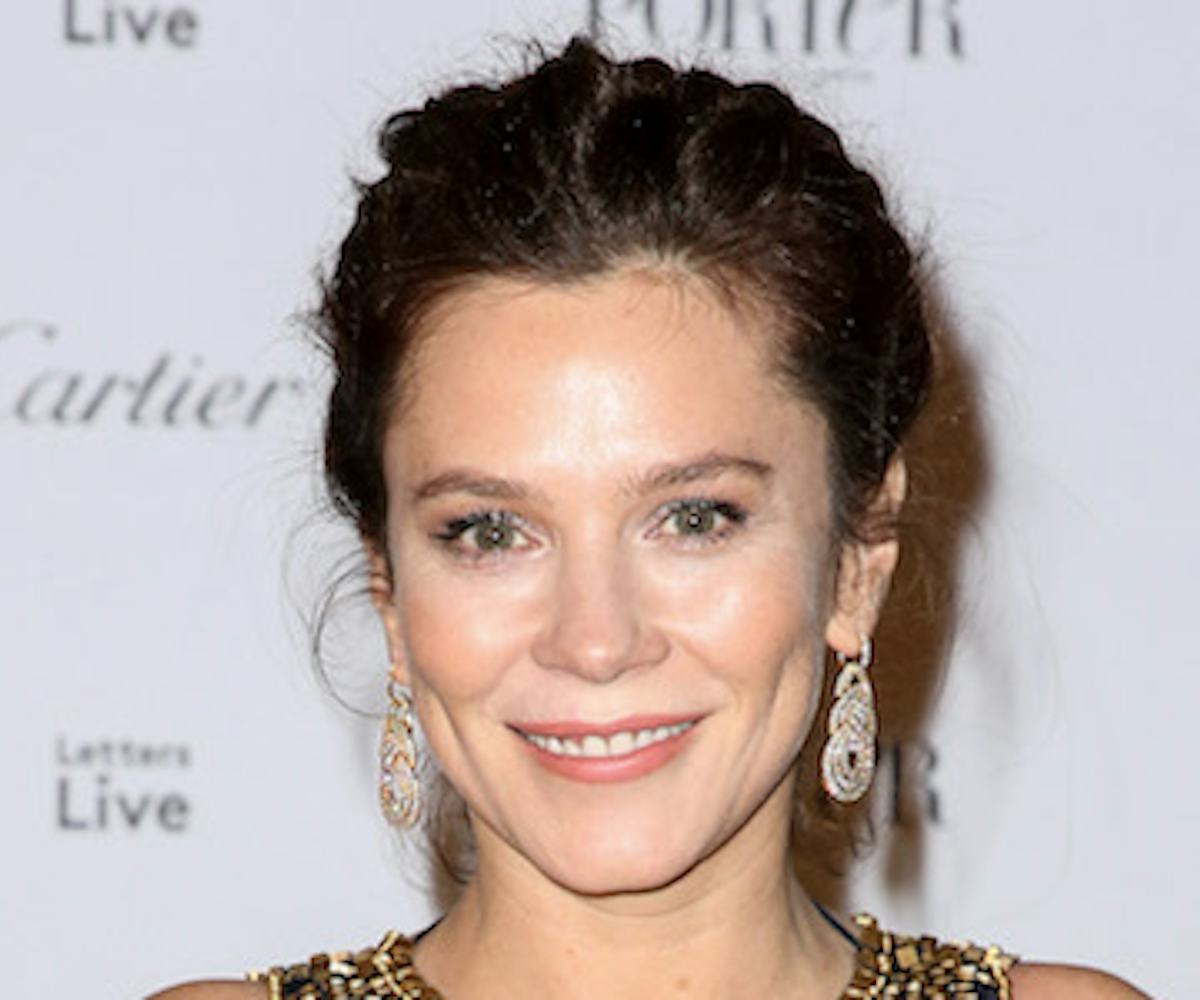 Image via Shutterstock
Anna Friel On Erica's Hyper-Sexuality On 'The Girlfriend Experience'
The show's second season premiered last night
Since its original iteration in 2009, The Girlfriend Experience has taken many different shapes. First, there was the Sasha Grey-starring, Steven Soderbergh-directed movie; then came a television adaptation on Starz from Lodge Kerrigan and Amy Seimetz in 2016, with Riley Keogh starring as a legal assistant moonlighting as a sex worker for white-collar men with excessive amounts of money and sex drives. The success of the TV version (with which Soderbergh is involved as an executive producer) is largely because of its depiction of women providing "the girlfriend experience," aka a sexual and romantic relationship in exchange for money and gifts. Both the film and TV series are notable departures from how most popular culture depicts sex workers, by alternately demonizing them or portraying them as victims of circumstance, in effect unwilling participants with no agency of their own. But in The Girlfriend Experience, the women hold the power and harness it to decide what is best for them; they also don't let the rest of their lives become defined by their profession.
Reflecting the ethos of its other iterations, Season 2, which premiered last night, is also something of a departure in that it takes on a new type of narrative. Told in two separate unrelated story lines this time around, Kerrigan's story, "Erica and Anna," follows a GFE, Anna (Louisa Krause), who blackmails a political client to help Erica (Anna Friel), the finance director of a Republican Super PAC. It's an unlikely meet cute, but the two develop a personal relationship that has more to do with Erica's job than Anna's.
Friel, an English-Irish actress who used the book Bad Money to study American politics and greed in order to prepare for her role, found the show's sexuality to be like something out of "French cinema."
"I auditioned on Skype because I was still in England at the time, and Lodge said, 'You watched the first season, and you understand the sexuality involved… if you have any qualms about that, that's absolutely alright,'" she recalls. "And I said, 'Well, I can't lie and say I'm not scared, but of course I will embrace that.'"
Both Erica and Anna are calculated and ambitious, but their working-turned-personal relationship begins to take on a specific S&M role, where Erica is the dominator and Anna is the, at times, reticent submissive. Watching this play out between two women (and, at times, a third—Erica's ex-girlfriend as played by Narges Rashidi) evokes something cinematic, which is another part of The Girlfriend Experience's appeal. The hyper-sexuality that is inherent to the show is integrated not just as "sex scenes," but as exchanges of power and other intellectual facets between the people who are sharing themselves with each other in the moment.
"I think the more nonchalant you are about it, the less salacious it is," Friel says. "And I don't think you're going to see it as graphic or unnecessary. The same with this. If you're going to tell a story, particularly this season, about submission and dominance, and a woman in a man's world, and a woman being with another woman, you want to tell that story as truly and beautifully—and sometimes hard and cold."
Friel shares multiple scenes with both Krause and Rashidi, performing and receiving oral sex while also licking and sucking on one another's nipples. (Strangely, the choreography did not include other forms of fucking that frequently occur between two women.) This was new for Friel, who says she attempted to "lose any form of self-consciousness," in order to inhabit the role.
"I found all of that submission and dominance very, very fascinating—the psychology behind it," she says, continuing:
It's about how [Erica] was treated in past relationships, and how she then reciprocates that and treats somebody else in that same matter. It's indicative of society, really—do we practice what we preach? Do we treat people how we've been treated? Or do we break the cycle? Is it possible to deal with a broken cycle? It depends on how broken we are to start with, and I think the journey we go on with Erica, we see how broken she actually is, and I don't think it's about forgiveness or excusing someone's behavior—I think it's about understanding what we allow ourselves to go through.
Friel has been acting since she was a teenager, first starring in British TV soaps like Emmerdale and Brookside, the latter of which solidified her place in history as one-half of the first-ever lesbian kiss that aired on network TV in 1995.
"I remember being 16 and making sure that was handled in very much the right way because at that point it was absolutely shocking—and that was only 25 years ago!—for a woman to kiss another woman," Friel says. "And to see how things have progressed and developed, thank god, in 25 years. You can only hope for the same progress in the following 25 years."
The kiss received so much attention that Friel shied away from other sapphic roles for most of her career, hoping to distance herself from any typecasting. But she didn't stop taking risks. Her first post-Brookside career move was a role in The Tribe, a 1998 film that had her in a ménage à trois scene with Jonathan Rhys Meyers and Jeremy Northam. After a handful of film work (including the little-known gem Me Without You, co-starring Michelle Williams), Friel came to American television as the star of Bryan Fuller's Pushing Daisies where she played Charlotte "Chuck" Charles, a dead woman whose boyfriend has the power to bring her back to life. The series was beloved but short-lived, pulled by ABC for poor ratings.
Friel has since had a healthy career in theater, film, and British TV, but The Girlfriend Experience marks a return to both American television and playing a lesbian role—one that is even more explicit than Friel's first (which is so famous in England, by the way, that it was featured as part of London's 2012 Summer Olympic Games opening sequence, directed by Danny Boyle.)
"I don't like labels," Friel says, adding:
It happened in the [Brookside] story that she was with a woman—you'd tell the same story if she were with a man. It really wasn't about that—it was more about the story as a whole rather than concentrating on [the fact that] I'm playing a lesbian. I think that would be a slightly narrow-minded way to look at it... To this day, I have girls come up to me and say, "Thank you so much—you helped me. I felt comfortable enough to come out," because it was at a time when it was forbidden or not talked of. I can't believe that is how it was, that it was so shocking then.
Friel's impressive performance in The Girlfriend Experience highlights the kind of actress she truly is—one whose portrayal of complexities is somehow both mysterious and accessible. She's stealthy at playing both a dominant personality and a submissive, too.
"[The show] handles it with great responsibility, and I think the biggest question with her, for me, was how do I not care whether other people like her and just tell the story truthfully?" Friel says. "It's the shift of power, of continually changing. She's so used to being the boss and having to be strong, but she gets power and joy out of being dominated."
Friel is aware the British tabloids might have fun with scandalous scantily clad screenshots of her same-sex love scenes, but she's less concerned now than she might have been at 16.
"To me, everyone should be treated with respect and kindness—it shouldn't really matter," she explains. "I really hate pigeonholing people."