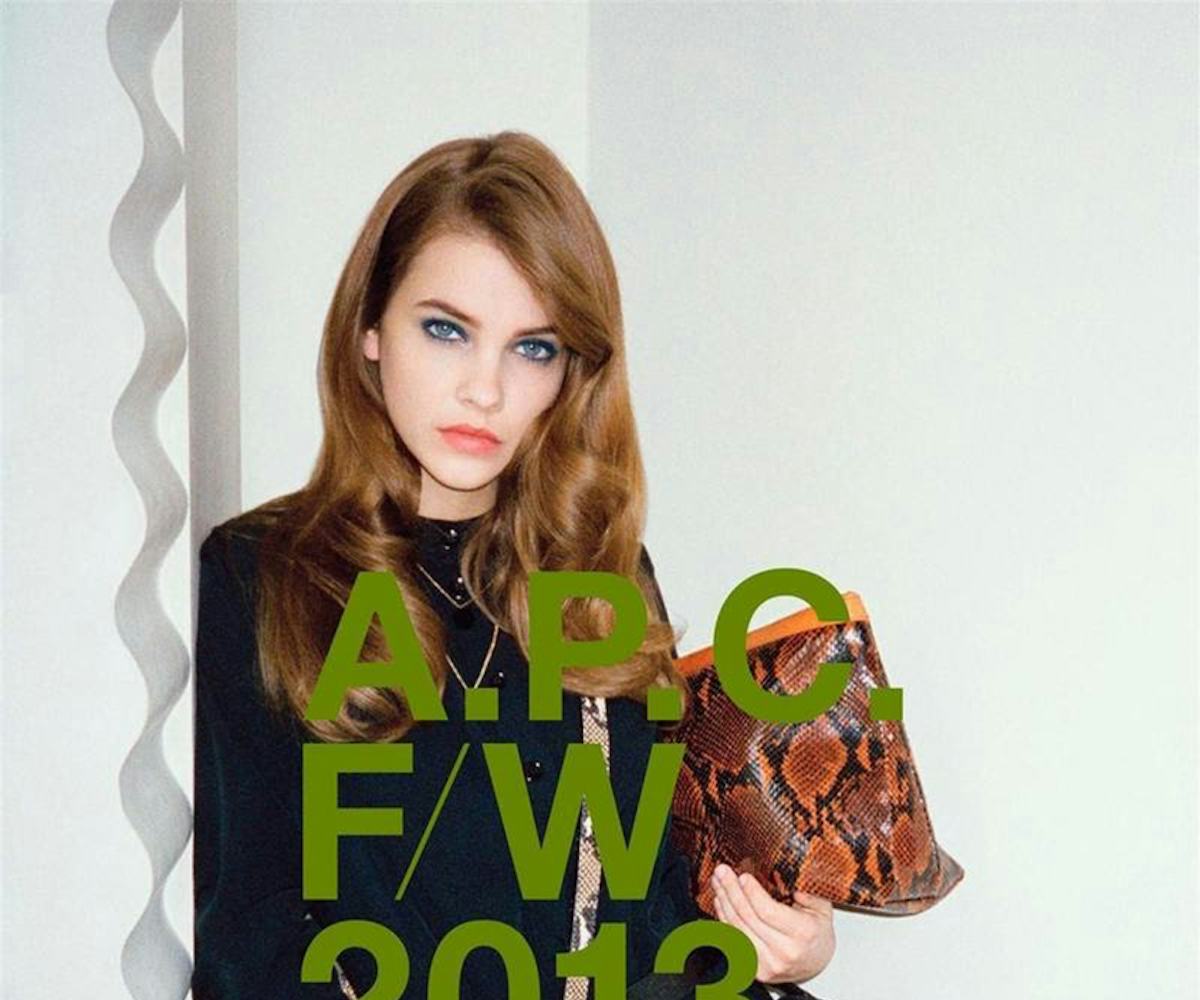 test drive: apc raw denim
There's no hiding that we're denim obsessed. (Our whole August issue is devoted to the fabric!) In the spirit of the American classic, we decided to try out the newest, coolest, weirdest jeans once a week for the entire month and share our findings.
Raw denim is the ultimate in denim. The untreated fabric has gained such high esteem in the world of jeans-freaks because of its durability and lasting power. A good pair of raw jeans could feasibly last you a lifetime. (Seriously. They could.) Another benefit buying raw jeans is that since you're the body breaking in the pants, they will fit you like they were made for you–because they basically were.
We decided to test out some raw denim from our friends at A.P.C., who are world-famous for their wide selection of high quality jeans, ranging from the classic fit "New Standard" to the skinnier "New Cure" cuts. The brand has such commitment to its product that you can return your worn-in jeans years after you purchase them for a discount on a new pair.
We tested out some brand-spanking-new jeans from A.P.C. this week and even asked an veteran wearer about his experience wearing-in some of his own. Get yourself a pair of A.P.C. raw denim jeans here and read the results of our very scientific study while you break yours in! 
REBECCA WILLA DAVIS, EXECUTIVE ONLINE EDITOR
"My previous experience with A.P.C.'s raw denim jeans was a pair I'd often 'borrow' from a boyfriend. They were the softest, coolest, most comfortable pair of jeans I'd ever tried on–and instantly had me understanding the cult appeal surrounding them. What I didn't realize was the blood, sweat, and tears that went into getting them that way. Because  when A.P.C. says that they're made with raw denim, they're not kidding–the jeans are so stiff at first that it took me 10 whole minutes just to get them buttoned. The rest of the day was like some slapstick comedy, with me continually dropping my keys, having to sit through film screenings, and walking into subway cars with rows of empty seats (which, as anyone who rides the L train during rush hour knows, is no easy feat), all accompanied by grunts and groans as I tried to move in the super-tight, super-thick pants. But the crazy thing is, by the end of the day they felt less like armor and more like some second skin. I could start to see where creases would emerge (real-deal creases based off of how my body moves and not some whiskers painted on in a factory), and felt loosening in the spots that needed a bit more room. I've got a long way to go until they reach that perfectly worn-in point, but in the meantime I'm up for getting a few laughs if it means perfectly molded jeans."
STEFF YOTKA, ASSOCIATE WEB EDITOR
"Breaking in a pair of A.P.C. raw denim jeans is like wearing-in a new pair of shoes–you learn to expect a couple blisters and Band-Aids along the way. The fabric is really stiff, meaning you will find yourself unable to sit, let alone bend your knees, without struggling during first couple of wears. (This made for a <i>lot</i> of laughs around the office, especially during lunch time.) Once you break through to the other side, however, you're in pants heaven. It's like having a completely custom pair of jeans tailored to your curves. I don't even like jeans, but I'm going to invest in these for sure."
CHRISTIAN LAVERY, ASSOCIATE WEB EDITOR, NYLON GUYS
"A year and a half ago I bought some A.P.C Petit Standards, and after plenty of wears, and well, not as quite as many washes (zero, to be exact), they slowly morphed into a second skin of mine.  So much so, that they're actually the only pair of jeans I own.  Putting on any other denim just doesn't feel right to me.  So if you can manage to make it through that first week or so–which isn't the easiest of tasks–a pair of A.P.C's will only get better with age."