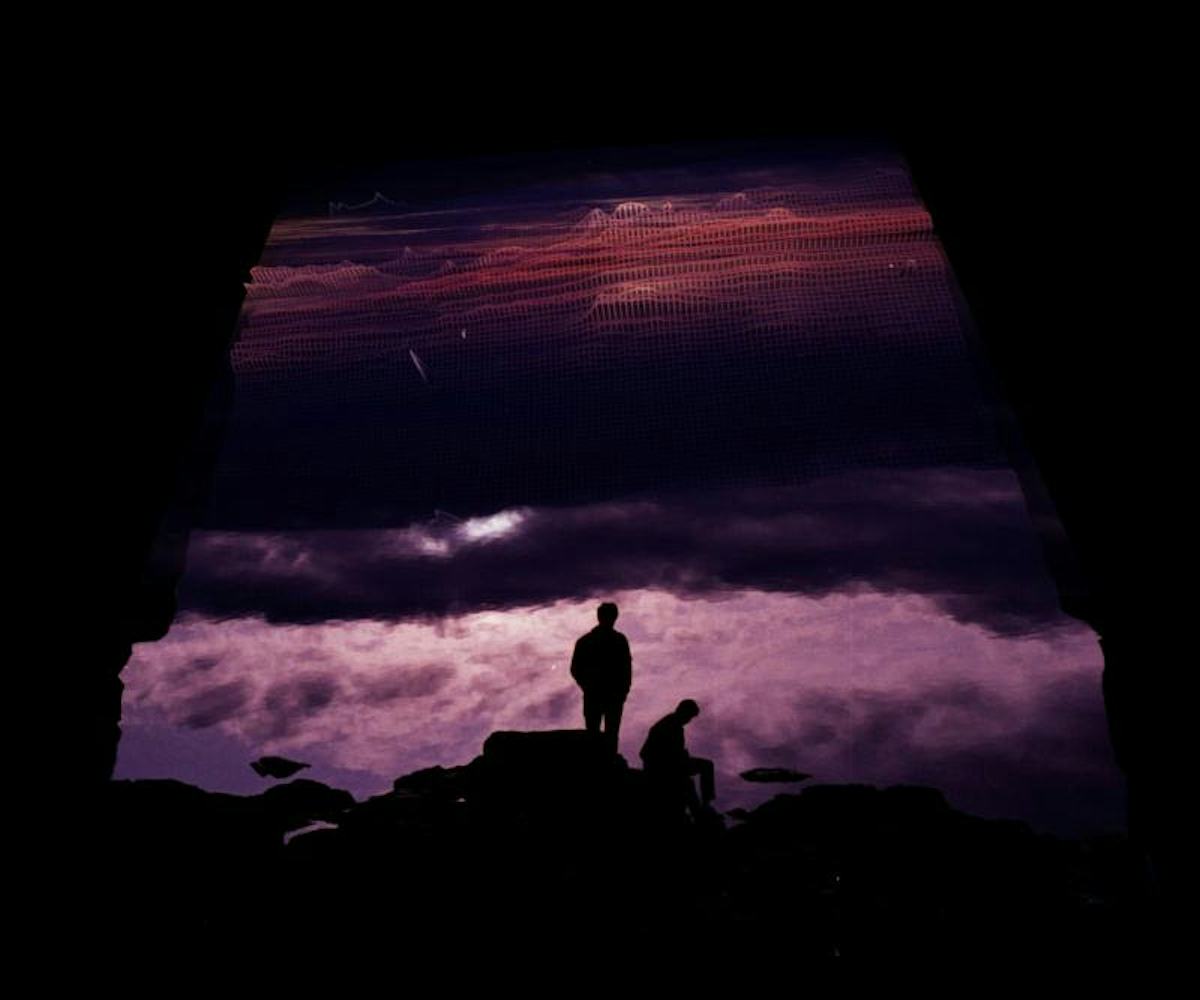 Aquilo Guides Us Through 'Silhouettes'
Cozy up to the cinematic new release
Aquilo is back following their 2015 EP Painting Pictures of a War with a fresh, full-length release. The British duo is gifting us with 14 new tracks on Silhouettes, all are filled with dreamy falsettos reminiscent of their beginnings tucked away in the mountains of England's Lake District. Attention to the group grew quickly, with their fourth show ever being at the 2014 Glastonbury Festival, a far cry from their first pub set. 
Silhouettes has been a few years in the making, giving the duo the perfect opportunity to translate the evolution of both their time making music together and their changing personal lives into this album. At first listen, Aquilo's music seems a far cry from Fletcher and Higham's metal and grunge beginnings. But, digging into their music reveals inspiration from their youth, with hints of Nirvana and Radiohead seeping through the vibey electropop. The grunge bad boys we totally would have had a crush on in high school tidied up their act nicely with the change of genre, but are still totally swoon-worthy. Working with renowned Icelandic producer Ólafur Arnalds, Fletcher and Higham have woven their relationship woes with the trendy Nordic sound to create an addictive new soundtrack for pre-Valentine's blues.
While you stream Silhouette, take a look at some exclusive behind-the-scenes photos during the recording stages.  Fletcher and Higham also explained the inspiration behind each track, below.
"Silhouette"
This is purely a reflection of our past, growing up with girlfriends and friends throughout the years of us making music together. There came a time where we had to leave Silverdale and move to London and we suppose this song explains how some of the people closest to us felt at the time. We'd spent some time in Iceland, in Reykjavik, with Ólafur Arnalds working on the record, adding strings and really thinking about the sonics of it all. He really took to this song and we suppose it set the scene for us. 
"Blindside"
"Blindside" was written after a relationship one of us was going through. Being able to accept you don't feel as strongly about someone as they do towards you, despite not wanting to hurt them. One of the hardest things to accept growing up. 
"Human"
"You know it on the inside, so you should show it on the outside/ dust the dust up off your shoulders, feet on ground/ you'll come round and be human again." It's a message to a friend that things always get better, pure and simple. We remember writing this with SOHN  two years ago. We'd always been a big fan of his, so for him to spend some time with us was quite special. 
"Never Hurt Again"
We get that people think we just write sad songs; not that this a happy one by any means, but it has an uplifting element we just wanted to slip into the record. 
"Almost Over"
We'd taken a trip to America to get away from things and write about stuff going on back home. One of us was in this awkward limbo with their girlfriend at the time who wanted to "think about things" whilst we were away. "Almost Over" was basically an answer to the situation. We'd sat on the song for a few months and then showed it to Ólafur over in Iceland. It went from being a piano ballad to this cinematic soundscape. We'd been listening to lots of Sigur Rós at the time so maybe that has something to do with it. 
"You Won't Know Where You Stand"
The two of us will always have a soft spot for this song. We were both in relationships that spanned the making of the album, which was probably three or four years. Throughout, there were ups and downs and changes to our lifestyles that really shook us up at points. Being told you're changing as a person from the people that really know you can often be hard to accept. "Theres a road we choose and a friend we lose/ it looks like i'm changing." A good friend of ours who we really look up to sat us down and told us straight. We went home that day and made this song. 
"I Gave It All"
"I Gave It All" was one of our earlier songs. This was referring to a family situation one of us had been through and witnessed. It's an incredibly personal song to us, but we've always said people can perceive this how they will. 
"All I Ever Wanted"
"All I Ever Wanted" was an interlude sort of thing we'd worked on years ago, but it unfolded itself as a song. It was one of those days where you just want to be somewhere else to wherever you are. We get that sometimes, and it isn't a case of being ungrateful for all you have. It can just be that things get too much sometimes. 
"Sorry"
This was a message to an old partner from back home. Ólafur encouraged this song to be a minimal moment on the record and we went with him on it. Tom's vocal was actually cut in our kitchen on a rainy day in London. 
"Complication"
This was written the week before we moved to London. We had this underlying nerve that we weren't the right kind of people to be living in the city. It can be easy to feel a bit lost and out of place down here especially if you're from the countryside… This song paints that picture on our part pretty well. 
"Never Seen You Get So Low"
It's for a good mate of ours that at a certain time often couldn't see all the great things that were going for them. We wrote this song a few years ago but stumbled back over the demo and saw something in it. 
"Low Light"
We originally wrote this as an extension of "Silhouette." It's a coming of age song about how we change but still have the desire to be with our old friends and loved ones from back home. The thought of moving on, leaving our childhood, and just having those fond memories is always a bit of a tearjerker for us. One of our good memories that happens every time we head back home is the walk back from the pub at night through the quiet village. 
"Always Done What You Say"
This was the last song we'd written before closing the record. 
"Waiting"
Backing away from a relationship to let someone breathe is one of the toughest things you can do. Accepting what they want but purely hoping it ends up that it's being with you. We'd sort of written it out like a love letter. If ever there was a song we've written about hope, this is the one.