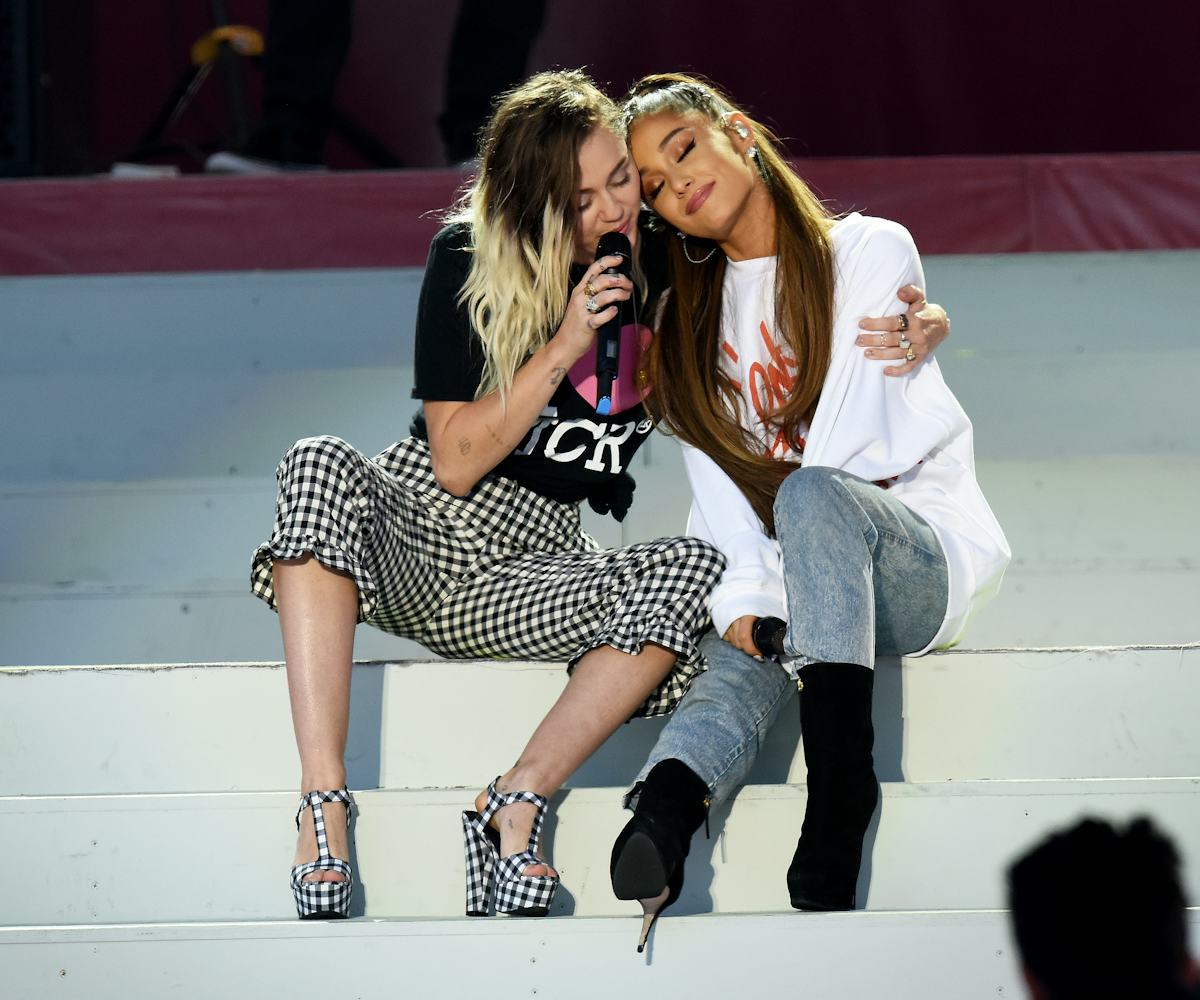 Photo by Getty Images/Dave Hogan for One Love Manchester
Best Moments From Ariana Grande's Emotional Manchester Benefit Concert
You might want to get the tissues for this
Last night was an emotional few hours at Ariana Grande's "One Love Manchester" benefit concert. The show included powerful performances by Grande, Miley Cyrus, Pharrell Williams, Coldplay, Justin Bieber, Robbie Williams, and more. All of the proceeds from the event are going to the victims of the May 22 bombing, which left 22 dead and 59 injured. Grande wanted to host the benefit because "we will not quit or operate in fear," she said in a statement. "We won't let this divide us. We won't let hate win."
Here are some of the best moments from the show, both on and off the stage. You might want to get the tissues for this.
At one point during the show, Grande brought the Parrs Wood High School Choir on stage with her. Twelve-year-old Natasha Seth opened the song "My Everything," with Grande joining in later. 
Then Grande and Miley Cyrus performed "Don't Dream It's Over" together. The lyrics are particularly apt at a time like this: "When the world comes in/ To build a wall between us/
We know they won't win." 
Coldplay took the stage and sang "Fix You," during which the entire audience joined in. 
Then Grande and Coldplay's Chris Martin teamed up to sing Oasis' "Don't Look Back In Anger." 
Robbie Williams surprised the audience by reuniting with Take That on stage, and then brought everyone to tears with his solo performances of "Angels" and "Strong." 
Justin Bieber gave an emotional tribute to the victims of the Manchester bombing before his set. "No matter what's happening in the world, God is in the mix, and he loves you, and he's here for you," he said. "I just want to take this moment to honor the people that were lost or that were taken. We love you so much. To the families, we love you so much." 
During Bieber's performance, some people in the audience noticed a touching moment between police officers and concert-goers when they saw them dancing together and holding hands. "British spirit captured in six seconds," someone tweeted. "Damaged but not broken." 
At one point in the show, Grande explained that she'd changed the entire set the day before at the request of one of the victim's mothers. Fifteen-year-old Olivia Campbell's mom, Charlotte, asked the pop star to "play the hits and sing your heart out." Grande, according to her, at first didn't think it was appropriate to play the hits, but then redid the entire set list. "We had to change everything," she said on stage, "and we wanted to fill it with love and energy."
One set that was particularly upbeat was when Cyrus took the stage again to join Pharrell for "Happy."
Katy Perry performed a stripped-down version of her song "Part of Me." Before her set, she said, "It's not easy to always choose love, is it? Especially in moments like these, right? It can be the most difficult thing to do. But love conquers fear, and love conquers hate, and this love that you choose will give you strength, and it's our greatest power."  
Grande then performed a heartbreaking rendition of "Over the Rainbow" to close out the show.