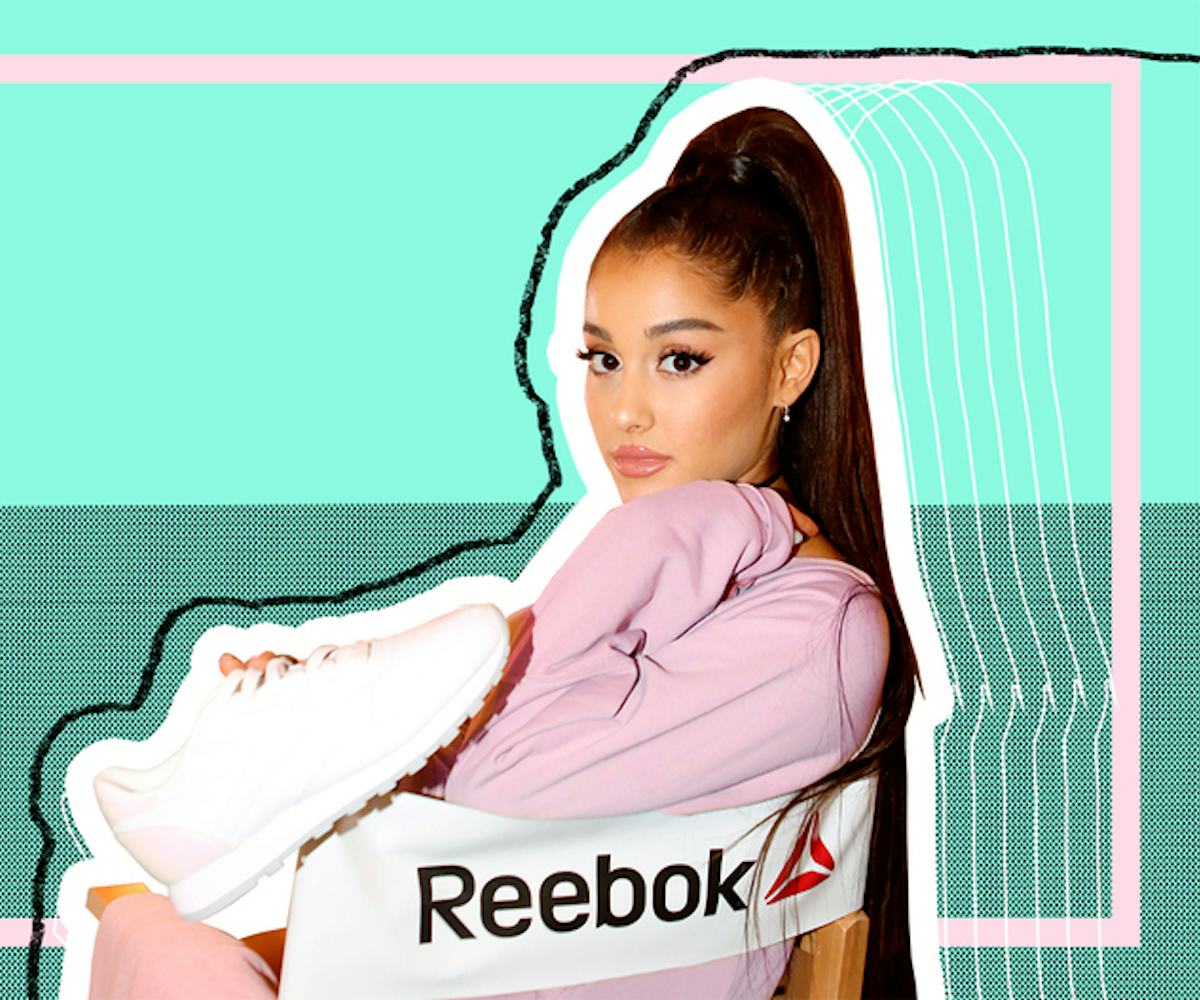 Ariana Grande Is The Pop Star We Need Right Now
TBD on whether we deserve her though
It's the day before Ariana Grande plays the last concert of her seven-month Dangerous Woman tour, and I'm part of a group of editors gathered in a warehouse in Hong Kong, talking to the pop star about what this final performance means to her. "It's kind of sad, we're all not ready for it to come to an end, but also it's, you know, time," she says. "We should take a nap now."
Grande doesn't typically do interviews. This was reiterated throughout our five-day trip with Reebok to celebrate the singer's new partnership with the brand. We would have access to the star, but it would be limited. We would have group interviews, but absolutely no pictures could be taken on our personal phones (her professional one was okay). Because, again, she doesn't typically do this type of thing. 
This isn't surprising—she's always been the kind of pop star to keep to herself. Very rarely do you see headlines about her beefing with another artist; a doughnut-licking incident a couple of years ago is about as much controversy that you're going to get out of the 24-year-old. As a former child star, her clean track record is rare and frankly refreshing. She once said in a 2016 interview with Billboard: 
If people are fighting, I stay as far away as possible. I've said this a million times: I hate drama. I love women in the industry. I'm a big fan of all my peers, and I try to keep it a hundred. That's why I don't look at anything. I'm like, 'My song's out!' Then I run for the hills. 'Here's another picture of my dogs! Bye!'
But the star found herself at the center of the world's attention this past May when her concert was the target of a terrorist attack in Manchester, England. Twenty three people were killed and 250 were injured as a result. It was a devastating occurrence, one that shook the music world in catastrophic ways. But the terror-inducing act was not met with hatred and violent rhetoric or actions, rather it was countered with love and hope. And a huge part of that was because of Grande. 
In the immediate aftermath, the singer tweeted, "broken. from the bottom of my heart, i am so so sorry. i don't have words." She found the words—and the strength—a couple of days later when she released a statement announcing her plans to return to England. "From the day we started putting the Dangerous Woman Tour together, I said that this show, more than anything else, was intended to be a safe space for my fans. A place for them to escape, to celebrate, to heal, to feel safe and to be themselves…this will not change that." 
And it didn't. After putting together a benefit concert, Grande continued to tour up until a couple of days ago. It's a huge act of bravery and defiance. As Grande outlined in her statement, and what she reiterated during our time together, is that she does what she does because of her fans. They keep her going. She says:
I'm really grateful to be able to do what I've dreamt of since a little girl, which is [to] perform and create and express myself with art and communicate with a fan base that can also relate, that can share my feelings and get something… or can heal from it or can turn up to it or celebrate to it or feel better about themselves because of it is a beautiful thing.
She's also hyperaware of her place in the world as a role model and the influence she possesses. "Thinking about [my fans], I can cry," she says, before adding:
I just want them to love themselves so much. I feel a maternal responsibility toward them, and the thing that I want to instill the most is the message that you are loved. There are so many different kinds of beautiful. You're beautiful because of who you are.
She does this by doing things like confronting body shamers and bullies, encouraging gender equality (she was present at the Women's March this past January) and sexual liberation, and by speaking out when she feels like she's being objectified. This message of empowerment is one Grande and Reebok have been preaching for years now. It's part of why she was so drawn to the brand (another reason is that her mom basically lived in Reebok high-tops when Grande was growing up). "It's really exciting to be working with a brand that is so unapologetically inspirational and inspires people to be themselves and embrace who they are," she says. "I think it's all about inclusiveness. I think it's about celebrating beauty and fitness and all of the diversity that comes with that."
With all of the chaos surrounding Grande these past couple of months, it's hard not to wonder whether she's pushed herself a little too hard. Artists have been canceling tours and postponing dates left and right lately; nobody would have faulted the singer for doing the same. She didn't, obviously, and we're all better off for it, though it was clear in seeing her that recent events have taken a real emotional toll on Grande. Like, during the final concert when, while singing "Somewhere Over The Rainbow," she started to break down. Her backup dancers and crew came out to console and cheer her on about halfway through (if you can imagine a more heart-rending performance than the one from the Manchester benefit concert, this was it). 
Or, when she was asked if touring ever gets to be too much, to which she responds, while holding back tears:
Yeah, definitely. I don't think I've been through anything as traumatic as we've been through on this tour, so it can be a lot." Again, though, she reiterates that she managed to get up on that stage every night because of the people coming out to support her, saying, "But the thought of just calling it off and going home was not an option for me because the message of the show was too important and what it means to my fans, and what it means to everyone involved—even the crew, the lighting, the people who do the balloons—it's become more than just a show for us." 
And Grande has become more than just a pop singer. She's transformed into a beacon of hope, and a symbol of freedom. Her music is often viewed as cutesy and vapid—most pop music is seen through a similar discriminatory lens—but it's been proven to heal. You may not consider yourself an active Arianator, but she, at least, deserves your respect (she even garnered the admiration of Piers Morgan, though she definitely didn't need it). Young people are going to be running this country one day; Grande is proof that we're in impressively capable hands.
There was one specific song that seemed to follow us throughout the trip. It was "Be Alright" off of Grande's Dangerous Woman album. On day two of our trip, we all learned the choreography for the track; it was taught to us by Grande's backup singers and best friends, twin brothers Brian and Scott Nicholson. It was also the song that would open up her final concert, and serve as the background music for a farewell video Grande posted on Instagram the next day. Okay, fine, and it might be the same song I find myself scrolling to every time I open Spotify now. With lyrics like, "Baby, don't you know/ All of them tears gon' come and go/ Baby, you just gotta make up your mind/ That every little thing is gonna be alright," it's one of those atypical earworm records you don't mind getting stuck in your head. 
In an age when it feels like the world is playing some sick joke on us, Grande's music provides a much-needed reprieve. More than anything, she reminds those listening—and watching—that things will be okay. And dammit, at least for a night, I believed her.