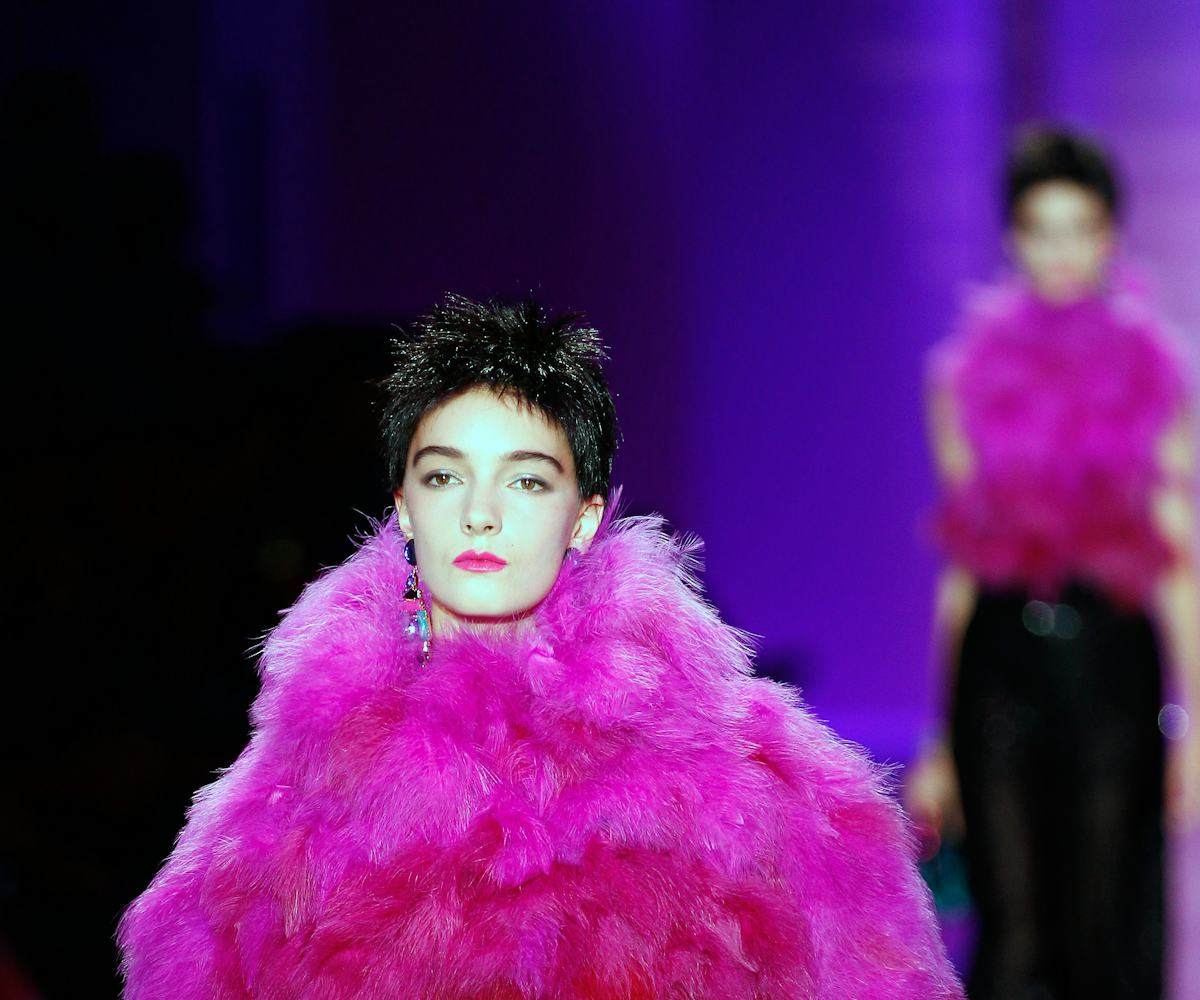 photo from Giorgio Armani Prive's Haute Couture FW16 runway show, by Thierry Chesnot / Getty Images
Another Luxury Brand Just Went Fur-Free
For years now, PETA, The Humane Society, and countless other animal rights groups have been fighting to change fashion's use of fur. And although the fur industry is no longer as booming as it once was—thanks in part to more widespread education about animal mistreatment, evolutions in faux fur, and, yes, the red paint activists of the '90s—many fashion brands still opt to use real fur in trims, accessories, and garments. This morning, though, Armani Group made a momentous stand and announced that they will no longer use fur starting this fall across all brands, including Giorgio Armani, Emporio Armani, Armani Collezioni, Armani Exchange, Armani Junior, Armani Casa, and Armani Jeans. 
"Technological progress made over the years allows us to have valid alternatives at our disposition that render the use of cruel practices unnecessary as regards animals," Armani said in a statement. "Pursuing the positive process undertaken long ago, my company is now taking a major step ahead, reflecting our attention to the critical issues of protecting and caring for the environment and animals." 
This announcement further strengthens the notion that fur does not equate to luxury, as it was once widely thought. Last year, Hugo Boss also announced that they would cease to use real fur in all future collections. Calvin Klein, Ralph Lauren, and Tommy Hilfiger have too stopped using real fur in their lines. As Joh Vinding, chairman of the Fur Free Alliance, says, "Armani's fur-free announcement makes it clear that designers and consumers can have creative freedom and luxury all without supporting animal cruelty. Mr. Armani has been a trendsetter in the fashion world for decades and this latest announcement is proof that compassion and innovation are the future of fashion."
Below, see seven faux fur brands who are changing how we approach ethical fashion. You can also view a complete list of fur-free brands here.
Launched in 2013 by Hannah Weiland, this U.K.-based brand uses solely faux fur in its outerwear, bags, and accessories. Also, its sticker badges are all embroidered, so they're a great alternative to the leather stickers we've seen plastered across bags and phone cases. 
Since launching her eponymous fashion line in 2001, McCartney has not only put out fur- and leather-free vegan garments and accessories, but she has also become a massive advocate for cruelty-free fashion. As she said in a conversation with Business of Fashion, "Luxury fashion is incredibly harmful, (and so is) fashion in general. It needs to get more modern and man up."
Started by blogger Vanessa Hong, known as The Haute Pursuit, THP shop offers faux fur jackets and stoles in an array of candy colors.
While Tibi still uses shearling in some of its outerwear garments, the brand uses high-quality synthetic faux fur in favor of real fur.
From pastel patchwork stoles to collars and clutches, designer Helen Moore offers affordable faux fur options to amplify your day-to-day wear.
Most of the time, British designer Christopher Raeburn's faux fur pieces look so real they'll make you question everything. And with an ethical approach and chic, modern designs, Raeburn is really pushing the boundaries of sustainable fashion.
If you're looking for kawaii faux fur accessories, you should bookmark Somewhere Nowhere—or at the very least follow them on Instagram.